Chen fighting SEC on monetary relief (USFIA)

Despite having summary judgement granted against him, Steve Chen is still fighting the SEC in court.
The SEC allege Steve Chen's USFIA was 'a massive pyramid scheme that defrauded myriad investors'. Following Judge Klausner's summary judgement ruling, this is no longer a point of contention.
Rather Chen is challenging the SEC how much monetary relief he should pay.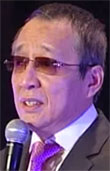 Chen (right) is arguing that he's entitled to a jury trial to determine awarded monetary relief. Monetary relief includes disgorgement, prejudgment interest and/or a civil penalty.
The SEC argue
the law in the Ninth Circuit and elsewhere is clear that the issue of monetary relief in SEC enforcement actions is to be determined by the court, not a jury.

A jury does not decide these issues, and so there are no triable issues remaining in this case for a jury to hear.
As per cited case-law,
the disgorgement amount should be the "total proceeds" raised by the defendants in the offering, including offering proceeds received by entities owned or controlled by the defendants, minus amounts defendants returned to investors.
The process sees the SEC estimate the total proceeds (based on collected evidence), with the defendant then able t challenge the amount (with their own evidence).
The problem for Chen is that he's previously asserted his Fifth Amendment right.
Chen should be barred from offering any affirmative evidence contesting the SEC's disgorgement figure, as calculated by the court-appointed receiver, based on the fact that he asserted his Fifth Amendment right against self-incrimination in refusing to comply with the Court ordered accounting, and continued to assert his Fifth Amendment rights in response to every substantive question at his deposition.
The SEC claim Chen's 'ability to challenge the SEC's evidence' is limited to the extent a jury trial is not necessary.
With respect to penalties;
the Court's findings on summary judgment will likely play a key role in determining the appropriate penalty level and amount.

By way of example, the Court found that Chen

(1) ran USFIA as a fraudulent pyramid scheme;

(2) defrauded investors by failing to advise them that the pyramid scheme was destined to collapse;

(3) made five material misrepresentations to investors in connection with the sale of the securities;

(4) misused investor funds to fund a lifestyle that included multiple million-dollar mansions and luxury automobiles for him and his family;

(5) acted with a high degree of scienter;

(6) orchestrated the pyramid scheme over many years; and

(7) showed no recognition of wrongdoing and no assurance against future violations.

These now undisputed facts all weigh in favor of sizable penalties.
To be honest I'm not really sure why Chen wants this to go to jury trial. From the sounds of it he's not going to able to get up and deliver a sob story to the jurors, so why bother?
If anything a jury trial, in light of the damning evidence against Chen, could potentially see higher damages awarded than what Judge Klausner might have ordered.
In any event, the SEC and Trustee have informed the court they
anticipate entering consents and final judgments as to liability and injunctive relief for all of the defendant entities in this action before the January 10, 2017 trial date.
Once these are filed they'll seek a continuance of the January 10th trial, so as to 'allow sufficient time to reach an agreement on monetary relief as to those defendants'.
I can't see any of this benefiting Chen, so why he doesn't just co-operate is beyond me. Seems one way or another Chen is going to have to return every last dollar he stole still in his possession.
Stay tuned…
Update 11th January 2017 – A monetary relief settlement of $145.4 million has been proposed, pending approval by the SEC.