UpMoney pyramid scheme busted in South Africa, fined R1M

A visit to UpMoney's website reveals no specifics about the company's business model.
Instead, prospective affiliates are told they can 'turn twenty Rands into groceries and R500, daily.'
How?
By recruiting new UpMoney affiliates who pay R20, who recruit new affiliates who pay R20 etc., etc.
Weaved into this are grocery products:

Rendering UpMoney a readily identifiable product-based pyramid scheme.
On the "about us" section of UpMoney's website, no company ownership information is provided.
For that information you have to head over to UpMoney's official YouTube channel. It's not directly linked from UpMoney's website either.
Or you could turn to media reports calling out UpMoney as a pyramid scheme, dating back to mid last year.
The first video featuring CEO Jude Ignatius Matsimela, was uploaded UpMoney's official YouTube channel on July 22nd, 2020.
The video reveals Matsimela promoting his pyramid scheme as an answer to racism and inequality in South Africa.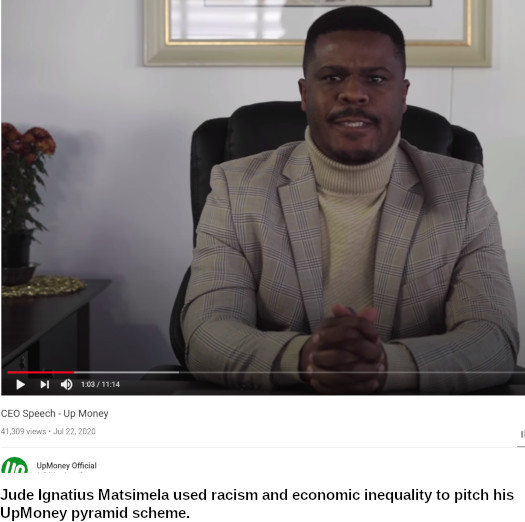 Given South Africa's history and the fact that pyramid schemes like UpMoney primarily benefit their owners and a few top recruiters, this is a disgustingly manipulative marketing pitch.
Matsimela launched UpMoney in February 2020, right on the cusp of Covid-19 making its mark on the world.
By July, the time of the video upload, UpMoney's bank had reported suspicious activity. The company's promised grocery deliveries were also delayed.
In Matsimela's own words;
[4:39] It came as a huge shock, an unparalleled surprise to us, when about a month ago, beginning of May 2020, First National Bank sent a letter to us … they did not want us as a client anymore.

Why?

We don't know. As we've not been told.
Matsimela blames First National for UpMoney's subsequent grocery delivery delays.
Rather than acknowledge the bank shut down UpMoney's account on suspicion of fraud, Matsimelda blames that on racism too.
[7:46] We have the numbers and because there is power in unity, we must therefore unite behind the black agenda of economic emancipation.

We cannot say we are free and democratic when a large bank like FNB has the power to close our business down by closing our account.

And then refusing to provide us with any explanation whatsoever.
To be clear, banks freezing accounts on suspicion of fraud is standard practice all over the world.
The reason clients aren't given a specific reason when an account is frozen is to avoid the risk of interfering in a potential investigation by authorities.
Sure enough, Less than two weeks after the UpMoney bank video featuring Matsimelda went live, it was confirmed the National Consumer Commission was behind the freeze.
Over 230 000 investors in the Up Money grocery stokvel, that has now been declared a pyramid scheme, have been swindled and bank accounts holding more than R18 million have been frozen by the National Consumer Commission (NCC).

Acting in tandem with the Asset Forfeiture Unit of the National Prosecuting Authority and Financial Intelligence Centre (FIC), the NCC spent the last two weeks investigating Up Money with a view to shutting it down.

"In order to receive the promised meat and/or grocery packs, participants were required to pay a one-off joining fee of R180 and to recruit five new participants," said NCC acting commissioner Thezi Mabuza.
A joint-investigation between the NCC and Financial Intelligence Centre revealed that UpMoney took in R42.7 million between May 4th and July 2nd, 2020 (~$2.9 million USD).
R14.5 million was "dissipated through point of sales purchases at various retail stores" (assuming this is grocery purchases)
"some of the funds" were sent to a business account of another company, the sole director of which is a director of Up Money (assumed to be Matsimelda but not confirmed)
an undisclosed amount was used to purchase three luxury vehicles; a Hummer, a Jaguar and an Audi TT
Surprise surprise. The Matsimelda and his buddies were the prime benefactors of Up2Give.
As opposed to the R20 amount cited on UpMoney's website, the NCC claimed
(UpMoney) participants were required to pay a one-off joining fee of R180 and to recruit five new participants.

As is typical of pyramid schemes, new participants made up the base of the pyramid and provided funding for participants who were recruited prior to them and who occupy higher positions in the pyramid.
Two days after that story broke, Matsimelda put out a response video.
[0:34] It brings me joy to know that finally we're gonna have an opportunity to explain ourselves in front of a judge.

You see in front of the judge it's not like any other place.

In court matters are scrutinized, questions are asked and when that happens – the truth about UpMoney is going to come forth.
UpMoney's case went before the National Consumer Tribunal … who on March 29th ruled UpMoney was a pyramid scheme.
"While Up Money promoted their scheme as a "stokvel" to lure participants during the pandemic, the Tribunal confirmed that it is not a stokvel but a pyramid scheme, as their operation fits the description of a pyramid scheme as provided under Section 43 of the CPA," said Trade, Industry and Competition Deputy Minister, Nomalungelo Gina.
The NCT fined UpMoney R1 million ($68,185 USD). The company has twent days as of March 29th to pay the fine.
No word on what will happen to UpMoney participants frozen funds or Matsimelda's illegally obtained assets.
UpMoney took in R42.7 million from around 230,000 participants. Sans what was paid out and what Matismelda kept for himself, around R18 million was recovered from the First National Bank account.
As of yet Matismelda hasn't uploaded another response video. Which is a shame, as I'd love to hear from him now that he's had his day in court.
Curiously, UpMoney's website is still active – although there doesn't appear to be any way to sign up.
Alexa traffic analysis reveals visits to UpMoney's website collapsed last August.
Math is math people. The majority of participants in pyramid schemes lose money to its owners and top recruiters.
Pyramid schemes like UpMoney are also not going to solve racism and economic inequality. Anyone who sells you a scam is just looking to take advantage of you.