UniverTeam Review: Portuguese Multiclick reload scheme

UniverTeam launched in late 2013 and provide two corporate addresses on their website.
The primary address provided is in Balio Portugal, which appears to be where UniverTeam is being run out of. An additional address in Hong Kong is provided, however a Google search reveals multiple businesses operating out of the same address. This is typical of virtual office space, indicating that UniverTeam exists in Hong Kong only as a virtual mailing address.
Credited as the CEO and Founder of UniverTeam is Alexandre Arenales. Arenales' past MLM experience sees him credited as an "Executive Director" in the Brazilian Ponzi scheme Multiclick (guy in the red tshirt):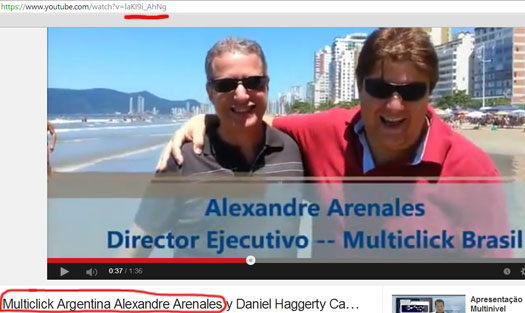 When Arenales joined MultiClick is unclear, however videos of him promoting the scheme on YouTube exist that were uploaded over a year ago.
Similar to TelexFree, Multiclick was your typical "spam the internet daily" Ponzi scheme. Affiliates invested between R$600 and R$2750 per position, and under the guise of spamming the internet daily with ads for Multiclick, were promised a ROI of R$160 to R$800 a month.
After TelexFree was shutdown in June 2013 by regulators in the Brazilian state of Acre, many investors jumped ship to MultiClick. Multiclick had purportedly sucked in around 300,000 investors (most of which were from Brazil and Portugal), before regulators froze the company's assets.
In addition to MultiClick being a Ponzi scheme, allegations of money laundering and embezzlement also surfaced, with regulators announcing that authorities in the US, Venezuela and Europe had been alerted to the company's actions.
MultiClick challenged the freeze in court, arguing that the regulatory investigation "was a mistake". In November the original decision was not only upheld but extended. The new freeze extended to all bank accounts and assets belonging to MultiClick and their management, and also prohibited the company from signing up new investors.
MultiClick's offices were raided later that month, and as I understand it the case against the company continues.
How much money Alexandre Arenales had tied up in MultiClick is unclear, however the month after Brazilian regulators raided the company and shut it down, he went on to launch UniverTeam in Portugal.
I did a search for some of the other executives listed on the UniverTeam website, and not surprisingly also found them to be ex-affiliates of MultiClick. Antonio Leite for example, is listed as the CFO of UniverTeam and can be seen above with Alexandre Arenales in the MultiClick marketing video screenshot.
Here's another Multiclick promotional video example, showing Arenales again but this time with UniverTeam's "Venezuelan President", Francisco Vegas: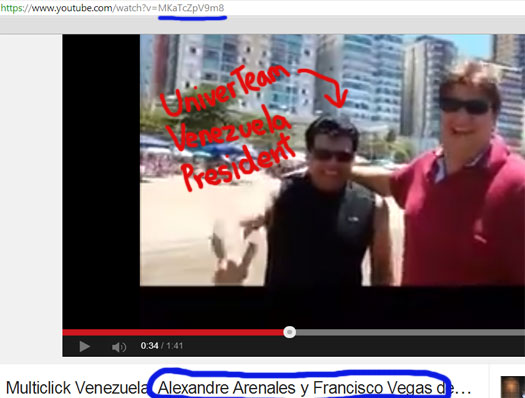 I'd be willing to wager that most, if not all, of UniverTeam's executive staff were involved in MultiClick directly under Arenales, or otherwise as other top Portuguese affiliate investors of the company.
Read on for a full review of the UniverTeam MLM business opportunity.
The UniverTeam Product Line
The UniverTeam website lists the following four products and services available for sale:
UniverShare (100 EUR) – spam service that targets social networks
UniverAds (free) – classified website with optional premium advertising listing (no details on prices provided)
UniverApp (200 EUR) – social mobile app, "interacts" with a phone's 'camera, GPS and social networks'
UniverWebs (100 EUR) – web design
UniverCommerce (350 EUR) – e-commerce platform
The UniverTeam Compensation Plan
The UniverTeam compensation plan primarily revolves around affiliates signing up and investing in one of three available packages.
Recruitment Commissions
Each time you indicate a new affiliate, you receive a bonus for that affiliation.
As above, UniverTeam affiliates are paid a commission for each new affiliate they recruit. How much of a commission is paid out depends on how much the recruited affiliate paid to join the company:
Junior – 25 EUR
Senior – 75 EUR
Master – 150 EUR
Weekly ROI
Each of the three affiliate packages comes with a weekly ROI:
Junior – 15 points
Senior – 45 points
Master – 75 points
Affiliates are paid the above ROI, provided they spam the internet daily on behalf of UniverTeam.
Note that the UniverTeam compensation plan states that
Reference value 1 point = 1 €
Referral commissions on ROIs paid out to an affiliates downline are also available, paid out down 6 levels of recruitment:
levels 1 to 3 – 6%
levels 4 to 6 – 2%
Residual Binary Commissions
A binary compensation structure places an affiliate at the top of two positions. These two positions branch out into another two positions, and so on and so forth down a theoretical infinite number of levels: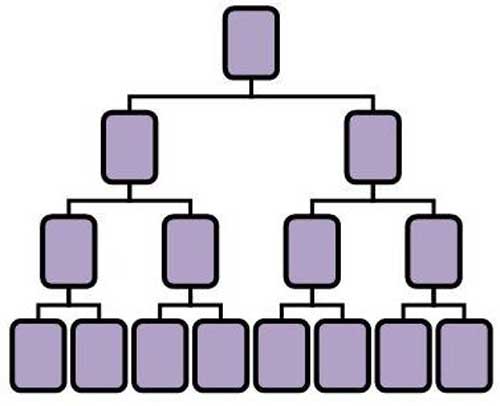 Each position in the binary represents a recruited affiliate (either directly or indirectly recruited), with commissions paid as a percentage of the affiliate package they invested in when they signed up.
How much of a percentage is paid out depends on how much the affiliate receiving the commission themselves paid for their package:
Junior – 5%
Senior – 8%
Master – 11%
UniverTeam Affiliate Membership Ranks
There are nine affiliate membership ranks within the UniverTeam compensation plan. Along with their respective qualification criteria, they are as follows:
 Affiliate – pay 25 EUR membership fee and invest in a package
Bronze – generate 30,000 points (accumulated) on your weaker binary side (left or right)
Silver – generate 60,000 points (accumulated) on your weaker binary side
Gold – generate 120,000 points (accumulated) on your weaker binary side
Platinum – generate 280,000 points (accumulated) on your weaker binary side
Emerald – generate 750,000 points (accumulated) on your weaker binary side
Diamond – generate 4,000,000 points (accumulated) on your weaker binary side
Double Diamond – generate 15,000,000 points (accumulated) on your weaker binary side
Triple Diamond – generate 75,000,000 points (accumulated) on your weaker binary side
Rank Achievement Bonus
As a UniverTeam affiliate is promoted through the company's affiliate membership ranks, the company rewards them as follows:
Bronze – if affiliate joined with a Junior package, they are "upgraded" to an 8% commission in the binary, Senior and Master package affiliates are paid 500 EUR
Silver – if affiliate joined with a Senior package, they are "upgraded" to an 11% commission in the binary, Senior and Master package affiliate are paid 500 EUR
Gold – iPhone 5s or 500 EUR
Platinum – MacBook Pro and an iPad Mini or 1500 EUR
Emerald – a "cruise for two" and 1000 EUR
Diamond – a "ring or a necklace and a car", or 30,000 EUR
Double Diamond – a "ring or a necklace and a car", or 90,000 EUR
Triple Diamond – a "ring or a necklace", a "house or a Ferrari" or 250,000 EUR
UniverBonus Pools
UniverTeam has three bonus pools, which appear to be funded with percentages of the worldwide revenue the company brings in from affiliates.
Shares in the pools are tied to affiliate membership ranks:
Diamond (1% pool) – 1 share
Double Diamond (1% pool) – 1 share
Triple Diamond (3% pool) – 1 share
Joining UnverTeam
Basic affiliate UniverTeam affiliate membership is 25 EUR, plus the purchase of one of the following three packages:
Junior – 150 EUR
Senior – 900 EUR
Master – 1500 EUR
An ongoing monthly fee is also charged, with the fee determined by an affiliate's membership rank:
Bronze to Gold affiliates – 50 EUR
Platinum and Emerald affiliates – 100 EUR
Diamond affiliates – 200 EUR
Conclusion
UniverTeam's advertised retail products and services appear to be somewhat of a joke.
UniverShare – 100 EUR to have UniverTeam spam social networks for you?
UniverAds – nobody (other than affiliates) are paying UniverTeam to advertise on their classified website
UniverApp – 200 EUR for a basic social app? Right.
UniverWebs – UniverTeam's websites all run on WordPress (their homepage uses the $55 "Jarvis" theme). One would assume UniverTeam's isn't much more than replicated WordPress installs.
UniverCommerce – The Jarvis theme "supports WooCommerce" a third-party ecommerce platform for WordPress. Whether or not UniverTeam are using this though is unclear, but I wouldn't be surprised. In any event, WooCommerce is free so why UniverTeam are charging 350 EUR for this is a mystery to me.
Dismissing UniverTeam's product line-up as all but irrelevant, what you're left with is a typical Ponzi scheme.
Affiliates sign up for 25 EUR, invest in one of the three available packages and, so long as they spam the internet daily, collect a weekly ROI. How much of a ROI is paid out is directly tied into how much is invested, with the packages also dictating commission rates in other areas of the compensation plan too.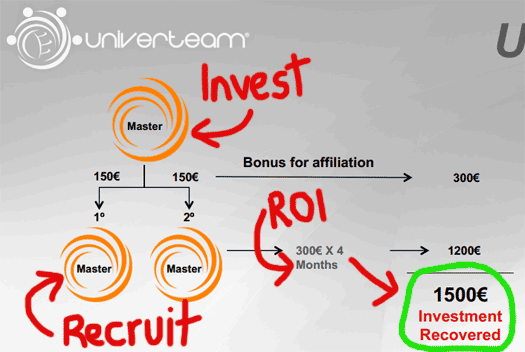 New affiliate money by way of initial fees, monthly fees and package investment, is shuffled around to pay out existing investors who have already paid their dues.
Adding a pyramid scheme layer to the scheme, UniverTeam affiliates are also directly paid to recruit new investors.
Given Alexandre Arenales and his buddies' involvement in MultiClick, UniverTeam's business model and targeting of South American and European Ponzi investors is hardly surprising.
Looking at the Alexa charts for "univerteam.com", one can see spikes at launch (shortly after MultiClick's shutdown became permanent), and again when TelexFree was shutdown in the US:

I myself only started to receive review requests for UniverTeam in mid-April, which again coincides with TelexFree's regulatory shutdown. This should give you a good idea of the type of people UniverTeam is attractive to (Ponzi reload scammers).
Add to that management whose claim to MLM fame was fleecing affiliate investors in previous similar Ponzi schemes and… well it's obvious this isn't going to end well.
As with all Ponzi reload schemes, UniverTeam is unlikely to be as successful as its predecessors. Once that new affiliate investor money slows down and then eventually runs out, kaboom.
Update 24th February 2015 – In early 2015 UniverTeam made some changes to their compensation plan. For an analysis of the new plan, see our UniverTeam Compensation Plan v2.0 review.