TVI Express promoters not victims, fined $200,000

Way back in 2010 the Australian Competitive and Consumer Commission (ACCC) decided to put a stop to the promotion of TVI Express in Australia.
With no officially registered local presence, offices or staff, the ACCC instead were left to target the national top three local promoters. In May 2010, the ACCC won an injunction that prohibited promotional ringleaders Lualhati Jutsen (also known as Teddi Jutsen), Tina Brownlee and David Scanlon from 'promoting the scheme (TVI), accepting payments from new "members" or paying other participants''.
Wanting to make an example of the top promoters and put a stop to the promotion of TVI for good, the ACCC took the trio to court and alleged that they had been willing promoters of a pyramid scheme, which is illegal in Australia.
After eighteen months in the Australian legal system, last November the case against Jutsen, Brownlee and Scanlon (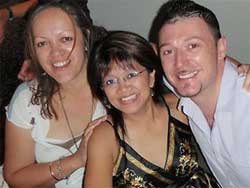 right) came to a head with Justice Nicholas ruling against the trio.
I am satisfied that the single most important inducement held out to prospective members of the scheme in this case was the prospect of them making money, large amounts of it, by encouraging other people to join who would have to pay a membership fee to do so.

The vacation representation was misleading or deceptive or likely to" mislead or deceive because "people would not expect the travel certificates to be of no value".

I am satisfied that the TVI Express System was a pyramid-selling scheme.
The decision against the trio (the company itself initially promised to refute the ACCC's claims but later abandoned Jutsen, Brownlee and Scanlon leaving them to defend themselves), was a landmark decision in that it was the first time promoters of a scam had been successfully found guilty in an Australian court.
Following the November ruling a period of six months would then pass before a court handed down a sentence.
Earlier this week, for their participation in the promotion of TVI Express in Australia, in addition for having to pay the ACCC's legal costs an Australian Federal Court fined Lualhati Jutsen $90,000, Tina Brownlee $80,000 and David Scanlon $30,000.
The fines are well below the maximum of $220,000 AUD each but cumulatively total $200,000 and set a strong precedent for future cases against promoters of other MLM scams in Australia.
One common defense used by promoters of known scams (whether they are officially declared a scam by authorities and regulators or not), is that the risk of participation is quite low and that should anything happen, only those at the top of the company need worry about action being taken against them.
Whilst that still rings true to some effect, should regulators close in and due to the often unpredictable nature of "success" in the promotion of scams (MLM or otherwise), it's worth noting that successful promotion of a business is more than enough to leave members legally liable.
Jutsen, Brownlee and Scanlon don't work for TVI and despite being ringleaders in the Australian promotion of TVI, still have internationally based uplines themselves. Yet being regular members on paper was still not enough to escape prosecution and legal liability for promoting TVI Express.
In her defense, Jutsen at one point contended that she was nothing more than a 'victim of the scheme' but this argument was disregarded by Judge Nicholas.
Brownlee on the other hand attempted to turn the tables and blame the ACCC 'for not warning her that participation in the scheme was unlawful' but this defense was also rejected.
How Brownlee's argument was made in the first place I'm not sure as the promotion of pyramid schemes in Australia has been illegal for some time now. The ACCC have plenty of information about it on their website available for anyone to review at any time.
Granted that Australia isn't the US I still think this particular case should strongly be taken into consideration by those participating in some of the more recent questionable schemes that have sprung up over the past year or so.
As these schemes start to gain traction inevitably the more questionable will at some point attract the attention of the regulators and regardless of whether you're at the top or not, if you're seen as a top promoter you still could easily find yourself being held responsible for the promotion of a business.
As ACCC Chairman Rod Sims recently put it,
People who are tempted to take part in pyramid selling should note the serious penalties they could face.
I've seen a fair bit of discussion mentioning downlines "in the thousands" for a few questionable opportunities these last few months in the comments here at BehindMLM, so I think these recent fines are definitely worth taking into consideration.