Australian Judge: TVI Express is a pyramid scheme

Roughly a year and a half ago in May 2010, the Australian Competitive and Consumer Commission (ACCC) was succesful in obtaining a court order prohibiting
 Laulhati "Teddi" Jutsen, Tina Brownlee and David Scanlon from promoting the scheme, accepting payments from new "members" or paying other participants.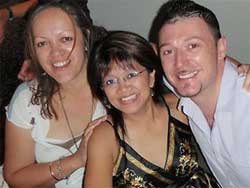 Identified as major players in TVI Express' Australian operations, the effective order that Brownlee, Jutsen and Scanlon (left to right respectively in the photo right) cease of promotion of TVI has meant that over the past eighteen months, TVI Express has been promoted in Australia by others whilst a court battle raged over the legitimacy of the company itself.
Yesterday that court battle came to a climax and resulted in Justice John Nicholas making his final ruling:  TVI Express is pyramid scheme.
Despite initial promises by TVI Express that 'the ACCC claims will be "strenuously defended' this appears to have amounted to nought and instead Jutsen, Brownlee and Scanlon were left to defend themselves.
So how do you defend an obvious pyramid scheme that takes membership fees, delivers a worthless product and pays out recruitment commissions?
You can't.
In his ruling, Justice Nicholas
described TVI as a system which "purports to offer discounted accommodation and travel opportunities to members, as well as income-earning opportunities".

To become a member, a $US250 ($A253) fee had to be paid. For this, Justice Nicholas said, a travel certificate was received, "said to entitle them to free accommodation for six nights and seven days, a free companion flight, a virtual back office, access to an online travel portal, a self-replicating website and access to business tools".

But Justice Nicholas found there was "no evidence" that any member had "obtained the … vacation or a companion flight".

"I am satisfied that the TVI Express System was a pyramid-selling scheme".
Despite this being blatantly obvious to anyone who looked at the TVI business model, nonetheless it's good to see that finally the TVI Express scam has been brought before a court in Australia and a ruling made.
In light of the landmark ruling (believed to be the first of its kind in Australia),
The ACCC is expected to now seek substantial fines against the trio, as well as injunctions restraining them from engaging in similar conduct in the future.
With the maximum penalty for promoting a pyramid scheme in Australia being $220,000, personally I hope they nail these three scamsters hard. Let that serve as a lesson to people promoting obviously paper thing recruitment scams.
As someone who follows the MLM industry in my limited capacity, what piques my interest is the precedent this decision means for MLM in Australia.
In his ruling, Judge Nicholas noted,
I am satisfied that the single most important inducement held out to prospective members of the scheme in this case was the prospect of them making money, large amounts of it, by encouraging other people to join who would have to pay a membership fee to do so.

The vacation representation was misleading or deceptive or likely to" mislead or deceive becase "people would not expect the travel certificates to be of no value".
Currently there are a hell of a lot of MLM opportunities out there being openly promoted in Australia that members generate the bulk of their commissions by luring new members in with the 'prospect of them making money, large amounts of it, by encouraging other people to join who would have to pay a membership fee to do so'.
Too many MLM companies these days simply pay commissions out on recruitment of new members whilst offering members products of little to no inherent value. And quite frankly, this has got to stop as it's bad for everyone involved in the MLM industry.
With Judge Nicholas' ruling today setting precedent that will no doubt streamline the legal process after the ACCC has carried out their own investigations into a company, one can't help but wonder if this is a major setback for shallow recruitment driven MLM scam promoters in Australia.
Let's hope it is.