Trust Investing Director Ruslan Concepcion arrested in Cuba

Trust Investing Director Ruslan Concepcion has been arrested by Cuban authorities.
Concepcion was apprehended on April 22nd, attempting to board a plane bound for Russia.
Cuban authorities became suspicious upon discovering Concepcion was travelling with a large amount of undeclared cash.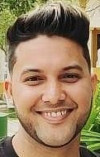 Concepcion (right) told border authorities he'd earned the money through Trust Investing.
A preliminary look into Trust Investing raised further suspicions that Concepcion's funds were obtained illegally.
This resulted in his detention at Havana airport for three days, after which he was arrested.
According to one of Concepcion's brothers, who resides in the US;
Ruslan faces an accusation for illicit economic activity, and that if he were sanctioned for this crime, he would face a prison sentence of 3 months to 1 year or a fine of 100 to 300 installments, in addition to the accessory sanction of confiscation of assets.

BehindMLM reviewed Trust Investing in July 2020. Based on its business model, we concluded Trust Investing was a Ponzi scheme.
Trust Investing is run by Diego Chaves (right), who on information and belief resides in Spain.
The CMNV issued a securities fraud warning against Trust Investing in June 2020.
To date however Spanish authorities haven't taken any action against Chaves personally.
Alexa currently estimates Cuba makes up 44% of traffic to Trust Investing's website.