TriumphFX securities fraud warning from Malaysia

I've been under the impression Malaysian authorities had done nothing about TriumphFX.
Pretty much since BehindMLM first reviewed TriumphFX in 2017, Malaysia has been a top source of recruitment.
Turns out while the Bank of Malaysia hasn't done anything, the Malaysian SEC issued a TriumphFX securities fraud warning back in 2020.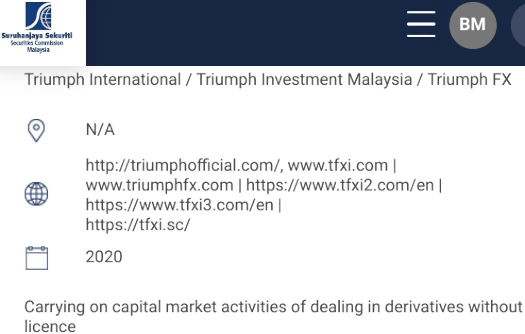 As per The Malaysian SEC's warning, TriumphFX is
carrying on capital market activities of dealing in derivatives without licence.
This is the equivalent of a securities fraud warning in other jurisdictions.
TriumphFX is not registered to offer securities in any jurisdiction. The company operates illegally in every country it solicits investment in.
At time of publication SimilarWeb ranks top sources of traffic to TriumphFX's website as Malaysia (77%), the UK (7%) and Singapore (5%).
Despite still making up the majority of traffic to TriumphFX's website, Malaysian authorities have not followed up on their 2020 securities fraud warning.
Similar TriumphFX regulatory warnings have been issued in Indonesia (second warning) and Singapore.
TriumphFX is believed to be run by a group of Singaporean scammers with ties to Malaysia.
Update 2nd June 2023 – In March 2023 the Central Bank of Malaysia added the following TriumpFX related entities to its Financial Consumer Alert List:
EOB Infinity – defunct website;
EOB Miles – claims their "brokerage house" is TriumphFX; and
Triumph Investment Malaysia – a FaceBook group abandoned in October 2020