Tranont products marketed as coronavirus preventative

A Tranont distributor is marketing their supplements as a Coronavirus preventative.
Stacy Ah Mow is a Tranont distributor based out of Oahu, Hawaii.
Mow joined Tranont in mid 2019. Since then she's been marketing Tranont's supplements frequently on social media.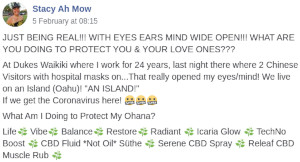 As part of those marketing efforts, on February 5th Mow posted to the Health & Wealth Community public Facebook group:
JUST BEING REAL!!! WITH EYES EARS MIND WIDE OPEN!!! WHAT ARE YOU DOING TO PROTECT YOU & YOUR LOVE ONES???

At Dukes Waikiki where I work for 24 years, last night there where 2 Chinese Visitors with hospital masks on…That really opened my eyes/mind!

We live on an Island (Oahu)! "AN ISLAND!" If we get the Coronavirus here! 🤬🤬🤬

What Am I Doing to Protect My Ohana?

Life🌿 Vibe🌿 Balance🌿 Restore🌿 Radiant 🌿 Icaria Glow 🌿 TechNo Boost 🌿 CBD Fluid *Not Oil* Süthe 🌿 Serene CBD Spray 🌿 Releaf CBD Muscle Rub 🌿

If China Couldn't contain the Coronavirus do you think Hawaii can?
Hell No!!!

I'm not listening to our CDC or State!! You kidding me!! Am I scared?? NO!! I'm just being REALLLLL!!!!!

My Mom is 78 and is in the BEST HEALTH EVER with these Enzymes! As well as the rest of my Ohana..
I'm afraid for the newborns. But I got them covered ❤

The last time I was sick? Was early June 2019 then I've started My Enzymes late June that's when I've joined "Tranont Health & Wealth" their products our 100% Organic all Natural Whole Plant! What I call Plant Medicine! 🌿❤

Til this Day! I've NEVER GOTTIN SICK!

If I feel a cold coming on? I take extra Balance & Restore & Vibe & Süthe! Bomb Gone! Love It!

ARE YOU COVERED? HOW ARE YOU PROTECTING YOUR OHANA (FAMILY)?

ARE YOU PREPARED? DON'T WAIT! DO SOMETHING!!
Tranont markets a range of supplements. In late 2018 the company jumped on the CBD bandwagon.
None of Tranont's products are FDA approved to prevent coronavirus, or diagnose, treat, cure, or prevent any other disease.
Despite this, Mow's Facebook profile is littered with Tranont testimonials, referencing a wide variety of medical conditions and diseases.

A recent report from Truth in Advertising reveals Jeunesse distributors also promoting Reserve as a coronavirus preventative: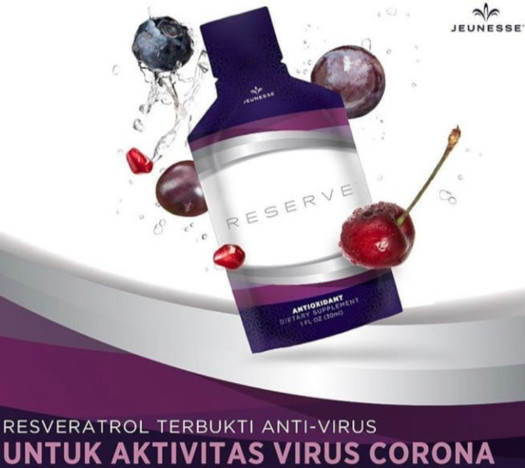 Reserve is an "exotic fruit juice" supplement. It isn't FDA approved to prevent viruses either.
Given both examples are still publicly available, it appears neither Tranont or Jeunesse are doing anything about coronavirus related marketing.
To date there have been over 66,000 reported cases of coronavirus, most of which are in China. The death toll stands at over 1500.
Those numbers are of course concerning and nothing to be sneezed at.
What they aren't though is an excuse to peddle MLM supplements via snake oil marketing.
If the supplements you're selling aren't FDA approved to prevent viruses, no ifs or buts – you're making illegal marketing claims.