Tranont jumps on crypto fraud bandwagon with TranontCoin

Merchant subscription services, nutritional supplements and… cryptocurrency?
Tranont is the latest MLM company to jump on the crypto fraud bandwagon with TranontCoin.
Cryptocurrency in and of itself isn't fraudulent but when paired with MLM is often the "product" itself. TranontCoin isn't that, but does share the inherent fraudulent investment scheme model wrapped up in crypto jargon approach.
Before we get into that let's back up a bit.
Tranont's cryptocurrency offering was announced during a webinar held yesterday.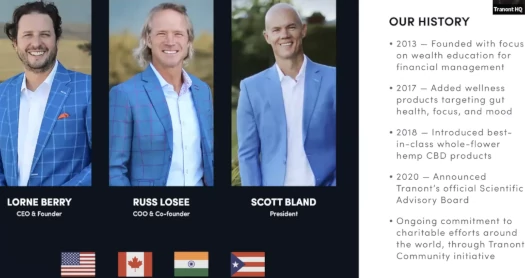 Tranont is a US-based MLM company headed up by Lorne Berry (CEO), Russ Losee (COO) and Scott Bland (President).
Evidently one or more of these men have fallen down the crypto bro rabbit-hole, and so we have TranontCoin.
Specifics of TranontCoin have yet to be made public, other than it has its own blockchain.

Lorne Berry has disclosed Tranont is working with an unnamed third-party, who "have some very, very successful ventures that they've done in the past".
I'd be willing to bet disclosure of this third-party would turn up all sorts of nonsense, hence the secrecy.
While the long-term goal appears to be full integration of TranontCoin into the company's compensation plan…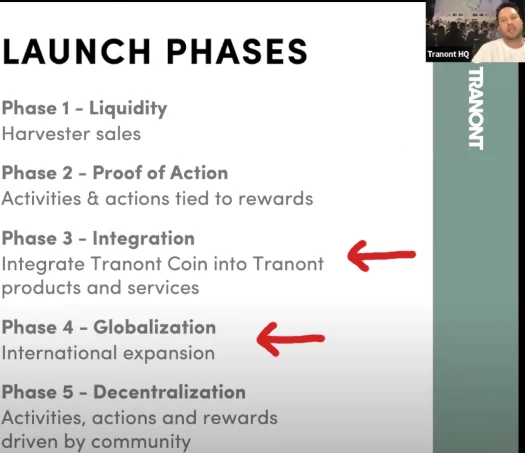 …today we're going to focus on the "first phase"; a daily returns investment scheme.
Tranont are selling "harvester" positions. These positions will see Tranont affiliates invest on the promise of a daily ROI.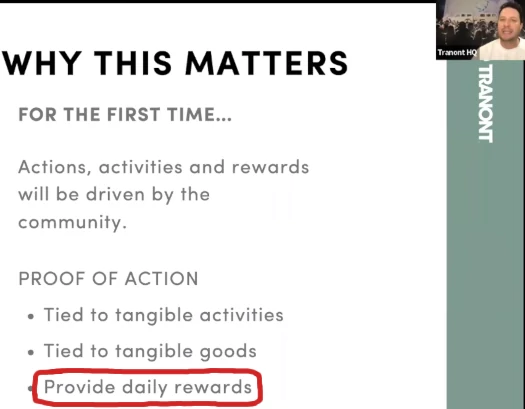 Here's how Tranont CEO Lorne Berry explained the scheme on the aforementioned overview webinar;
You're able to purchase a harvester … and immediately once that harvester is purchased, it starts to actually compute and it starts to spit out rewards.

Now with those rewards, you can do a couple of things with them. You can go ahead, they will have a monetary value, you can go ahead and change those out. And you can change it into fiat.
How much Tranont's harvester investment positions will cost isn't disclosed.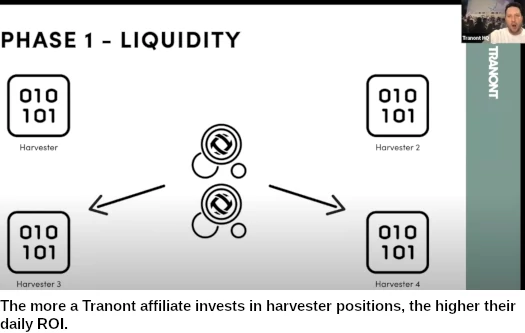 The investment opportunity however is pretty clear to identify.
If you like to you can purchase another harvester. You can accumulate rewards and acquire more harvesters. That creates a little compounding effect.

Now if you have a couple of harvesters working you get more rewards. You can do that same thing again if you want to.

You can acquire more harvesters and those harvesters will grow and grow.
So I sign up as a Tranont affiliate, invest in a harvester position and receive a daily ROI – paid in TranontCoin. Where's the fraud?
To establish that we first need to identify an investment contract. In the US this is done via the Howey Test.
As per the Howey Test;
An investment contract exists if there is an "investment of money in a common enterprise with a reasonable expectation of profits to be derived from the efforts of others."
In Tranont we have affiliates investing in harvesters, which are sold by Tranont (the common enterprise). This is done "with a reasonable expectation of profits" (cashing out TranontCoin paid as a daily return).
To qualify to receive a daily TranontCoin ROI, affiliates only have to invest in a harvester position. Thus satisfying TranontCoin returns are derived "from the efforts of others".
As it stands Lorne Berry has represented Tranont harvester positions are virtual investment positions. Whether there's any hardware sent out to affiliates is unclear.
In any event, the investment contract still exists either way. I've covered the non-hardware scenario above. If hardware is sent out, it's sold and must be plugged into Tranont to generate returns.
As receiver of funds invested in the positions and operator of the network the hardware is connected, Tranont is still the common-enterprise.
This is different to buying hardware and mining whatever cryptocurrency yourself – as there's no common-enterprise involved.
So now that we've established an investment contract as per the Howey Test, why does that matter?
The Howey Test determines what qualifies as an "investment contract" and would therefore be subject to U.S. securities laws.
Securities in the US are regulated by the SEC. Tranont is based out of Utah in the US, is run by US-based executives and at time of publication, Alexa attributes 83% of traffic to Tranont's website to the US.
Neither Tranont, Lorne Berry, Russ Losee or Scott Bland are registered with the SEC. You can verify this yourself by searching the SEC's Edgar database.
By failing to register its TranontCoin harvester investment scheme with the SEC, Tranont is at a minimum committing securities fraud.
MLM crypto schemes committing securities fraud lend themselves to operating as a Ponzi scheme. In Tranont this would see funds invested in harvester positions and/or directly into TranontCoin, used to pay TranontCoin withdrawals in fiat.
Lorne Berry didn't go into specifics of where funding for TranontCoin withdrawals will come from. I'm assuming Tranont isn't going to admit to running a Ponzi scheme though, meaning they'll claim to have an external revenue source to pay TranontCoin withdrawals with.
That's fine, but the only way to verify external revenue being used to pay withdrawals is filing periodic audited financial reports with the SEC.
Tranont intends to launch its TranontCoin scheme  on "the first day of summer". Being based out of Utah, presumably this means sometime in June.
As it stands TranontCoin is a poorly thought out unregistered investment scheme. It will make Lorne Berry and other early investors a boatload of money. Tranont's shady third-party partner will also take their cut.
This will come at the expense of Tranont's affiliates, who for the most part are unlikely to be crypto literate (Berry's presentation was definitely from a "OK so you know nothing about crypto" viewpoint).
If the TranontCoin harvester investment scheme goes ahead, things will then get even more messy as TranontCoin is further integrated.
Ironically across two Tranont reviews published on BehindMLM, I've cited Tranont's already complicated compensation plan. That doesn't look to be getting remedied anytime soon.
It's important to remember that Tranont creates TranontCoin out of thin air. TranontCoin that Tranont might eventually pay bonuses and commissions with is literally generated on demand, at little to no cost.
That's more money in the company's pocket, again at the expense of Tranont affiliates.
On the backend withdrawals are only possible as long as there's money to pay out. Which is being drained by the ever-increasing harvester investment scheme.
This is obviously not a sustainable business model. I won't go into internal/external exchanges and exit-scams yet as I think that's premature.
Pending specific costs and commissions of Tranont's harvester investment scheme being made public, we'll keep you posted.
In the meantime if you're in Tranont or thinking of joining Tranont to participate in the TranontCoin scheme, I wouldn't be investing anything until you've verified registration with the SEC and full disclosure via audited financial filings.
A lot hinges on who Tranont's blockchain bro partner is, so I wouldn't commit to anything without full disclosure on that either.
Failing which, this isn't going to end well for any number of reasons. The most prominent of which will be "Ponzi go boom!", or the SEC steps in and shuts Tranont down.
Update 22nd January 2023 – This article originally contained a YouTube link to the cited Tranont webinar.
Sometime in the last week the webinar video has been marked private. As such I've now disabled the previously accessible link.
As a general update, Tranont never mentioned TranontCoin again after April 2022.