Traffic Monsoon default judgment granted ($2.5 mill)

Following a motion request for default judgment filed last April, the SEC has secured a $2.5 million default judgment against Trafffic Monsoon.
The judgment also applies to owner and operator Charles Scoville.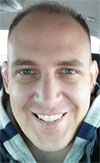 As per a January 5th order, Scoville (right) is liable to the SEC for $2,537,642 for disgorgement. On top of that he's been with a $2,426,749 civil penalty.
Together the amount Scoville owes the SEC is $4.96 million.
An injunction has also been granted, prohibiting Scoville from having anything to do with a "business model substantially similar to Traffic Monsoon".
There is a reasonable and substantial likelihood that Scoville, if not enjoined, will violate securities laws in the future.

Scoville's violations were very serious, resulting in tens of millions of dollars of losses to victims across the globe.

He has also engineered similar schemes in the past, demonstrating a propensity for creating online Ponzi schemes.
The granting of the injunction means the court has accepted the facts presented by the SEC "as true".
The court also considers the extensive evidence presented in the preliminary injunction hearing as well as the exhibits attached to the SEC's motion for a default judgment in determining whether it is entitled to the injunctive and monetary relief requested.
One take-away from the judgment is that Scoville insisting Traffic Monsoon wasn't a Ponzi scheme did him nno favors.
The factor that weighs most heavily in favor of injunctive relief is the absence of any recognition on the part of Scoville that his conduct was illegal. In the preliminary injunction proceedings, Scoville consistently argued that his actions were legal and not a Ponzi scheme.

He argued for the return of all or part of the funds seized by the court so that he could perpetuate the AdPack scheme.

And in a letter that Scoville recently sent to the court, it is apparent that he is convinced that he has done nothing wrong.

In the absence of any recognition of the illegal nature of his conduct and without any assurances against future violations, the court concludes that injunctive relief is warranted.
Often when we see fraudsters enter into settlements with authorities, the reason given is that they could't afford to go to court.
In reality it's because, like Scoville, ultimately they'll get steamrolled in court.
It's one thing to post nonsense on Facebook and make YouTube videos for gullible investors. It is quite another to get a Judge to swallow the same nonsense.
As I understand it default judgment will clear Scoville out of any funds he received through Traffic Monsoon.
Scoville is currently serving a prison sentence after pleading guilty to attempted child sexual abuse. In September 2019 he was also indicted for wire and tax fraud.