Charles Scoville indicted for wire and tax fraud

Charles Scoville, the incarcerated creator of Traffic Monsoon, has been indicted on wire and tax fraud charges.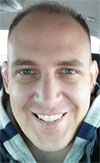 As first reported by Tara Talks, Scoville (right) was indicted via Grand Jury on four counts of fraud.
Per his August 5th indictment, Scoville
failed to report or pay taxes on more than $45 million in business income in the years 2014 through 2016.
The income in question was from Traffic Monsoon, describes Traffic Monsoon as "online scheme" that "used new investor money to pay old investors".
This is in line with the SEC's civil case, which alleges Traffic Monsoon was a $207 million dollar Ponzi scheme.
For the years 2014 and 2015 respectively, Traffic Monsoon declared $47,915 and $2,426,749 in business income.
The indictment pegs Traffic Monsoon's actual income for 2014 and 2015 at over $138,425 and $47.6 million.
This led to respective tax losses of $31,456 and $19,377,632 in tax revenue for the United States.
Scoville's indictment details two counts of wire and tax fraud (four counts in total).
The tax fraud charges relate to improper business income reporting as detailed above.
The wire fraud charges pertain to false statements Scoville made in relation to Traffic Monsoon's business model on the company's website.
In a nutshell representing Traffic Monsoon was a legitimate business, when in fact it was nothing more than an adcredit Ponzi.
Since Scoville's indictment on August 5th there have been no further entries on the case docket. Stay tuned for updates as we continue to monitor the case.
We're also continuing to monitor the SEC's civil Traffic Monsoon case, in which Scoville is a defendant.
Scoville was incarcerated in 2018 on charges relating to child abuse. Scoville pled guilty to attempted child sexual abuse in November 2018.
I believe Scoville was sentenced in early 2019. Details of his plea agreement and sentencing however have never been made public.
Via SEC court filings we know that as of February 2020 Scoville was still in prison. Whether he's since been released is unclear.
Update 28th September 2020 – As per comment #1 below, Scoville is still being held in Utah State Prison.
Update 28th August 2023 – Scoville's wire and tax fraud indictment has been dismissed.