Tori Belle Cosmetics files for Chapter 11 bankruptcy

Tori Belle Cosmetics' parent company LashLiner has filed for bankruptcy.
As per an August 8th Chapter 11 filing in the Western District of Washington, LashLiner had $5.2 million in liabilities at the end of FY 2021.
I hadn't heard of LashLiner or Tori Belle Cosmetics till a reader reached out earlier today.
LashLiner and Tori Belle operate in the cosmetics MLM niche. The companies were co-founded by Laura Hunter (CEO) and Bob Kitzberger (President).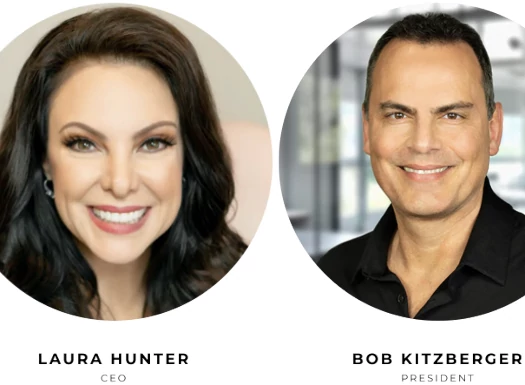 Hunter and Kitzberger share a 50/50 equity stake in LashLiner.
This is direct from LashLiner's website;
Laura Hunter invented magnetic eyeliner in February 2018, a game-changing innovation that makes it dramatically easier for people to apply and wear false eyelashes.

Hunter founded LashLiner Inc in 2018 to bring her patent-pending invention to market, alongside co-founder Bob Kitzberger, and in June 2019 launched Tori Belle Cosmetics.
As I understand it Tori Belle Cosmetics is a LashLiner subsidiary, through which the MLM side of the business operates.
Tori Belle is sold exclusively through tens of thousands of independent affiliates and influencers, across many channels including social media, online advertising, and brick-and-mortar venues.
A Comparative Balance Sheet filed on August 15th reveals the following liability breakdown, as of the end of FY 2021:
$3.5 million in accounts payable
$281,647 in credit card debt
$1.44 million marked as "other current liability"
Worth also noting is $3.1 million in accounts receivable, and $5.4 million in held product inventory.
In 2020, LashLiner recorded $5.5 million in net income. In 2021 it recorded a $1.2 million dollar loss.
LashLiner's sales took a pretty big hit, dropping from $59.6 million to $22 million. Shortcomings that are obvious in the numbers are
the cost of goods sold dropping only 48%, while net sales of products dropped 64%
payroll wages, taxes and benefits remaining at around $5 million year on year
"other income and expenses" rising from $31,665 to $715,436
As part of their bankruptcy filing, LashLiner included a "six-month cash projection and budget".
The filing details
a projected increase in sales due to seasons and an "Aug/Sep major new product launch" of a "workout line" they're calling TB Brave
no change to free shipping policy due to move to a third-party logistics warehouse and
implementing "remote work for remaining workers"
In a more immediate effort to keep the company together, on August 17th LashLiner filed an ex parte application to Pay Wages and Salaries and Payroll Taxes.
LashLiner argued that not paying its staff would "irreparably impair the Employees' morale, dedication, confidence, and cooperation."
At this early stage, the Debtor simply cannot risk the substantial damage to its business that would inevitably attend any decline in its Employees' morale attributable to the Debtor's failure to pay wages, salaries, and other similar items.

Absent an order granting the relief requested in this Motion, the Employees will suffer undue hardship and, in many instances, serious financial difficulties, as the amounts in question are needed to enable certain of the Employees to meet their own personal financial obligations.
The application was granted on August 19th.
Following LashLiner and by extension Tori Belle Cosmetics' bankruptcy is a bit challenging as I'm not familiar with the company. I'll do my best to keep track of any significant developments going forward.
I'm aware of two Tori Belle Cosmetics class-action lawsuits filed in August, the details of which I'll cover in pending separate articles.
Update 20th August 2022 – Laura Hunter held an August 19th FaceBook live to address LashLiner's bankruptcy.
This appears to have happened after bankruptcy proceedings were inadvertently leaked on Friday, following the employee payment issue detailed above.
Update 22nd August 2022 – Added some additional financial details from LashLiner's bankruptcy filings.
Update #2 22nd August 2022 – BehindMLM has published articles on both filed Tori Belle class-action lawsuits.
The first class-action was filed on August 2nd in the Superior Court of Washington. The second class-action was filed on August 16th.
Both lawsuits pertain to Tori Belle's $9 a month affiliate membership fee.
Update 26th August 2022 – This chart is from a Statement of Financial Affairs, filed on August 22nd;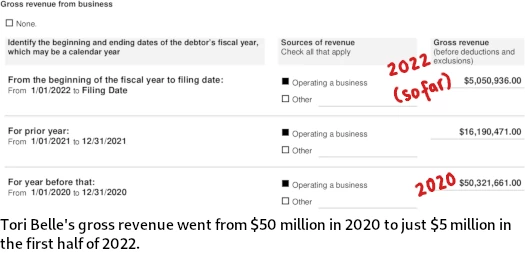 Tori Belle's gross revenue dropping from $50 million to $5 million (projected $10 million by the end of 2022), represents an 80% reduction over two years.
This isn't to say the company is doomed but it does provide additional context to the bankruptcy filing.
Update 21st July 2023 – Tori Belle has filed for Chapter 11 bankruptcy.
The Chapter 11 bankruptcy of LashLiner (detailed in this article), Tori Belle's parent company, is pending conversion to a Chapter 7 liquidation.
Update 12th August 2023 – On August 11th the court granted conversion of LashLiner's Chapter 11 bankruptcy to a Chapter 7 liquidation.
An order with more information is pending.