Tori Belle Cosmetics' corporate response to Ch. 11 bankruptcy

Something I didn't cover in our article on Tori Belle Cosmetics' recent Chapter 11 bankruptcy was a corporate response, and what the bankruptcy means for affiliates.
As of yet there's nothing really in the case docket addressing this, granted the bankruptcy is still in its early stages.
Somewhat strangely though, if you go looking for a response outside of filed court documents, Tori Belle Cosmetics didn't address the bankruptcy until Friday, August 19th.
That's a whole nineteen days after bankruptcy proceedings were filed.
As I write this a search for "bankruptcy" on Tori Belle Cosmetics' website doesn't return any results.
A look at the company's official FaceBook page reveals that on August 10th, two days after it filed for bankruptcy, Tori Belle Cosmetics corporate were partying with affiliates in Punta Cana.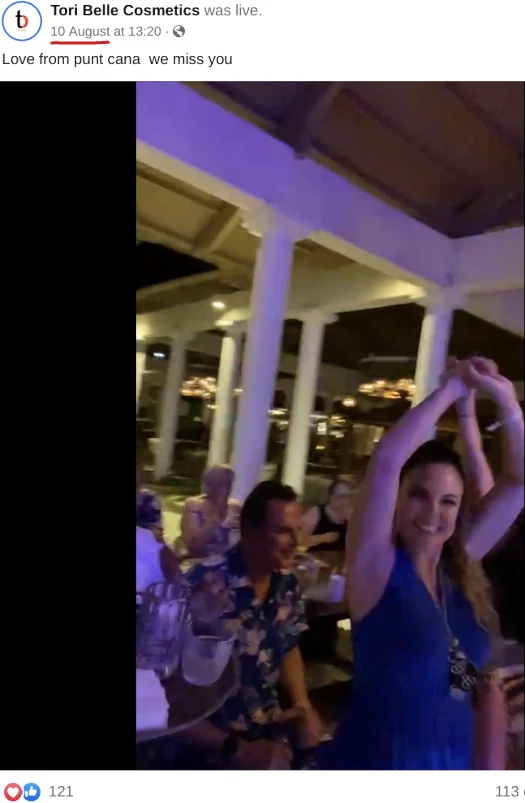 Following that there's nothing relevant till August 19th, wherein CEO Laura Hunter held an impromptu afternoon livestream.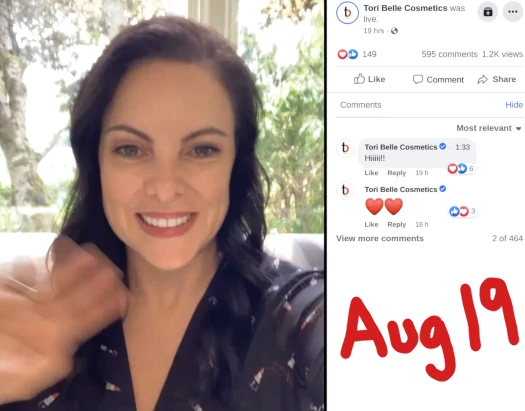 So we did have some drama this morning. Some of you may have woken up to see the word "bankruptcy". And it's a really scary wod.

And we wanted to assure you that one, no – Tori Belle is not going bankrupt or closing our doors, we are a profitable company.

What we are doing is called a Section 5 Restructuring of Debt.
Hunter is referring to SubChapter 5 in the Chapter 11 Bankruptcy Code;
Chapter 11 bankruptcy gives businesses the chance to restructure and reorganize their debt over three and five years while continuing to operate. However, a Chapter 11 filing is often too complex and expensive for many small business owners.

Subchapter 5 was added to Chapter 11 of the U.S. Bankruptcy Code in 2019 to make reorganization bankruptcies more accessible to small businesses.

The subchapter went into effect in 2020. It gives small businesses that are earning a profit, but having trouble paying their obligations, a simplified process for paying down their debt.
With this comes an "automatic stay", which "keeps creditors from collecting and will stop most court actions against you."
Hunter continues;
And we're doing that because during COVID … due to not only COVID and the ups and downs, also when we had to replace all those defective lashes very rapidly, we ended up with some debts that were very large and came due all at once.

And although we are a profitable company, that was really difficult for us to have a good runway. And just to move forward as a nice healthy company.

And so we decided to restructure those debts. And that's what we're doing.
Hunter reassures affiliates that Tori Belle Cosmetics "is going to be okay", but states "we had a little confusion about how this worked".
The reason I was confused, and Bob was too, was because you have to have permission from a Judge to do this. Because the Judge has to say, "Yes, you are a profitable company. Yes, you do have assets. Yes, we will do this for you."

And I was under the impression that after that happened was when it (the bankruptcy) was filed.

Turns out I was wrong. That conversation literally happened this morning. So I thought Monday it would be filed, if it was approved.

I didn't understand that they pre-file it, and then that's how you make the meeting with the Judge. And then you meet with the Judge, and then you move forward with the rest of the plan.

And so I thought that this was actually happening on Monday. And apparently it happened about a week and a half ago, when they first filed to make the appointment with the Judge.

So we were very confused as to how this was even happening.
I'm going to give Hunter the benefit of the doubt here, because bankruptcy proceedings are confusing. But I'm also going to correct her.
The only issue that was before the court on August 19th was Tori Belle Cosmetics' ex parte application to pay employee wages and salaries.
The application was granted, meaning presumably Tori Belle Cosmetics employees will be paid early next week (if they haven't been paid already).
That hearing wasn't a Judge signing off on Tori Belle Cosmetics' restructuring, as incorrectly represented by Hunter. I'm a bit surprised this hasn't been corrected by the company at time of publication.
One other thing I'm not following is Hunter claiming Bob Kitzberger and her were surprised at the hearing on Friday. Not only did Tori Belle Cosmetics file the application that prompted the hearing, Kitzberger signed off on the Chapter 11 bankruptcy on August 3rd:
As above, this happened after LashLiner's Board of Directors held a "special meeting" regarding the bankruptcy on August 2nd.
LashLiner is Tori Belle and Cosmetics' parent company. I'm going to go out on a limb and assume both Hunter and Kitzberger sit on LashLiner's Board of Directors.
Hunter goes on to state the bankruptcy is necessary so Tori Belle Cosmetics "can grow better".
This is just another piece of our growth. And it's a scary word, that people often times don't understand when it comes to the more finite business sense.

I'm so sorry you guys were freaked out. I was freaked out this morning too. I'm so sorry about that. But everything we do is intended to help you manage your own business better.
Hunter claims that, in alignment with the company's stated growth, Tori Belle Cosmetics is "moving to a larger warehouse facility, where we can have …  just better everything".
Hunter signs off with by framing the bankruptcy as "not a big thing". She states had "the drama" not of happened on Friday, that she had otherwise planned to inform Tori Belle Cosmetics affiliates about the bankruptcy on Monday.
This gives us room to grow in the coming years.

We're launching the future, more innovations. No holds barred, we're moving forward.

If you have any questions, let us know. And everything is perfectly fine. This is a normal business procedure, and I'm just so sorry that it got confused this morning.
BehindMLM covered Tori Belle Cosmetics' Chapter 11 Bankruptcy in an earlier article.
Coverage of two class-action lawsuits of the company, both filed in August 2022, is also pending.
Update 22nd August 2022 – Laura Hunter has reached out to provide clarification on the Punta Cana trip optics.
We took our affiliates on the incentive trip they earned, and we paid for last year. It was also nonrefundable. Had we not taken them I feel confident that we would also have been accused of wrong doing.

I can't imagine why we wouldn't take them though. Restructuring doesn't mean we should stop enjoying spending time with our sales field, who earned a well-deserved vacation.
I'm inclined to agree there's no "win" situation here. But that's the reality of a business running at a loss trying to restructure.
I can't find the logic in the implied expectation that we should stay home and avoid enjoyment of any kind if we restructure debt for the good of the business.

Restructuring of debt is not a shameful act. It's a common business tool. It does not mean we're going out of business. To the contrary, it means we're protecting our ability to do business and grow, after a really hard time.
Tori Belle didn't run into financial difficulties on August 2nd, it was a problem that manifested itself over the '21 financial year.
In light of the Punta Cana trip already being booked and paid for, as I see it the two options were:
inform the affiliate-base that the company was going through financial difficulties prior to filing for bankruptcy; or
file for bankruptcy, have it leak weeks later and then go into damage control (essentially what happened).
If properly managed option one would have been the least disruptive. I get announcing the bankruptcy just before the Punta Cana trip would have no doubt dampened the spirit of the trip.
In that case the announcement should have been made immediately after, and then the company filed for bankruptcy.
That brings with it it's own optics but at least as far as affiliates go, doesn't leave them feeling like they were uninformed of decisions that have a potentially huge impact on their business.
I'm of course bringing this up in hindsight and from the perspective of affiliates. From an administrative standpoint the the outcome is the same regarding Tori Belle's bankruptcy and the restructuring process.
Update #2 22nd August 2022 – BehindMLM has published articles on both filed Tori Belle class-action lawsuits.
The first class-action was filed on August 2nd in the Superior Court of Washington. The second class-action was filed on August 16th.
Both lawsuits pertain to Tori Belle's $9 a month affiliate membership fee.