The Last Cycler Review: $10 Ponzi pyramid hybrid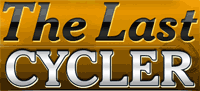 The Last Cycler launched in September 2013 and reveal in their FAQ that
TLC is owned and operated by Mike Peever of Ontario, Canada.
Peever is credited with being 'an online marketer since the late 1990s' and 'a program owner/admin for 7 plus years'. Multiple schemes are credited to Peever's name, including Steps2Infinity, MyPaycheckWeekly.com, ICCycle.com, CashTextAds.com and IncrementalCash.com (recruitment-driven matrix schemes).
Peever first popped up on BehindMLM as the admin behind Cash Club International. Cash Club International launched in January 2012 and like Peever's other schemes, revolved around affiliate recruitment and commissions tied to filling a series of matrices.
The Cash Club International website is still online today, however a decline in website activity indicates the stalling of matrices around late 2012.
This decline no doubt continued into 2013 and is the primary reason behind Peever launching The Last Cycler.
Read on for a full review of The Last Cycler MLM business opportunity.
The Last Cycler Product Line
The Last Cycler has no retailable products or services with affiliates only able to market affiliate membership to the company itself.
Affiliates join the company and then purchase $10 positions within The Last Cycler's compensation plan.
Bundled with each $10 position are a series of advertising credits, which can be used to display advertising that is
shown here on the various pages of TLC, along with other locations in our M2I network of sites.
The M2I network likely refers to Peever's other scheme websites, which tend to be advertising centric.
The Last Cycler Compensation Plan
The Last Cycler compensation plan revolves around affiliates purchasing $10 positions in the plan.
$5 of the $10 paid goes into an affiliate-funded revenue sharing scheme with the other $5 being used to fund matrix commissions.
Revenue Sharing
For each $10 position a The Last Cycler affiliate purchases, the company gives them a $5 position in a revenue sharing scheme.
Each $5 positions pays out "up to 1% daily to 150% total", with the daily percentage subject to the amount of money affiliates deposit with the company each day.
A 5% referral commission is paid out on every $5 position purchased by personally recruited affiliates, paying out 25 cents per position.
Matrix Commissions
Within The Last Cycler there are ten matrices affiliates must fill, with each paying out a separate commission when an affiliate "cycles" out of them.
The two types of matrices used by The Last Cycler are 2×2 and 3×2. A 2×2 matrix places an affiliate at the top of the matrix with two positions directly under them: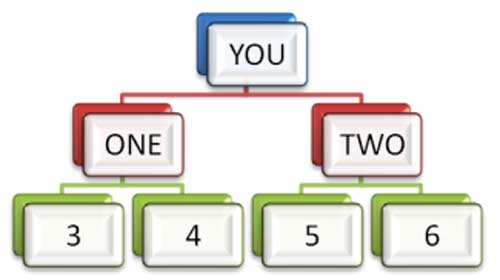 Under those two positions are another two positions each, resulting in a total of six positions needing to be filled before an affiliate can cycle out.
A 3×2 matrix has three positions under the affiliate instead of two, resulting in a total of twelve positions needing to be filled.
Matrix 1 (2×2) – $4 cycle commission and entry into Matrix 2
Matrix 2 (3×2) – $8 cycle commission, entry into Matrix 3 and re-entry into a new Matrix 1
Matrix 3 (2×2) – $44 cycle commission, entry into Matrix 4 and re-entry into Matrix 2
Matrix 4 (2×2) – $72 cycle commission, entry into Matrix 5 and re-entry into Matrix 1
Matrix 5 (3×2) – $160 cycle commission, entry into Matrix 6, re-entry into Matrix 1 and two re-entries into Matrix 2
Matrix 6 (2×2) – $800 cycle commission, entry into Matrix 7 and rentry into Matrix 1, 2 and 3
Matrix 7 (2×2) – $1500 cycle commission, entry into Matrix 8 and two re-entries into Matrix 2, 3 and 4
Matrix 8 (2×2) – $2900 cycle commission, entry into Matrix 9 and two re-entries into Matrix 1, 2, 3, and 4
Matrix 9 (3×2) – $7500 cycle commission, entry into Matrix 10 and four re-entires into Matrix 2, 3, 4 and 5
Matrix 10 (2×2) – $87,012 cycle commission, re-entry into Matrix 6 and eight re-entries into Matrix 2, 3, 4 and 5
Note that 25% of all matrix commissions are withheld by The Last Cycler with affiliates forced to use the money to purchase new positions.
Joining The Last Cycler
Affiliate membership to The Last Cycler is free, however affiliates must spend at least $10 on one compensation plan position if they wish to earn any commissions.
Conclusion
After launching an endless chain of recruitment-driven pyramid schemes over the years, Mike Peever has apparently decided to dive into the murky depths of MLM revenue-sharing.
The Last Cycler follows his typical matrix flood modus operandi, however with the added strain of a 150% ROI needing to be paid out, I suspect The Last Cycler will stall far sooner than Peever's previous schemes.
With the introduction of a revenue-sharing component affiliates receive a daily snapshot of the amount of daily new investment the company receives.
The higher the percentage the more new money is being invested. Over time as less new money enters the system that percentage will naturally drop and with it The Last Cycler's affiliate's marketing efforts.
Additionally, any notion that affiliates are purchasing advertising over compensation plan positions is dismissed by the company itself. Taken from The Last Cycler FAQ:
Am I allowed to purchase multiple positions?

A: For Sure! We actually recommend it if you can afford it.
With no retail activity and all revenue sourced from affiliates, by merit of its compensation plan structure The Last Cycler squarely fits the definition of a Ponzi pyramid scheme hybrid.
The take away? Whether your running a matrix-based recruitment scheme or a Ponzi pyramid hybrid, at the end of the day once the recruitment of new affiliates and investment of funds stops, the scheme will collapse.
When that happens, despite the ironic name chosen for his latest scheme, Mike Peever will be back with yet another "last cycler".