The Financial Commission distances itself from Anna Becker

The Financial Commission is feeling the heat, prompting the independent organization to distance itself from Daisy AI's Anna Becker.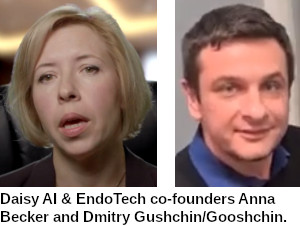 Daisy AI is an MLM crypto trading bot Ponzi launched a few weeks ago. The scam is run by co-founders Anna Becker and Dmitry Gushchin.
Before she got into launching Ponzi schemes, Becker was a member of The Financial Commission's dispute resolution committee.
Despite the official sounding name, The Financial Commission is
an independent self-regulatory organization and external dispute resolution (EDR) body, that is dedicated specifically to Forex.
In other words for the purposes of due-diligence into Daisy AI, Becker's ties to The Financial Commission are meaningless.
This however hasn't stopped desperate Daisy AI promoters using The Financial Commission in their marketing.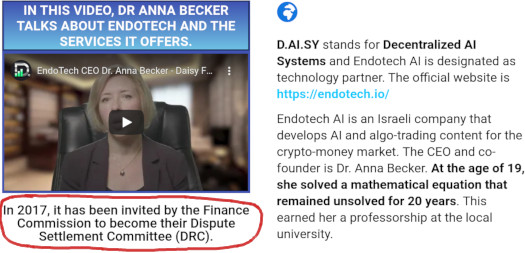 The implication being that Becker's ties to The Financial Commission mean she couldn't possibly be running a Ponzi scheme.
Daisy AI themselves encourage this nonsensical narrative in their official marketing materials: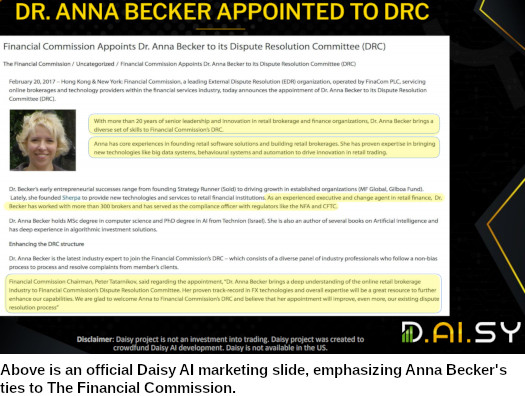 Here on BehindMLM it took about a week for someone to use The Financial Commission to imply Daisy AI's legitimacy.
Perhaps weary of having their name associated with the MLM crypto Ponzi space, The Financial Commission has put out a statement clarifying their relationship with Becker:
In response to numerous inquiries regarding Dr. Anna Becker's affiliation with the Financial Commission, the Financial Commission hereby confirms that from 2017 until 2019 Dr. Anna Becker served as a member of the Financial Commission's Dispute Resolution Committee.

In March 2019 Dr. Becker resigned from this position and is no longer affiliated with the Financial Commission.

The Financial Commission cannot evaluate or recommend any investments or offers made by any projects purporting to involve Anna Becker or any other former or current member of the Dispute Resolution Committee.
The use of The Financial Commission It goes hand in hand with people mistaking The Financial Commission for a regulatory body, and I imagine asking them whether Daisy AI is a legitimate investment opportunity.
That evidently falls outside of what The Financial Commission does, which is provide a non-legally binding dispute resolution service for member trading firms.
The Financial Commission does provide a "warning list" on its website. This however is just a list of trading companies they've received complaints about who haven't paid them membership fees.
That said, here's how The Financial Commission identifies companies it places onto its warning list:
Ponzi scheme, Pyramid Scheme, or a High-Yield Investment Program
Theft or misappropriation of funds
Fraudulent or unlicensed offering
False or misleading statements about a company
Other fraudulent conduct
That criteria fits Daisy AI to a T.
I know if I was running a supposedly reputable organization that was capable of identifying high-yield investment programs, aka Ponzi schemes, I'd be quick to issue a warning.
Even quicker if said company was using my organization to market a fraudulent investment opportunity and I was fully aware of it – which appears to be the case with Daisy AI and The Financial Commission.