TelexFree affiliates form "ad hoc committee", make demands

For affiliates who invested in TelexFree, the current situation is a bonafied mess.
Little to nothing has been officially communicated to affiliates, with the roadmap of fund recovery a murky minefield of uncertainty.
I've tried my best to analyze and cover what's happened on the legal front, but short of predicting an inevitable Chapter 7 liquidation, at present have no idea how long this is going to take. Or more importantly, what the alternatives are.
We know the court-appointed Trustee isn't interested in perpetuating the myth that TelexFree was a legitimate business, but he's been rather quiet of late. And paradoxically representing the best interests of TelexFree as an estate, hasn't to my knowledge communicated anything formally to the company's investors.
Quick to file applications demanding millions of dollars be paid to them for services rendered to assist TelexFree in dodging financial liabilities to affiliates via bankruptcy filings, Alvarez & Marsal North America, Greenberg Traurig and Gordon Silver have together requested $5.64 million in expenses.
Not happy with the possibility of funds being released to these firms, a group of ninety-four TelexFree affiliates have formed what they're calling an "ad hoc committee".
Led by counsel at Brown Rudnick, these affiliates are now seeking a rejection or temporary suspension of the reimbursement claims.
The committee's objection comes on the eve of a September 23rd hearing to determine the fate of the three firm's reimbursement claims.
The ninety-four affiliates who have signed their name to the objection express their frustration at the current climate facing TelexFree investors, particularly those who don't speak English:
As this Court is aware, nearly five months have passed since these debtors (collectively, the "Debtors" or "TelexFree") filed for Chapter 11 relief because of the collapse of their Ponzi scheme that drew in cash reported to exceed $1 billion or more, largely from individuals targeted from non-English speaking communities and for whom these losses often represented a major part of their life savings.

The vast majority of the Debtors' general unsecured creditors are the hundreds of thousands of Promoters unknowingly engaged to promote the Debtors' Ponzi scheme. Most are unfamiliar with the Chapter 11 process.

As the scheme targeted immigrant communities, including the Brazilian, Dominican, Nigerian and Russian communities, many Promoters do not speak English fluently.

The bulk of the Debtors' unsecured creditors cannot engage with these Chapter 11 Cases in any meaningful way.

During this five month period, the U.S. Securities and Exchange Commission (the "SEC") has filed an emergency civil enforcement action against the Debtors, these cases have been transferred from the District of Nevada to this Court, responsible persons have been criminally charged and others have fled or attempted to flee the country, and a Chapter 11 Trustee has been appointed.

Upon information and belief, negotiations have been commenced among the Chapter 11 Trustee and the estate's largest apparent creditor — the United States government — on the division of property of the estate between assets surrendered to Federal authorities as criminal forfeitures, and assets administered in the Debtors' chapter 11 estate for the benefit of creditors.

Notwithstanding these critical developments, no official committee of unsecured creditors has yet been formed, there is virtually no reliable information about these proceedings available to creditors, and creditors have no entity dedicated solely to representing their interests.

There has been to date virtually no reliable information publicly provided to these creditors, in any language, leaving them vulnerable to expensive further abuse, excessive anxiety and loss.

Many of the victim creditors have been approached by vulture investors seeking to use the present information vacuum to prey upon helpless consumer victims of this Ponzi scheme, including by offering to buy claims for pennies on the dollar.

Even more egregiously, unscrupulous attorneys have been advising Promoters they must engage an attorney to file a proof of claim against the Debtor, and attempting to charge these individuals exorbitant fees to prepare those proofs of claim.

Special bankruptcy counsel to the Ad Hoc Committee assisted in shuttering one of the most glaring examples of Promoter abuse: a widely-viewed YouTube video in which an attorney claimed that proofs of claim were immediately due (though no bar date has yet been set), that defective claims would be invalidated without notice to the claimant (contrary to standard bankruptcy practice), and that proofs of claim must be accompanied by a "declaration re: electronic filing" (which is also patently untrue).
Here at BehindMLM we're no stranger to the antics of Brazilian TelexFree ringleaders. Carlos Costa still regularly appears in YouTube videos promising affiliate investors all sorts of rubbish.
The latest video, published just a few days ago, sees Costa promise affiliates that "something better than TelexFree" is just around the corner.
Brazilian TelexFree investors like Carlos Castilho regularly assist Costa, by publishing YouTube "updates" full of fabrications and misleading and outright false interpretations of regulatory legal proceedings in the US.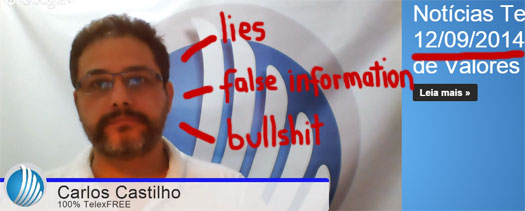 Castilho was one of the infamous group of Brazilian affiliates who declared "victory" at the first Nevada bankruptcy hearing. Live on YouTube as the hearing itself played out, Castilho and his cohorts pushed the fiction that five or so judges had practically given TelexFree the all-clear.
Other TelexFree affiliates appear in political videos of Costa's, endorsing his campaign to secure a seat in Brazilian government.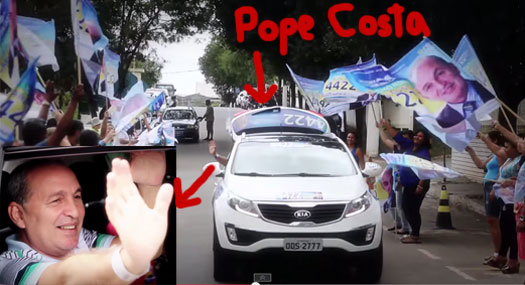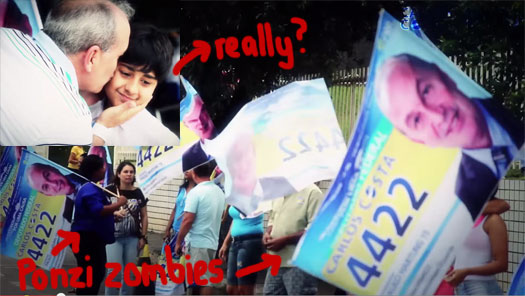 Under the guise of campaigning to legalize MLM Ponzi schemes, Costa hopes to escape criminal charges via election to public office. Secondarily, Costa has also positioned himself to dismiss any regulatory action taken against him as political persecution.
Getting back to what's happening the US though, in light of currently receiving no representation in the current bankruptcy proceedings, the self-appointed ad hoc committee of TelexFree affiliates are asking that
the fee applications be disallowed or that consideration thereof be postponed until an official committee of unsecured creditors is formed.

On August 1, 2014, A&M, Greenberg Traurig, and Gordon Silver each filed a Fee Application.

A&M seeks authority to apply a $1 million pre-petition retainer to $876,463.72 in fees and expenses.

Greenberg Traurig seeks authority to apply a $3,726,604.89 retainer to $1,044,813.95 in fees and expenses.

Finally, Gordon Silver requests allowance of compensation and reimbursement of expenses in a total amount of $229,712.85.

While the Ad Hoc Committee is fully supportive of the U.S. Trustee's ongoing efforts to form a creditors' committee soon, it believes that the upcoming hearing on the Fee Applications is a major case event that cannot pass without direct and formal creditor input.

Unfortunately, without the presence of an official committee, empowered by the Bankruptcy Code with the ability and resources to investigate "any . . . matter relevant to the case," no one body can speak authoritatively for all creditors.

Notwithstanding, the Ad Hoc Committee, populated solely by what it believes to be a representative sample of all general unsecured creditors, has taken it upon itself to review the Fee Applications, and respectfully submits that the tasks for which compensation and reimbursement is sought benefited neither the Debtors' estate nor its creditors.

The Ad Hoc Committee respectfully requests this Court (i) enter an order disallowing the Fee Applications in their entirety, or (ii) postpone consideration of the Fee Applications until an official committee of unsecured creditors is appointed.
The legal basis the committee makes its request is that
Beyond debate, compensation paid under Bankruptcy Code Section 330 (as requested in the Fee Applications) must be for "necessary" services and expenses. 11 U.S.C. § 330(a)(1).

In determining reasonable compensation for professionals, a court must consider "whether the services were necessary to the administration of, or beneficial at the time at which the service was rendered toward the completion of, a case under this title." 11 U.S.C. § 330(a)(3)(C).

The Fee Applications reflect charges for services that were neither necessary to the administration of, nor beneficial to the completion of, these Chapter 11 Cases.

Rather, the Ad Hoc Committee respectfully submits that tasks performed resulted only in unnecessary delay and waste to the detriment of the interests of unsecured creditors.
I wholly agree. It is plain as day that the whole bankruptcy mess TelexFree instigated was nothing more than an attempt to thwart pending regulatory action.
A&M seeks authority to apply a $1 million prepetition retainer to $876,463.72 in fees and expenses.

A review of A&M's Fee Application reveals that the bulk of its prepetition fees and expenses were incurred in advising the Debtors as to a "restructuring" of what was a fraudulent enterprise — a restructuring which would be unrealistic and contrary to both public policy and applicable law.

Postpetition fees and expenses were also incurred in responding to discovery requests served by the Trustee, in cooperating with governmental investigations by the Securities and Exchange Commission and the United States Department of Justice into the Debtors' affairs, and in preparing its Application.

Not one has resulted in any demonstrable benefit to creditors.

Greenberg Traurig, which seeks authority to apply a $3,726,604.89 retainer to $1,044,813.95 in fees and expenses, spent inordinate time fighting both the rightful transfer of these Chapter 11 Cases from Nevada (where the Debtors had nothing but a sham "rent-a-space" office in Las Vegas) to Massachusetts (where the Debtors have their principal place of business) and the appointment of a Chapter 11 Trustee (patently necessary here, where key members of Debtors' management have been taken into criminal custody or fled the country).

Gordon Silver, which requests allowance of compensation and reimbursement of expenses in a total amount of $229,712.85, likewise incurred substantial fees and expenses contesting the motions to transfer these Chapter 11 Cases to Massachusetts and to appoint a Chapter 11 trustee.

The Ad Hoc Committee is baffled how the delay and attendant expense resulting from these doomed efforts can be deemed "beneficial" to the estate.

It is not the Ad Hoc Committee's intent to cast aspersions on the good faith of the Applicants or on the diligence of their efforts.

However, the Ad Hoc Committee respectfully submits that the tasks performed by the Applicants, as reflected in the Fee Applications, meet no aspect of the standards set by the Bankruptcy Code for the payment of professional fees as an administrative expense of the Debtors' estate.
My take?
Having seen the various affiliate groups pop up to try to hijack the Zeek Rewards Receivership proceedings, I'm instinctively weary of groups of investors pooling together under legal representation and interfering with regulatory legal proceedings.
Here, the committee itself notes
there is no apparent reliable report on the identity of the largest creditors of (TelexFree) and that, in Ponzi scheme cases, even if such report existed, the reported "largest" creditors are often later determined to have been early promoters of the scheme with claims based largely on anticipated profits, or whom have already recovered significant cash based on scheme distributions.
Are any of the ninety-four affiliates who have put their name on this objection net-winners in TelexFree? That I can't say.
Regardless though, in this particular instance I'm of the belief that what they're asking for isn't unreasonable. So long as the committee's involvement in this one particular matter extends no further than the objection of funds being released to firms, who served no other purpose than to facilitate TelexFree's attempts to circumvent regulatory liability via bankruptcy proceedings, I can't see any issues arising as a result.
In this narrow scope, I think it's perfectly reasonable to ask that a request for millions of dollars be transferred out of TelexFree be either rejected or suspended pending further analysis.
With no communication to affiliates thus far on his ultimate intentions (other than expressing no interest in a business reorganization), can it be assumed that on September 23rd he will argue in the best interests of TelexFree victims?
Whereas TelexFree victims would no doubt prefer to see no money remitted to the firms in question, what's stopping Darr from negotiating a discount? Is the question of whether or not these firms deserve any money even going to be raised? Darr can hardly argue that they didn't perform requested services for the company.
This, I feel, is the crux of the problem residing in the current circus of SEC (civil), Department of Justice (criminal) and bankruptcy proceedings against TelexFree occurring simultaneously.
Individually I can get my head around the status of each proceeding, but trying to work out how each will affect the other? And ultimately just where all of this is heading?
Yeah… pass.
At the risk of further delaying proceedings, I really do think somebody needs to apply the brakes and establish just what is going to take precedence here. And perhaps more importantly, plot out a road-map so that TelexFree's affiliates aren't totally in the dark as to what's likely to come.
I maintain that a group of ninety-four affiliates can hardly speak for the hundreds of thousands who lost money in TelexFree, but if they're grouping together sparks action towards a cognitive painting of a clearer picture going forward, then all the more power to them.
Let us hope that the quagmire of confusion we currently have before us is addressed sooner rather than later.
Footnote: A full copy of the ad hoc committee's "Objection To Applications For Allowance Of Compensation And Reimbursement Of Expenses" can be read over at Kurtzman Carson Consultants.
Update 19th September 2014 – Following discussions with the office of the court-appointed Trustee Stephen Darr, the ad hoc committee are now referring to themselves as "creditors".
This is explained in a newly filed correction to the objection this article is based on:
This document is a slightly revised version of the document initially filed on September 12, 2014 at Docket No. 443 (the "Prior Objection"), solely to correct the identity of the objecting parties.

The Prior Objection described the Creditors as an "ad hoc committee" formed solely to seek appointment of an official committee of unsecured creditors in these cases pursuant to Section 1102(a)(1) of the Bankruptcy Code, and to take limited actions pending such formation as necessary to allow that official committee, once appointed, to undertake the critical duties imposed on that committee by the Bankruptcy Code, and composed solely of persons eligible (and who have volunteered) to serve on that official committee.

However, after discussions with the Office of the United States Trustee, the Creditors now appreciate that the "ad hoc committee" label was not accurate, as the Creditors have not met as a group, and are not acting as a "committee" or other type of entity in any respect.

Accordingly, this Corrected Objection is filed to more accurately reflect the Creditors being, simply, creditors.
Also clarified is the question of whether or not the ninety-five (formerly ninety-four) investors who signed their names to the objection are net-losers or not.
Attorney William Baldiga writes
Primary counsel for each of the creditors who have formed the Creditors have represented to the undersigned (Baldiga) that each creditor is a "net loser" with respect to the Ponzi scheme perpetrated by the debtors.

In the informal discussions among the undersigned, the Chapter 11 Trustee and the Office of the United States Trustee, the Chapter 11 Trustee and the Office of the United States Trustee have emphasized the importance that the persons who are most clearly victims of this fraud are only those persons who have lost money invested, and who have not recovered anything from those "investments," and who do not have claims based on expectations of gains based on amounts that they hoped would be invested by others "further down" in the fraudulent pyramid scheme.

Accordingly, the undersigned (Baldiga) has worked closely with the primary counsel for each of the creditors listed at Exhibit A attached to assure to the greatest extent practicable adherence to this important criteria.
It's not 100% bulletproof, but based on what the attorneys representing the signed investors have told Baldiga, they are all net-losers according to Darr's criteria.