Terrence Pounds claims he isn't running Keep It 100

After "launching his own project" and "lying to people for 6 weeks", as his investors put it, Terrence Pounds now claims he doesn't own Keep It 100.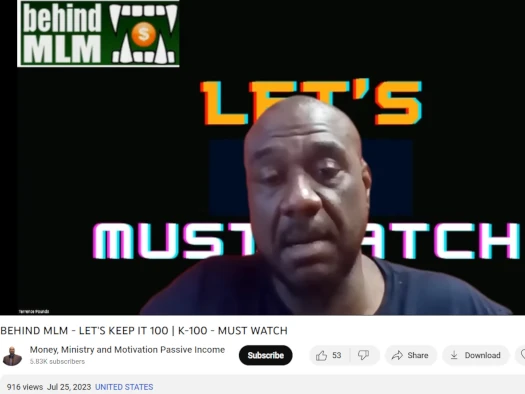 Pounds' announcement comes less than 48 hours after BehindMLM reported on Pounds pleading guilty to thirteen counts of COVID-19 loan fraud.
Pounds revealed Keep It 100 on his "Money, Ministry and Motivation Passive Income" YouTube channel on June 9th, 2023.
[6:04] Before we get into my brand-new project, that I'm so excited to be able to share with you today, there were some glitches in the system today, for those of you that got involved … and the glitches may still be there.

So ultimately, um, if the glitches are still there I don't want you to put any money into it just yet. But my developers are working on that project.

[6:31] K-100 is my second project, right? My second project in the space, not my first project right?

[9:00] I'm gonna "keep it 100" with you, alright? Now I'm gonna give you a guarantee. Not a guarantee that I'mma get you "x" amount of dollars, I'm gonna give you a guarantee that I won't steal your money. Period.

I am not gonna run off with your money. I don't care how much money you deposit in your platform, it's not gonna make me want to steal your money.

I don't have a goal, "Oh, once "x" amount of dollars gets here I'm leaving. No, I am trying to put something together for the community, that will not rug.

[10:28] Now just because it's me behind the project, I know people feel better but no, do not bring your life savings because it's Terrence Pounds.

[12:02] Now folks I'll be honest with you. I've had this platform ready to go for almost a couple of months now already. I could have launched this 60 days ago.

Now the reason that I did not, the reason that I did not launch it, was because you know, guys I was the number one guy in C12.
"C12" refers to Carnelian12, a suspected Russian Ponzi scheme that collapsed a few weeks before Pounds launched Keep It 100.
At this point we're twelve minutes into Pounds' Keep It 100 launch webinar. I think it's pretty obvious he owns and is running the scheme.
Fast forward to July 24th, and Pounds isn't so upfront about owning Keep It 100;
[7:04] I  personally am not the owner of K-100. Yes, paid CEO, paid trader but not the owner.
Naturally, Pounds doesn't disclose who is allegedly paying him.
[8:23] I am making the decision today … for me to back away as the CEO and trader of the company.

The reason I have to back away is obviously I have these legal allegations going.
I'm assuming Pounds is referencing his pending sentencing here, but it's odd to reference them as allegations.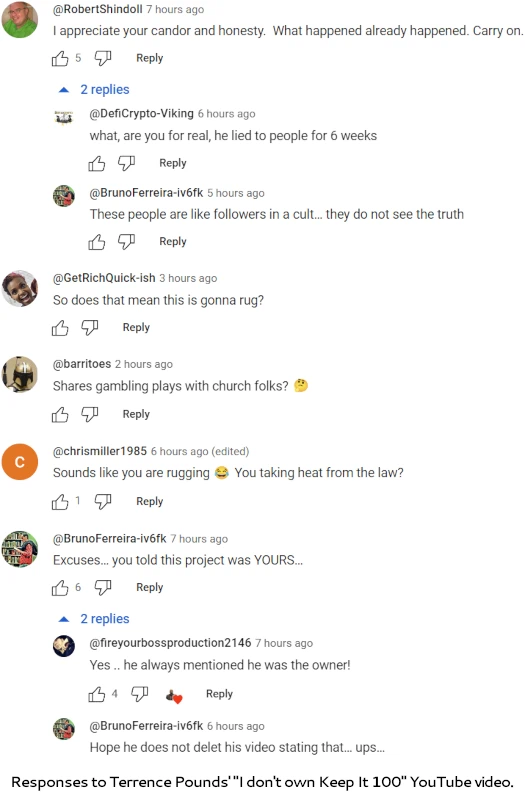 Pounds pled guilty to his charges, meaning he accepted the allegations as fact. All that's left to be determined is how heavy a sentence he gets.
To support the claim he's not running Keep It 100, Pounds trots out a UK incorporation certificate;
[8:58] Now folks, just to prove to you that I am not the owner of the company, I am gonna show you the official company registration.
K100 4Real LTD was incorporated on July 21st, 2023. This appears to be a response to BehindMLM outing Pounds as the owner of Keep It 100 in our July 9th review.
Pounds might have been acknowledging he owned and ran Keep It 100 in marketing videos, but this was never disclosed on Keep It 100's website.
Regardless of who registered K100 4Real LTD, a hastily created UK shell company is ultimately meaningless.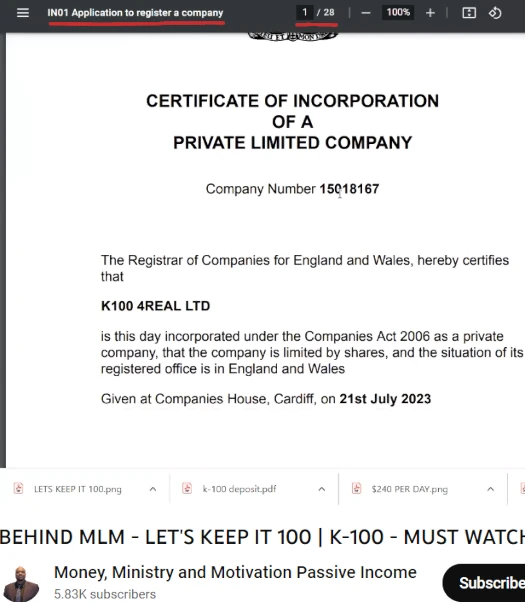 Contrary to Pounds' assertions…
[9:34] Now I want you to understand that when companies register, this is a process for them to do the KYC and all of that stuff.

But I can assure you that they have been in the process of doing this prior to launch and (they) finally got it together).
…that there is no KYC involved in UK shell incorporation.
Incorporating a UK shell company costs £12 GBP (~$15 USD) to do online, takes a few minutes and there is absolutely no KYC process involved.
You can input any Mickey Mouse details and Companies House will accept your registration and provide you a certificate.
UK shell companies being used to hide fraudsters has been a documented problem for years.
So what is actually going on here?
Pending further continuances, Terrence Pounds is currently scheduled to be sentenced on September 26th.
He has been charged with fourteen counts of fraud, thirteen of which he pled guilty to. These include:
one count of conspiracy to commit wire fraud – up to 20 years in prison
eight counts of wire fraud – up to 20 years in prison per count
three counts of engaging in a monetary transaction in property derived from criminal activity – up to ten years in prison per count
As per the DOJ's May 2021 press-release covering Pounds' indictment;
If convicted, the Defendant's sentence will be determined by the Court after review of factors unique to this case, including the Defendant's prior criminal record, if any, the Defendant's role in the offense, and the characteristics of the violation.

In all cases, the sentence will not exceed the statutory maximum, and in most cases, it will be less than the maximum.
With respect to Pounds' prior criminal record, in his July 24th "I'm not the owner" video, Pounds states he has a "criminal past".
[3:44] I've been locked up (at the) state, federal and juvi level.
With respect to the "factors unique to this case", the DOJ pegs Pounds as the ringleader behind the fraud;
POUNDS recruited (his accomplices) and others to provide him with their personal identifying information, which he then used to apply for EIDL loans in their names.

POUNDS allegedly claimed in the EIDL loan applications that (his accomplices) each operated a non-profit organization that was a "Faith-Based Organization" and a "Church".
Unfortunately Pounds' current MLM crypto Ponzi crime spree won't factor into his COVID-19 loan fraud sentencing.
What it might lead to though is a higher probability of Pounds' Keep It 100 Ponzi scheme being investigated.
Hiding behind accomplices didn't shield Pounds when it came to COVID-19 loan fraud. Similarly, hiding behind a UK shell company isn't going to protect Pounds from potential wire fraud, securities fraud and money laundering charges.
Pounds' MLM crypto Ponzi career appears to have began in August 2022 with NovaTech FX.
NovaTech FX was a US-based Ponzi scheme run by Cynthia and Eddy Petion.
The Petions went into hiding in late 2022, following which NovaTech FX collapsed in February 2023.
In addition to NovaTech FX, Pounds claims he's participated in "almost 200 different" Ponzi schemes "in the last year".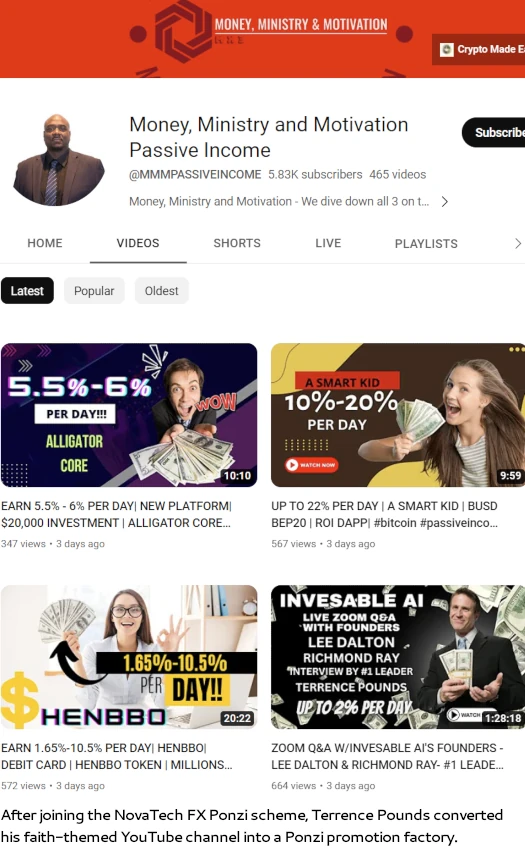 As per federal US securities law, both offering and promoting unregistered securities is illegal.
Update 29th July 2023 – Keep It 100 has collapsed.