SEC: Rodrigues can't speak English is "nonsense"

Following claims by Sann Rodrigues' lawyers that he can't speak English, the SEC have filed their response.
They're not too happy.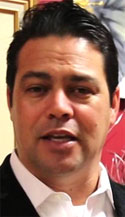 Through two attorney's Rodrigues (right) had previously asserted that he didn't speak English, and then that he had only an 'extremely limited knowledge of the English language'.
Writes the SEC in response,
with all respect, those arguments are nonsense. Rodrigues speaks English quite well (albeit with an accent).
Submitted by the SEC as evidence that Rodrigues does indeed speak English, are two videos showing Rodrigues… well, speaking English.
(Rodrigues) appears in a promotional video for TelexFree that was posted on the internet on April 17, 2013 with the title "TelexFree USA first Millionaire Sann Rodriguez [sic] Tells His Story."

A copy of the video is has burned to a CD that has been delivered to the Court. As the Court can determine by watching the video, Rodrigues has no trouble speaking English.

Rodrigues also made a short promotional video for a scheme called "iFreex" that was posted on the internet on October 16, 2014.

Although the title of the second video is in Portuguese, Rodrigues speaks English in the video. A copy of the video has also been also burned to DVD that has been delivered to the Court.
The SEC also calls out Rodrigues argument that he needed an interpreter to understand the asset-freeze ordered against him, pointing out that Rodrigues was subject to a similar freeze back in 2006 (and had no issues understanding or complying with the order).
Rodrigues claim of not speaking English was made in an attempt to fend off the SEC's accusation that he is in contempt of court.
The matter is to be heard on September 30th.
Footnote: Our thanks to Don@ASDUpdates for providing a copy of the SEC's September 25th "Reply Memorandum" filing.
Update 3rd October 2015 – The hearing on the 30th took place, with the matter continuing on the 16th of October.
In the meantime, a Memorandum in Support of Rodrigues' opposition to the contempt filing is to be filed by the 7th of October, and the SEC's subsequent response by the 14th.