Sann Rodrigues claims he doesn't speak English…

Accusing him of making a mockery of an asset-freeze currently in place, last month the SEC requested Sann Rodrigues be sent back to jail for contempt.
Rodrigues filed his response last Friday and, among other things, is now claiming he doesn't speak English…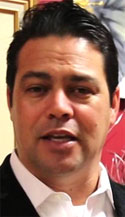 Rodrigues (right) doesn't see his conduct as breaching the court-ordered asset freeze, and offers up a litany of amusing excuses as to why this is so.
He starts by playing the minority card, which he claims put him at a disadvantage to other TelexFree investors named in the SEC's civil action.
On May 8, 2014, this Court entered an order freezing all assets belonging to Mr. Rodrigues.

The undersigned counsel did not enter an appearance until June 13, 2014 and October 7, 2014, respectively; several other defendants had the benefit of the advice of counsel.

Mr. Rodrigues did not have the benefit of having an attorney explain the injunction to him, nor did he have the benefit of having its terms explained to him in his native language of Portuguese.
Why Rodrigues failing to secure counsel is the court's problem, I have no idea.
He then goes on to explain why he only filed requested proper accountings in July of 2015, when the court order requesting him to do so was issued over a year prior:
Frustrating Mr. Rodrigues further compliance is an unrelated criminal case in in which he was held in custody from May 7, 2015 until July 13, 2015, at which time his conditions of release required that he remain in his home under electronic monitoring twenty four hours per day.

Mr. Rodrigues was unable to identify certain accounts that had been closed, and was further unable to identify any transactions stemming from TelexFree, as those accounts were not within his control.
May 2015 was a whole year after the initial asset-freeze order was made. Why did Rodrigues fail to product the required accounting during that time?
And really, what does home-detention for 2 months a year after the court order was issued even have to do with anything?
Mr. Rodrigues was not attempting to withhold any information or defraud the Court or the SEC, but merely did his best
with what was available to him, given his situation.
What "situation" that might be is a complete mystery.
Prior to his visa fraud arrest in May 2015, Rodrigues was running around the world promoting his iFreeX Ponzi scheme.
Plenty of time to do that… but submit court-ordered accounting records? Not possible.
Then Rodrigues' lawyer hits with this bombshell:
Mr. Rodrigues, who does not speak English, complied with this Court's orders to the best of his abilities, with the help of counsel and given his extremely limited knowledge of the English language.
SAY WHAT?
Rodrigues, the top-earner in TelexFree, was a regular fixture at company events. At these events he schmoozed with top US affiliate investors, many of whom are also being sued by the SEC.
To the best of my knowledge, at no time did Rodrigues have an interpreter translate for him at any TelexFree event.
Furthermore Rodrigues' visa fraud arrest revealed that he'd been living in the US since 2003. Twelve years in the US and he can't speak English?
In footage of Sann Rodrigues speaking at a TelexFree event in 2013 he switches effortlessly between Portuguese and English.
Now I'm no linguistics expert, but Rodrigues sounds pretty fluent for someone who doesn't speak English…
WHEREFORE, the Defendant Sanderley Rodrigues de Vasconcelos respectfully asks that this Court deny the Plaintiff's motion to hold the defendant in civil contempt.

In the alternative, the Defendant Sanderley Rodrigues de Vasconcelos requests that this Honorable Court stay its adjudication of the Motion for Contempt to permit the parties to resolve the disputed issues amongst themselves.

Should this Honorable Court not be inclined to enter such a stay, then the Defendant Sanderley Rodrigues de Vasconcelos respectfully request that this Honorable Court schedule the Motion for Contempt for an evidentiary hearing so that Mr.
Rodrigues is afforded due process to challenge or rebut the SEC's assertions.
Bloody hell, blatantly lying on a court filing for a contempt proceeding… how exactly does Rodrigues think this is going to play out?
Pending a decision on the matter, we'll keep you updated as the downfall of Sann Rodrigues continues…
Footnote: Our thanks to Don@ASDUpdates for providing a copy of Sanderley Rodrigues' September 18th opposition to the SEC's Civil Contempt motion.
Update 22nd September 2015 – A hearing on the matter has now been scheduled for September 30th.