Rwanda bans TelexFree: "It's a pyramid scheme"

Earlier this month it was revealed that Rwanda had launched an official investigation into the business operations of TelexFree. The investigation formally began on February the 19th and was a joint effort between the National Bank of Rwanda and The Ministry of Trade.
Now, a month later the result of the Rwandan investigation has been made public:
TelexFree Rwanda Ltd activities are similar to that of a pyramid scheme, which can easily be a channel to jeopardize the financial sector and facilitate money laundering.
The result of the investigation has been made public by the Ugandan Ambassador to Rwanda, Richard Kabonero. Kabonero tweeted the conclusion of the Rwandan investigation and attached an official notice from the Rwandan Ministry of Trade and Industry.
Kabonero also called on his own government in Uganda to follow suit to "protect the public":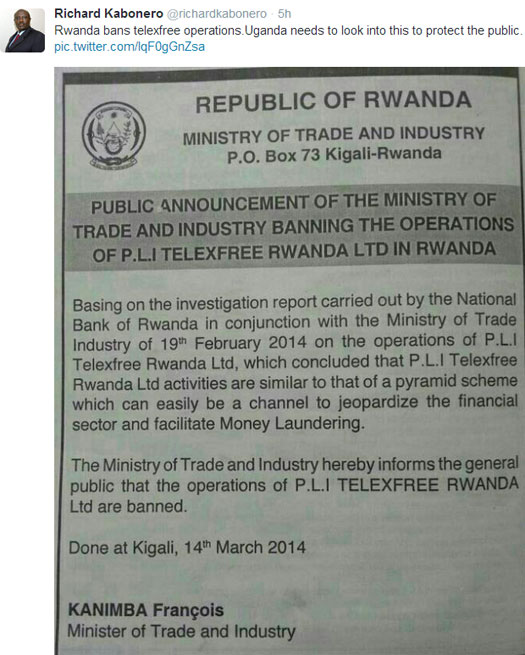 With government officials publicly calling for investigations into the scheme, I imagine we'll be hearing about a Ugandan TelexFree investigation being launched in the coming days…