iPayout disable TelexFree ewallet services

Just a brief update on this (working on some lengthier articles for later publication).
Earlier today TelexFree's payment processor, iPayout, pulled the company's ewallet services offline.
Whereas initially the TelexFree subdomain on the iPayout "GlobaleWallet" server was timing out, it now redirects to a custom 404 error message:

Now, in addition to this, if TelexFree affiliates try to access their account, iPayout are advising them that they have "disabled" the merchant services they provided to TelexFree: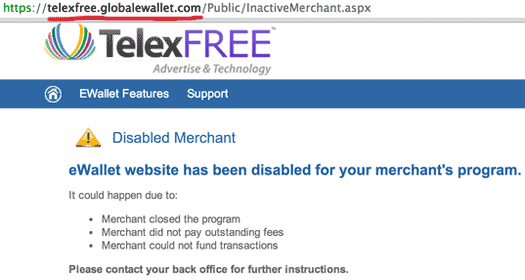 Whether or not any further action will be taken against iPayout is unclear at this stage.
Long-time readers will remember that when the SEC moved in to shut Zeek Rewards down, their payment processor NxPay effectively shut down as funds were frozen across the company.