BBB "checking" TelexFree's advertising in the US

As part of my daily blogging routine for BehindMLM I digest, research and analyse a ton of information within the MLM sphere on a daily basis.
Earlier this morning I was conducting my usual MLM news and research rounds when I stumbled across the following curious pop-up over at the BBB website: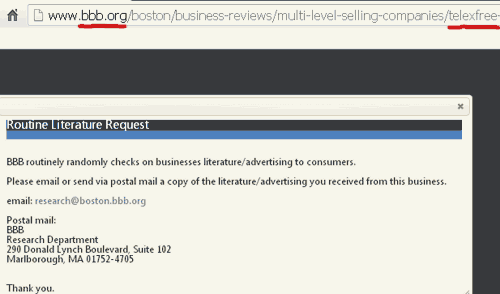 Dubbed a "routine literature request", for reasons not clarified it appears the BBB are requesting consumers to send in examples of TelexFree's marketing.
BBB routinely randomly checks on businesses literature/advertising to consumers.

Please email or send via postal mail a copy of the literature/advertising you received from this business.
Google cache reveals the information request pop-up was triggered as early as August 24th, however the exact date the BBB began their research is unknown.
Despite the claim that the BBB's information request is "routinely random", I'm not entirely convinced.
The BBB listing for TelexFree, which provides an address in the US state of Massachusetts, states that the 'BBB Business Review on TelexFree is being updated by BBB' and that they are 'unable to provide (readers) with any information at this time'.
Coupled with the mounting legal problems TelexFree is facing in Brazil, I don't think the BBB requesting specific marketing and advertising material from TelexFree and its affiliates is co-incidental.
Curious as to what the current TelexFree marketing landscape looked like, I set Google to show me the last 24 hours of results for "telexfree". I only had to look at the first page of results to see a YouTube video informing me that I would "get paid weekly guaranteed" with TelexFree.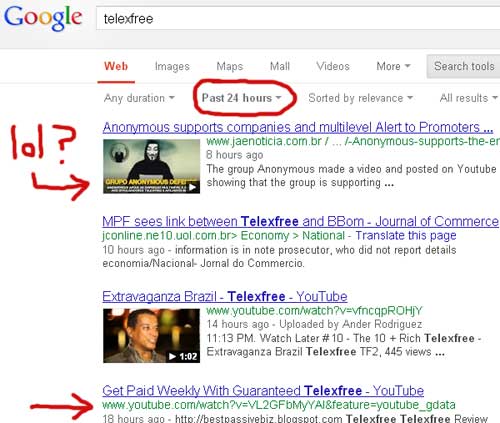 I've also highlighted a rather absurd result claiming that the hacktivist group Anonymous have thrown their support behind TelexFree by way of a YouTube video.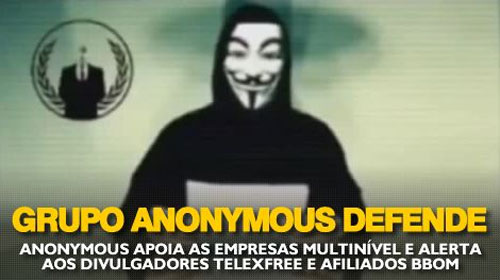 If anyone is familiar with the group, the notion that they would waste their time and efforts supporting Ponzi schemes such as TelexFree is laughable.
Oh and the actual video? Already removed from YouTube 'as a violation of YouTube's policy against spam, scams, and commercially deceptive content'.
Getting back to the BBB, it's worth noting that on their website the organisation states:
BBBs are private, self-regulatory agencies that seek the voluntary cooperation of business.

When illegal practices are uncovered and the business refuses to cooperate with the BBB, the matter is referred to the appropriate law enforcement agency.

Also, BBBs have close working relationships with governmental agencies such as the Federal Trade Commission, with consumer protection agencies, and the State Attorneys General.
Whether or not TelexFree is being investigated in the US of course remains to be seen. However I think it'd be pretty naive to suggest that the company wasn't at the very least on the radar of US regulators.
Especially when you've had Brazilian TelexFree kingpins running around telling their downlines to re-register through US TelexFree accounts to bypass the Brazilian injunction.
As always, stay tuned…