FTC seeks NetForce contempt judgment + civil sanctions

Following a directive last month in their NetForce case, the FTC has filed a motion seeking a contempt judgment and compensatory civil contempt sanctions.
The FTC first sought NetForce contempt sanctions against Jay Noland mid last year.
The court declined to initiate contempt proceedings at the time, pending resolution of the FTC's Success by Health pyramid case.
To obtain contempt sanctions, the FTC must not only succeed on its allegations in the Success By Health action but prove those allegations by clear-and-convincing evidence.
That case is still playing out pending the outcome of a filed appeal.
In the meantime with permission of the court, the FTC is again seeking contempt penalties in the NetForce case.
In their June 23rd motion, the FTC puts forth
Defendant James D. Noland, Jr., along with co-contemnors Scott Harris, Thomas Sacca, Success By Media LLC, and Success By Media Holdings Inc. violated multiple terms of this Court's 2002 Stipulated Final Judgment and Permanent Injunction.

Until the Court imposed preliminary relief in January 2020, they ran two pyramid schemes—Success By Health ("SBH") and VOZ Travel—using false earnings claims to bilk thousands of consumers out of $7 million.

The FTC, therefore, requests the Court find them in contempt and award civil compensatory sanctions.
The NetForce case was filed in 2000 'against Jay Noland for making deceptive claims and promoting a pyramid scheme'.
The FTC won the case via final order, which
bars (Noland) from certain marketing schemes, bars him from making misrepresentations related to a multi-level marketing program ("MLM"), and bars him from providing the means and instrumentalities to others to make misleading statements or omissions.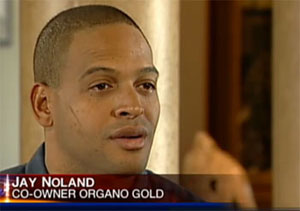 In support of their contempt motion, the FTC claims Jay Noland (right) and Scott Harris have been participating in pyramid schemes dating back to the 1990s.
Harris met Noland in the 1990s, when they each participated in their first pyramid scheme, Equinox.

A court found Equinox likely a pyramid scheme and imposed a preliminary injunction on the company.

Harris then joined Noland at Bigsmart, the pyramid scheme that gave rise to the Final Order.

Thereafter, Harris took a pyramid scheme hiatus, but continued deceptive conduct.

He became a manager of Allied Energy around 2003, then an officer in 2005 and CEO from 2011-2016.

Regulators found Allied Energy and/or Harris engaged in deceptive acts.

Harris told Noland about these orders, yet Noland put him in charge of Final Order compliance.

Three months after Harris was found to have willfully violated state law and a prior order, he became an SBM director, and in May 2019, its president, having been SBM LLC's vice president since September 2017.

Noland and Harris boast of their pyramid proclivity.

Noland told an audience he builds pyramids and they can, too:

People ask me what do I do. I said I build pyramids, man. . . . I build some little pyramids, except I'm at the top of the ones I built . . . . I've got over 700,000 distributors in my network . . . . [and] you can do what I did.
The 700,000 figure Noland boasts about is from Organo Gold. At the time he made the above claim, Noland only had 6000 distributors under him.
Additional issues raised with Success by Health conduct include:
Jay Noland's "no complaints" policy;
diversion of consumer complaints to uplines with a strict "no SBH email accounts" rule;
no collection or tracking of consumer complaints, some of which were medical in nature;
deletion of consumer complaints from SBH's official Facebook page;
Noland referring to consumers who complained as "little gnats";
Noland instructing SBH affiliates not to report problems "or be kicked out (along with the affiliates who recruited them)";
Noland blaming complaints on "terrible leadership", whilst excluding himself, as owner and CEO of Success by Health from leadership;
Noland suing SBH affiliates who sought chargebacks over undelivered products and threatening to "refer them for prosecution";
in light of the above policies, Scott Harris then "proudly" testifying "there weren't that many people that made complaints";
pushing the "big lie" that Noland is a "multi-millionaire" and "millionaire maker" who "train(s) others to become rich like him";
parading "supposed" SBH top-earners around as "success stories", without verifying how much these distributors has made (one affiliate featured in SBH's official magazine had actually lost $9000);
failing to monitor compliance with respect to the original NetForce final order;
making "nonsensical definitions of (a) pyramid scheme", such as "a pyramid is "no product being sold" and "you can't out earn the person above you"; and
misrepresenting the NetForce final order as being limited to five years after it was made.
Whether Noland's curated culture of fear tied into affiliates paying $250,000 in SBH legal fees is unclear.
Two additional points, that are too lengthy to list as bullet points, are the failure to screen top leadership roles and SBH's only ever board meeting.
The FTC holds Noland and his co-defendants accountable for failing to screen top SBH leadership roles.
This failure saw Ann Giles and Lu Ann Wallace rise as SBH top leaders.
In screening for top leadership roles, Contempt Defendants did not ask about past deceptive criminal acts and took no remedial steps upon learning of such conduct.

They thus failed to detect top affiliate Ann Giles' 5- year state prison sentence for theft by deception.

Sacca said Giles is one of the SBH "leaders," a Founder, and one of the very few selected for reward trips to Hawaii and Aruba.

Noland praised Giles in a March 2018 SBH Facebook video for all affiliates as one of just three non-Defendant affiliates on track to "never, ever have to work again" by the end of that year.

Of SBH's 7,000 affiliates, Giles is #3 in commissions and Lu Ann Wallace is #11, excluding Defendants.

Giles had at least 55 direct recruits into SBH—meaning Contempt Defendants expected those 55 and all those in their downlines to go to Giles and those she trained about compliance issues before ever contacting SBH.

In June 2019, the Government named Giles and Wallace in a 37-count indictment for criminal conspiracy to defraud the United States.

Sacca spoke to them about the indictment soon after, and with Harris and Noland.

Sacca had a "personal connection with Giles," and no knowledge of any effort to increase monitoring of Giles's and Wallace's conduct on SBH's behalf following their indictment.
For reference, Giles and Wallace were indicted for tax fraud. They pled guilty to the charges in June 2020.
In September 2020 Giles and Wallace were sentenced to 30 and 33 months in prison respectively.
In addition to their respective terms of incarceration, Giles and Wallace were ordered to pay $1,595,725 to the IRS in restitution, jointly and severally.

Under federal law, Giles and Wallace must serve 85 percent of their prison sentences.
Then there's Success by Health's first and only ever recorded board meeting.
Contempt Defendants' farcical façade of compliance is laid bare when contrasted to the one thing they truly cared about stopping—the truth.

When an affiliate posted truthful facts showing Noland's tremendous tax debts and liens, home foreclosure, and lack of property ownership, Contempt Defendants immediately held a board meeting— the only recorded SBM board minutes ever—to address the "negativity."

"The concern is . . . dropped sales" as such "negativ[ity]" "in the past brought in drastically lower sales and defecting of wholesale Affiliates."

Noland then used the board minutes to tell the IRS, under oath, that SBM's "independent and very aggressive and responsible board" — which consisted of Noland, his wife, his personal accountant, and his multi-pyramid scheme partner (Harris) — demanded Noland's public tax liens be hidden as they were harming his reputation and the company's.
The FTC has requested the court sanction the "contempt defendants … in the full amount of consumer losses."
To calculate consumers' loss, the FTC's forensic accountant reviewed SBM LLC's bank records for July 1, 2017 through January 14, 2020.

The main account received $8,563,833.63 (net of refunds and chargebacks) from payment processors.

It also received $389,230.98 in wire transfers, excluding those not for consumer purchases.
This comes to $8.95 million.
Accompanying the FTC's motion is 321 pages of supporting exhibits.
Stay tuned for updates as we continue to track the case.
Update 31st March 2022 – The FTC's request for NetForce contempt sanctions has again been denied.