Jay Noland dodges NetForce contempt sanctions… for now

Jay Noland has dodged contempt sanctions for violating his NetForce Seminars fraud injunction.
The FTC sued Noland and NetForce Seminars back in 2000.
NetForce Seminars was found to be a pyramid scheme and an injunction prohibiting Noland from engaging in any pyramid sales scheme" was issued.
The FTC sued Noland and Success By Health for being a pyramid scheme in January 2020.
With that lawsuit came a motion in the NetForce Seminars case, requesting contempt sanctions against Noland for violating his Netforce injunction.
The FTC's contempt sanctions motion adds Success By Health co-defendants Scott Harris and Thomas Sacca to the NetForce case.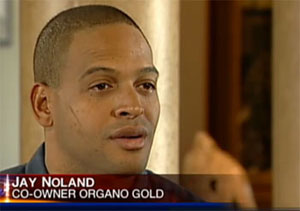 This is on the basis that Noland (right), along with his "agents, servants, employees, and those persons in active concert or participation" with him were subject to the injunction.
In his defense, Noland argued
he didn't violate the Netforce Seminars injunction and can't, in any event, be held in contempt for any violation in light of the injunction's ambiguity and his good-faith reliance on the advice of counsel.
Not sure on the ambiguity part (the injunction language is clear-cut), but otherwise Noland's throwing his lawyer(s) under the bus.
Harris and Sacca argued
the FTC's motion is procedurally improper because it effectively amounts to an attempt to add new parties in a closed case.
The court disagreed with this assertion.
What it did agree with though was Noland's assertion that
any contempt proceeding should "take place after the anticipated trial on the FTC's request for a Permanent Injunction.
That is, if Noland is to be subject to contempt sanctions, it should only be after the resolution of the Success By Health case.
To obtain contempt sanctions, the FTC must not only succeed on its allegations in the Success By Health action but prove those allegations by clear-and-convincing evidence.

Noland, Harris, and Sacca have indicated in recent filings that they continue to dispute those allegations, believe the Court reached the wrong conclusion in its order granting a preliminary injunction, and believe they will ultimately prevail at the permanent-injunction stage.
This ups the ante of the outcome of the Success By Health case. If Noland loses the Success By Health case, he'll be facing both a penalty there and Netforce sanctions.
Not really sure what potential sanctions are. As I understand it violations of the FTC Act are civil matters (meaning no prison time).
In the court's February preliminary injunction order, the FTC was found to have a "likelihood of success" in the case.
Stay tuned as we continue to track developments in both cases.
Update 11th May 2021 – Following a May 4th request, the court has granted the FTC until June 23rd to file 'its Motion for Entry of Civil Contempt Judgment with Compensatory Civil Contempt Sanctions'.
I've scheduled our next NetForce case docket check for June 24th.
Update 24th June 2021 – The FTC has filed its Motion for Entry of Civil Contempt Judgment with Compensatory Civil Contempt Sanctions.