Simon Stepsys dodges UK media (MyAdvertisingPays)

Simon Stepsys, who titles himself "the internet millionaire", is one of the more prolific promoters of MyAdvertisingPays.
For those unfamiliar with the scheme, MyAdvertisingPays is your typical ad-credits based Ponzi scheme.
Affiliates buy in for $49.99 a pop, with ROIs paid out of subsequently invested funds.
Stepsys' personal website contains articles such as "The Importance of maintaining your 1200 Credit Packs", advising prospective MyAdvertisingPays investors to 'get to 1200 Credit Packs ASAP!' ($59,988).
Stepsys' social media profiles are also abundant with promotion, featuring MyAdertisingPays promotional material prolifically churned out daily.
Yet when a major UK publication recently sought comment from Stepsys regarding MyAdvertisingPays, he was suspiciously unresponsive.
In an article published on July 22nd, Andrew Penman of The Mirror wrote;
It can be a nightmare trying to find pictures of some of the charlatans we expose – but Simon Stepsys has made it easy.

The self-styled "internet millionaire" flaunts his wealth all over social media, with endless photographs posing with a Porsche, Bentley, cigars, gold watches and rings.

One thing he doesn't appear to have bought is good taste.

He's currently promoting something called My Advertising Pays through his websiteGetMegaRich.com and his company Simon Stepsys Success International Ltd.

"Start living the life you have always dreamed of," he gushes.

"Making money with this is HIGHLY ADDICTING!" (note: not a real word)
Scattered throughout the article are posting from Stepsys social media profiles, showcasing a Bentley car he purportedly bought earlier this year.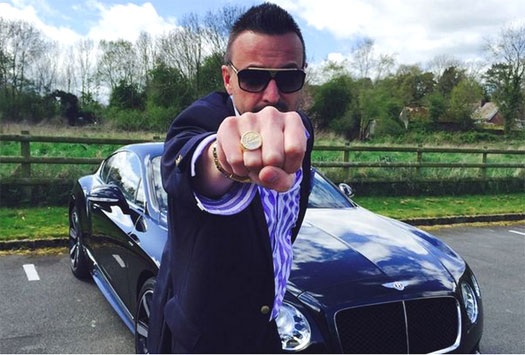 Stepsys apparently also fancies himself one of Captain Planet's Planeteers.
Back in 1998 the Office of Fair Trading accused him of "preying on the vulnerable" with home-working schemes that promised lucrative returns.

The following year, the High Court banned him from promoting the schemes with an injunction that also applied to his claims about winning the pools and betting on horses.

In 2006 I reported on his then latest operation, MyVideoTalk, which cost £197 to join.

"Never in my time have I ever seen or experienced such an outstanding opportunity!" Stepsys claimed.

The product, in theory, was software for video emails, but the real deal was selling the scheme to others.

Sound familiar?

More recently Stepsys was bragging about being "affiliate of the year" with an online advertising "opportunity" called Banners Broker, which later crashed and burned.

My Advertising Pays and Simon Stepsys Success International look like following it into oblivion – both are due to be dissolved, according to Companies House.

In the past 17 years Stepsys has endorsed numerous websites, including Extreme2ndIncome, Amazing2ndIncome and Empower (Network)
Detailing how Stepsys persuades people to invest in MyAdvertisingPays, Penman writes:
One reader got in touch to tell the Mirror how he was almost persuaded to join up.

He was told he could make £1,000 a day simply by buying one of the "Credit Packs" for $50 (£32) and selling the idea to others.

Which sounded like pyramid selling, so he ran a mile.
Penman also delves into recent decisions in the UK against Stepsys and his promotional activities:
This week the Advertising Standards Authority ruled the promises misleading and unproven.

"We had not seen any evidence to demonstrate that consumers would earn any money," it stated, banning the plugs.

It also slated Stepsys over his claim "No selling, no recruiting", because My Advertising Pays admits that members are rewarded for selling online ads.
"Selling ads" is by far the most popular ruse for online Ponzi schemes these days. Bundled with investor's positions are advertising-credits, which can then be used to display advertising to other investors.
Typically this advertising promotes similar Ponzi schemes.
Despite observing multiple daily social media updates, when Penman attempted to contact Stepsys he refused to emerge from the shadows:
Despite his prolific social media presence, Stepsys has suddenly gone quiet and didn't answer any requests to chat despite being contacted via email, phone, Facebook and Twitter.
Recent posts on Stepsys' Facebook profile (within the last 24 hours), contain links to "How to use criticism for your success", messages to MAPS investors urging them to "buy more" positions, a letter from Bentley acknowledging receipt of his new car and something about a "millionaire challenge".
Summing up his thoughts, Penman concludes:
What I really wanted to ask him was this: if these schemes earn as much money as he claims, how come he's still flogging them for a living?
Far be it from me to point out that Ponzi schemes of late aren't exactly offering long-term stability.