Roger Langille buries Sozo termination hatchet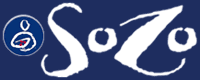 Prior to launching DS Domination, Roger Langille's primary MLM focus was his affiliate membership with Sozo.
So the story goes, Langille met with Mark Adams (co-founder and CEO of Sozo) in April. During a wine and dine, Langille claims Sozo promised him lead generation, the opening of the business in Brazil, that Sozo would be "best in class", a check match bonus that "equated to the binary", a "3 for free" recruitment incentive, the "full opening" of Sozo in Canada, a 401k retention program, a weight-loss coffee range and a new compensation plan.
Langille claims none of the "promises that were made were delivered on" by the company.
Despite this, Langille still managed to become the highest ranked affiliate in Sozo (Sapphire) shortly after signing up, claiming to be a "top recruiter" and responsible for '70-80% of the growth across the entire company'.
Langille states he was able to maintain via his online marketing, but once the 'online started to be cancelled and we started moving in a different direction… the numbers completely, drastically went down'.
In mid 2013 Sozo held an affiliate conference in Chicago, shortly prior to the event Langille claims he was on the verge of hitting the Emerald affiliate membership rank within the company.
Due to a Sozo backoffice availability problems however, Langille says that he initially missed the deadline to qualify as a Sozo Sapphire affiliate before the Chicago event.
After flying in to talk with Sozo corporate however, they agreed to backdate Langille's volume enough so that he would then qualify as an Emerald affiliate by the Chicago event date.
After confirming the backdating of "3 applications" with corporate, Langille contacted his upline, Terry McEwen to give him the news.
I thought Terry would laugh and celebrate with me but he spent about twenty minutes asking me questions. Like "how did that happen?", "who authorised that?"

And being my upline it was kinda shocking when he finally got around to congratulating me – he'll tell you – I burst out laughing and said "that's the worst congratulations in history".
Believing he was to be presented with recognition as an Emerald affiliate, Langille rocked up to the Chicago event only to be told by McEwen (as retold by Roger Langille) that
Listen, Mark (Evans) doesn't want to honor you as an Emerald. He doesn't want to count it.

I said, "what do you mean?"

He said, "well he doesn't think it's fair to backdate like that".

I said, "well that's policy Terry. That's what I was told, it's policy. And it was just a systems error and we countered it three different times".

"No, he doesn't want to backdate it".
Langille accepted Adams' decision "in the gut". Suspicious though, Langille states he
started wondering if it was really him (Adams) that didn't want to backdate it and, what's the real story here? Why didn't we break Emerald?
Looking for answers, Langille claims he then tried to "get a hold of Mark for twenty-eight straight days".
On the twenty-fourth day Langille sent the following email to Sozo corporate: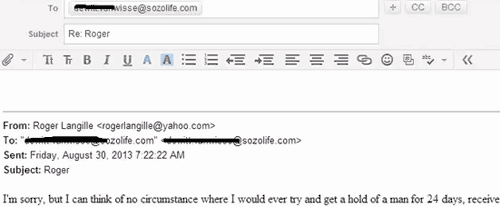 I'm sorry, but I can think of no circumstance where I would ever try and get a hold of a man for 24 days, receive no response and bother continuing down that path.
Langille goes on to explain that after conducting his own research, he uncovered several instanced of Adams liaising with other Sozo affiliates, eventually arriving at the conclusion he was purposefully being ignored.
Langille reveals that while he was trying to get in contact Mark Adams, he received a cryptic Facebook message from his upline, Terry McEwen:

F*#K brother… I don't believe you can stop it as I suspected. I will do my very best to protect you and only you my brother… no worries… I will deal with it.

not mad… just sad… LOL. horrific day with several assholes… I need peace…
Langille claims at the time he had no idea what McEwen was going to protect him from.
I have another company and the policies and procedures say you can have multiple companies, you can be in multiple companies. So I don't understand what I'm being protected against.
A third significant event also took place during the month of August for Langille, and that was the launch of DS Domination.
Attempting to stave off the inevitably suspicions of cross recruiting and plundering of Sozo downlines, Langille provides several instances where he categorically knocks back Sozo affiliates looking to be sponsored by him.
Meanwhile Langille continued his efforts to get in contact with Adams, eventually catching him on his cell phone.
During the call Adams informed Langille that
he was geting these reports from Terry, from Steve, from everybody else about DS Domination and all this cross-recruiting.
During this phonecall Langille also discovered the alleged real reason behind his denial of an Emerald affiliate rank promotion at Sozo's Chicago event.
Mark said Terry (McEwen) and Yvonne (McEwen's wife) had called them into their hotel room and talked to them about me not going Emerald.

And Mark, well he ultimately made the decision and said he knew nothing about the backdating. And then Mark made the decision that there's no such thing as backdating.

So imagine the owner of the company and your upline trying to stop you from being promoted. Little bit frustrating.
Claiming to want to "work with Mark", Langille then sent an email to Adams in which he detailed six offers he believed would smooth things over:

1. Removing myself as admin from my Facebook room that I created with 77% of the room being my true group.

2. My offering my incredibly valuable list of 1000s of people to corporate so they could scrub all Sozo email addresses

3. My refraining from posting in my own group, and on my own wall, and stepping into the darkness in regards to Sozo

4. My offering to give up the YouTube channel name Sozo

5. My offering full administrative rights to the Facebook group to Terry and Yvonne McEwen

6. My speaking with leaders about not advertising DS on their walls
Adams and Langille continued to discuss the situation, with Adams eventually informing Langille that he expected Langille to resign from the company.
Wishing to retain his affiliate position in Sozo, Langille declined to resign and told Adams he'd do "whatever it takes" to retain his position.
Mark Adams responded by continuing to demand Langille's resignation: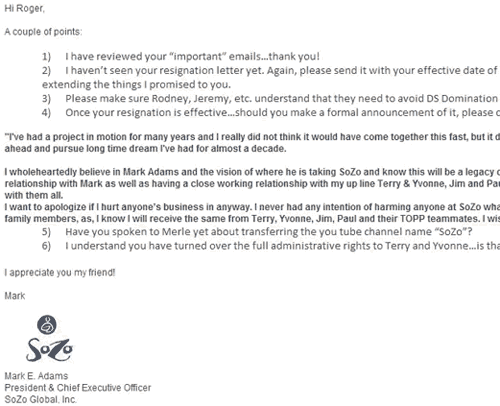 Hi Roger,

A couple of points

1. I have received your "important" emails… thank you!

2. I haven't seen your resignation letter yet. Again, please send it with your effective date of resignation so I can formalize. I will respond to that email with a note to you extending the things I promised to you.

3. Please make sure Rodney, Jeremy, etc. understand that they need to avoid DS Domination recruiting of Sozo distributors at all costs and certainly avoid any cross recruiting!

4. Once your resignation is effective… should you make a formal announcement of it, please consider the following language in your resignation announcement:

"I've had a project in motion for many years and I really did not think it would have come together this fast, but it did and I had to make a decision, so after struggling for many days, I decided it was time to go ahead and pursue long time dream I've had for almost a decade.

I wholeheartedly believe in Mark Adams and the vision of where he is taking Sozo and know this will be a legacy company that will be around for decades to come! 

I feel fortunate to have had a very positive relationship with Mark as well as having a close working relationship with my upline Terry and Yvonne, Jim and Paul over the last 5 months.

These are good people to be in business with and I will miss working with them all.

I want to apologise if I hurt anyone's business in anyway. I never had any intention of harming anyone at Sozo whatsoever, and I will work hard to make sure that anyone I work with will respect Sozo and all TOPP family members, as, I know I will receive the same from Terry, Yvonne, Jim, Paul and their TOPP teammates.

I wish everyone at Sozo great health, wealth and happiness for you and your families." 

5. Have you spoken to Merle yet about transferring the you tube channel name "Sozo"?

6. I understand you have turned over the full administrative rights to Terry and Yvonne… is that correct? Thank you!

I appreciate you my friend!

Mark
Langille responded to Adams email with the following: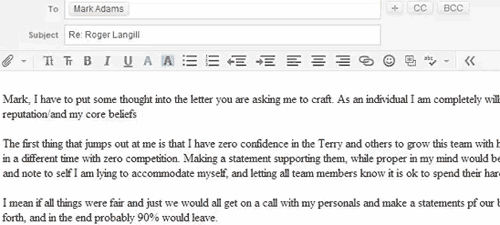 Mark, I have to put some thought into the letter you are asking me to craft. As an individual I am completely willing to bend over backwards but there are 3 main components to protect, my team, my reputation and my core beliefs.

The first thing that jumps out at me is that I have zero confidence in the Terry (sic) and others to grow this team with home parties. Every statistic bears this out except for one from 20 years ago that it was done in a different time with zero competition.

Making a statement supporting them, while proper in my mind would be something like this:

"I believe in and am grateful for the leadership of Terry, Jim and Paul, and note to self I am lying to accommodate myself, and letting all team members know it is ok to spend their hard earned money on autoship in a system that cannot create success."

I mean if all things were fair and just we would all get on a call with my personals and make a statements pf our beliefs (sic), they would all side with me. Then get a call with all of my personals personals (sic) and so forth, and in the end probably 90% would leave.
Part of Langille's lack of faith in Terry McEwen no doubt stems from comments made by McEwen around the time of Adams and Langille's exchanges: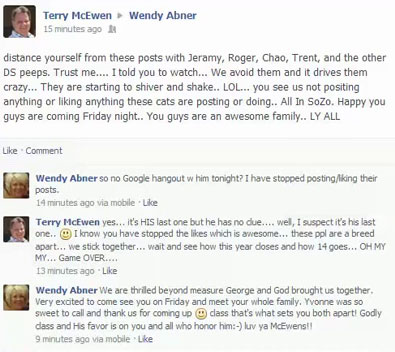 As you can see above, McEwen appears to have already distanced himself from Langille, despite him being in his immediate Sozo downline at the time.
Adams' response to Langille's email above was an affiliate termination letter.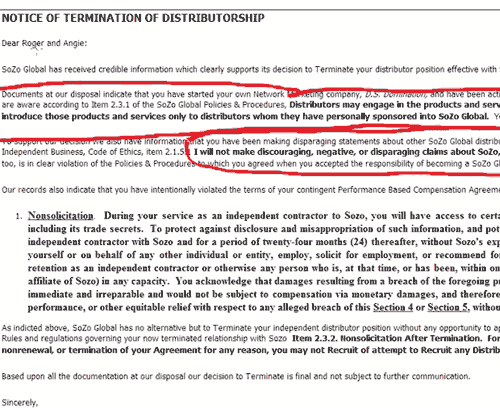 Dear Roger and Angie,

Sozo Global has received credible information which clearly supports its decision to Terminate your distributor position effective with this notification.

Documents at our disposal indicate that you have started your own network marketing company, DS Domination, and have been actively engaged in crossline recruiting of Sozo Global distributors.

As you are aware according to item 2.3.1 of the Sozo Global Policies and Procedures, Distributors may engage in the products and services of other network marketing companies but they may introduce those products and services to distributors whom they have personally sponsored into Sozo Global.

Your actions are therefore in clear violation.

To support our decision we also have information that you have been making disparaging statements about other Sozo Global distributors. With reference to this please note Section 2, Operating your Independent Business, Code of Ethics, Item 2.1.5:

I will not make discouraging, negative or disparaging claims about Sozo, its management, officers or other Sozo Global distributors.

This too, is in clear violation of the Policies and Procedures to which you agreed when you accepted the responsibility of becoming a Sozo Global independent distributor.

Our records also indicate that you have intentionally violated the terms of your contingent Performance Based Compensation Agreement, dated 03/20/2013. Note the non-solicitation clause in the agreement:

1. Nonsolicitation

During your service as an independent contractor to Sozo, you will have access to certain proprietary and non-public information maintained by Sozo, including its trade secrets.

To protect against disclosure and misappropriation of such information, and potential unfair competition, you agree that during your term as an independent contractor with Sozo and for a period of twenty-four (24) months thereafter, without Sozo's express written permission, you shall not,  directly or indirectly, for yourself or on behalf of any other individual or entity, employ, solicit for employment, or recommend for employment or retain, solicit for retention or recommend for retention as an independent contractor or otherwise any person who is, at that time, or hadbeen, within one year prior to that time, employed or retained by Sozo (or any affiliate of Sozo) in any capacity.

You acknowledge that damages resulting from a breach of the foregoing provisions and the confidentiality provisions of Section 5 would be immediate and irrepairable and would not be subject to compensation via monetary damages, and therefore Sozo may seek preliminary and other injunctive relief, specific performance, or other equitable relief with respect to any alleged breach of this Section 4 or Section 5, without neccesity of posting bond or other security therefor.

As indicted above, Sozo Global has no alternative but to Terminate your independent distributor position without any opportunity to appeal now or at any time in the future.

Bear in mind that according to the Rules and regulations governing your now terminated relationship with Sozo Item 2.3.2. Nonsolicitation after termination, for a period of twelve (12) calendar months following, cancellation, non-renewal, or termination of your agreement for any reason, you may not Recruit or attempt to Recruit any Distributor of Customer for another Network Marketing Business.

Based upon all the documentation at our disposal our decision to Terminate is final and not subject to further communication.
Langille claims Sozo terminated him because he 'recruited around a hundred people' and that if he talked to them about DS Domination 'it'd be so damaging to Sozo that they just threw me out'.
There's gunna be no communications, no documentations of me soliciting into DS Domination that was not a personal of mine, prior to this letter, okay?
Langille goes on to accuse Sozo of planning to "go around Canadian law":
To get approved up in Canada you wrote a barebones compensation plan. You took out the $1299 and $499 pack and then once that's approved the goal is to put those $499 and $1299 packs in there.
Kind of hinted at with Langille's measuring of his Sozo success by affiliate recruitment numbers, the mention of flying out Canadian affiliates 40 at a time to "break even" on their recruitment and his talking down of "home parties" (which tend to be product focused), I believe the core problem between Langille and Sozo is Langille's obvious recruitment-focused approach to the business.
When I personally reviewed Sozo back in June I identified a clear red-flag in the
Typically when a company offers monthly autoship to their affiliates there's a conscious effort to ensure that it's entirely optional (usually via a comparative sales volume qualification).

The reason for this is to discourage affiliates simply going out and recruiting new affiliates, whacking them on monthly autoship and then having them do the same.

This is of course problematic in that it shifts focus away from retail sales, and also because it means the business pretty much operates as a defacto pyramid scheme – moreso when affiliates must be on monthly autoship to earn commissions.

Autoship red flags arise in Sozo from the moment they join the company, with the amount of autoship an affiliate opts in for dictating what percentage of a commission they earn in the binary.

The more an affiliate pays, the more they earn.
From Langille's own description of his business (shipping Canadian affiliates into the US to sign up for higher autoships etc), this appears to be exactly what Langille focused on to grow his Sozo business. At no point in Langille's video does he mention sales to retail customers or retail volume.
Whether Mark Adams was aware this was going to happen when he signed a Performance Based Compensation Agreement with Langille I can't say, however it is plausible that he realised things were fast spiralling out of control on the affiliate recruitment side of the business.
Faced with reworking the compensation plan to address the evident autoship issues in it, he instead appears to have chosen to terminate Langille.
Langille by that stage had built himself a sizeable affiliate autoship-focused business with his downline no doubt doing most of the recruiting, hence the offer to step back from the business and continue to collect his monthly autoship commissions.
In that sense I totally get why he didn't want to give up his Sozo affiliateship, but I do think if Adams was truly going to launch a new compensation plan then he might just have let nature run its course so to speak.
Unless he was worried about Langille picking up his downline and jumping ship to DS Domination if a new "not so reliant on affiliate recruitment and autoship" Sozo compensation plan was introduced.
In that case I totally get why Langille was terminated. I don't agree with it but I get why they did it.
I don't agree with Langille's termination on these grounds because trouble is, if you swoon over an affiliate with a proven track record of recruitment focus, it's hardly fair to punish them when they do exactly what you signed them up to do.
I think Adams might have Langille on the issue of cross-recruitment and promotion though, as the personalised Performance Based Compensation agreement looks to clearly demonstrate a breach on Langille's behalf.
Langille does repeatedly go on about having not personally been involved in cross-recruitment and poaching of affiliates, however it's clear it was going on and, as the apparent owner of DS Domination, I do believe there's some culpability there on Langille's behalf.
For now however it seems Roger Langille has buried the hatched and moved onto solely focusing on DS Domination. Whether or not Sozo and Mark Adams will take any further action against Langille remains to be seen.
Footnote: Most of the source material for this artcle comes from a YouTube video Roger Langille uploaded on the 16th of September 2013.
Langille's video, titled "Sozo Life Coffee Company President Mark E Adams Termination if your in Sozo dont watch", is accompanied by the following text:
I want everyone to know I wrestled with this video. I know several people in SoZo that are trying to grow teams and that should not be interrupted.

After much thought 4 days after being terminated from SoZo wrongly, I decided on the following: If you are growing a team, they have the right to know what they are growing as do you. Leaders would want loved ones to know exactly what they are staking their career and names on.

If this video offends anyone I apologize. Everything in here is true, and is documented to the fullest of my capabilities. I wish everyone in network marketing the best of luck.

I have included no link in this video or in this text to my new company. Just more of me trying to do the right thing.

It should however be a clue that a long standing company is so fearful of a 3 week old company that they would terminate their top producer.

I am still willing to share DS's back office where you will see I recruited 1 person, 1 of nearly a hundred of my personals in SoZo.

I am very hurt but am not that selfish to make it about me. As an industry you must deliver on your promises. As leaders, there is no room for jealousy.

I did not include this in the video but at one point Terry was to be involved in DS and it was to launch internationally.

However, after seeing the delays in engaging and witnessing him doing that on other projects in SoZo we decided to pass on Terrys offer.

Good luck to all of you.