Rippln sold off to Insider21 investment group?

I was recently asked by a BehindMLM reader to take a look at "Insider21", an opportunity they were just introduced to by a friend.
Already in the process of going through the emails I'd flagged during the week for reply, I flicked over to the browser tab I had open for looking up new company review requests.
I punched in "insider21.com" and what came up was pretty bland: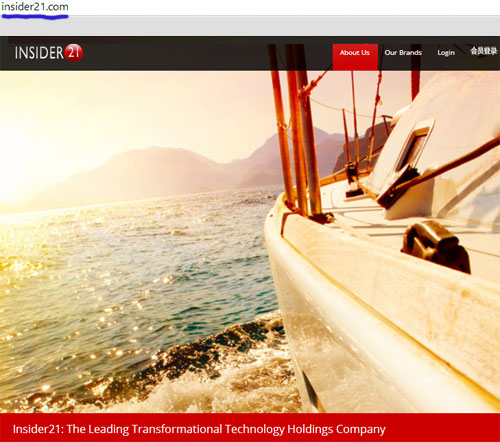 The company listed three "brands", none of which appeared to have anything to do with network marketing:
Texstar – a "company (that) provides numerous investment opportunities by participating directly in oil and gas exploration and mining programs"
Bonamour – a "lifestyle products company" and
MSD Gold – "one of the most promising gold mining companies in the world"
If there was an MLM business opportunity within Insider21, I certainly wasn't seeing it.
At this point I'd usually reply back to the reader who emailed me asking for more information on what they were specifically pitched on. After a little bit more poking around the Insider21 website though, the PDF document titled "Your invitation to join the 21st Century Fortune Club" caught my eye.
Maybe this was what the reader was talking about.
Clicking on the link an eighteen page document loaded up, informing that what I was looking at was "exclusively for Insider21 members" and that I shouldn't "miss your chance to be on the inside!"
The inside of what exactly?
Reading on the invitation opened with a letter from Eric Tippets, credited as Insider21's President.
We are excited to introduce you to Insider 21, the first member owned, Fortune Club that is being launched throughout Asia.

We have a simple mission—to affect three key things in a positive way—1) People 2) Planet 3) Profits.

We are excited to share this incredible opportunity with you and give a quick snapshot of Insider 21—Past—Present—Future.

This will provide you why Insider 21 will be recognized as the world's leading, member owned, Fortune Club that will leave a positive legacy.

We welcome you to the future of prosperity in Asia—

We Welcome YOU, to Insider 21.
Yeah ok, still not seeing an MLM business opportunity but.
After some waffle about personal, business and wealth development, next up was a slide on "The Ultimate Game of Life":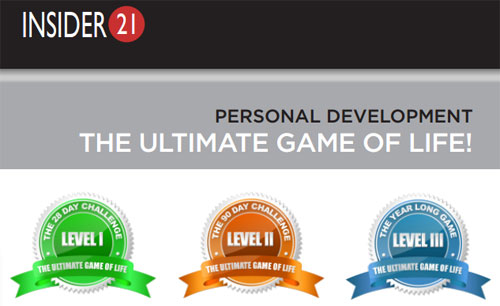 Wait hold up, that's that personal development stuff Rippln was trying to get people to pay $500 to participate in wasn't it?
There was no logo or anything so I was ready to chalk it up to co-incidence and move on. I kept scrolling down and read about how Texstar Oil's "founding member" program had already closed and how, apparently only having just closed, it was supposedly already a roaring success.
Then something about Insider21 going public on the GXG/Frankfurt stock market, with the company asking members to cough up $1000, $5000 or $10,000 for "founding memberships" (bundled with the Game of Life).
And then this, which confirmed I was looking at the very same game Rippln was pushing: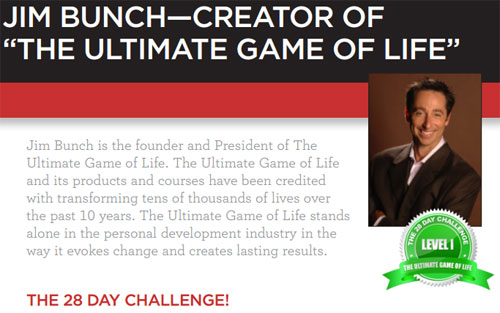 Jim Bunch, co-founder of Rippln… what on Earth was he doing here? I know Bunch had run the Game of Life independently long before Rippln came about, but wasn't it a bit too soon after Rippln to be pitching it to other companies?
Especially when an email from "Rippln HQ" had just advised affiliates they weren't quite dead yet.
I continued on, blahblahblah something about future plans with the MSD Gold company… boring. Then, on page 13 I stopped in my tracks.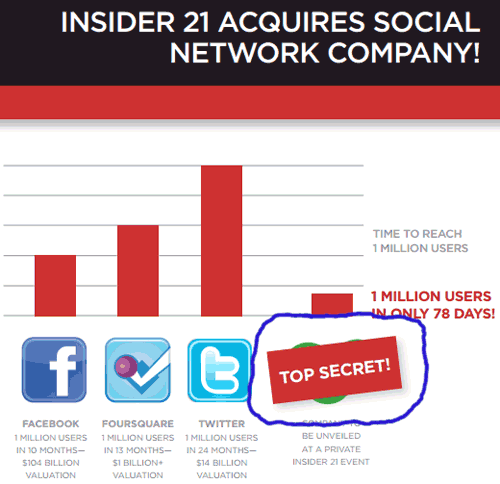 "Insider21 acquires social network company"? Waitaminute… I know that logo!
1 million members in only 78 days!
current 1.4 million members
gamification – the next billion dollar revolution Insider21 will be leading
forecast – 5 million+ members on social platform by 2015
I'd recognize that hype anywhere! Rippln!
I immediately scrambled for a date on the invitation but the only thing I found was "2013" at the end of the document. Only that didn't seem to jive with the earlier announcement from Rippln co-founder Jonathan Budd, announcing that the company had failed to secure new investment back in January.
I was ready to write off Insider21 as being a possible investor… but then I realised they weren't writing like they were looking to invest in Rippln, they'd clearly already bought in.
Expecting to see CEO Brian Underwood's face pop up somewhere on the next few slides, I was surprised when it didn't. Underwood's name is nowhere to be found in the invitation. With the exception of Jim Bunch as part of the Ultimate Game of Life, none of them are.
Reading on, then I was hit with the big sell. Those "founding member" prices from earlier – turns out that's likely what the reader who contacted me was talking about: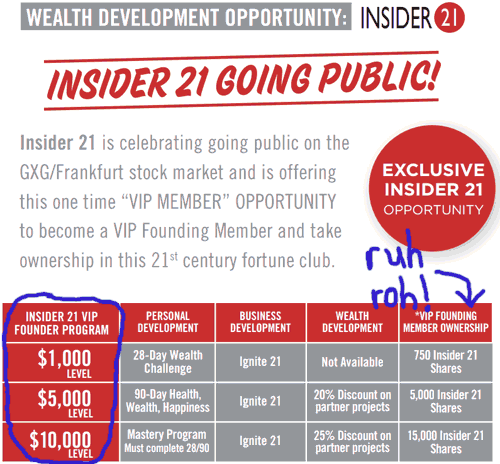 Specifically the part about the "most lucrative referral plan in industry". Assuming it's paid out on multiple levels, that sounded sorta MLM'ish to me.
The problem of course being that even paying out on a single level, Insider21 would be paying referral commissions on investments from members. Multiple levels and it'd be an outright pyramid scheme.
The fact that it was attached to the corpse of Rippln just made things even worse.
What wasn't mentioned earlier were three additional founding member fee tiers; Platinum, Diamond and Black Onyx – all of which instead of displaying the cost of membership show "invitation only".
If Gold is $10,000, I can only imagine that those three additional levels push well into the tens of thousands of dollars.
I don't know the exact details of Insider21's acquisition of Rippln, I don't know whether or not Brian Underwood and the rest of the management team are still involved but I do know that $10,000+ investment positions, a "lucrative referral plan" and a business that has already flopped sounds incredibly dodgy.
Insider 21 is an EXCLUSIVE 21st Century Fortune Club that provides our members access to Pre IPO and Post IPO opportunities in fast growth companies as well as Direct Investment prospects in a number of lucrative business sectors.

How to get on the Inside Track to Fortune – INSIDER 21 Makes It Easy!

1. Be introduced to the program by an Existing Founding Member

2. Complete Non-Disclosure Agreement (NDA)

3. Enroll in one of Insider 21's Wealth Development Programs

CONGRATULATIONS! You have joined the 21st Century Fortune Club.
I really hope this isn't another Terry LaCore SEC blunder in the works.
As always, stay tuned…
Footnote: You can view the Insider21 Founding Member investment invitation over at the Insider21 website.
Update 4th March 2014 – Insider 21 co-founder and CEO, Eric Tippetts, has issued a statement clarifying that, contrary to what their invitation states, Insider21 did not acquire Rippln.
A letter of intent was signed by both parties but upon the revelation of the Ripple Labs trademark infringement lawsuit against Rippln, Insider21 passed on the acquisition.