RevShareCycler Review: JubyAdShare Ponzi reboot

The RevShareCycler website domain ("revsharecycler.com") was registered on the 6th of August, however the domain registration is set to private.
RevShareCycler claims to be run by a 'responsive, trusted and well known admin' and buried at the bottom of the RevShareCycler FAQ, the company reveals who is behind the opportunity:
RevShareCycler is owned by two experienced partners. Andrew William Carleton and Williams Alderson both in United Kingdom.

Andrew William Carleton handles the technical aspect of the program and Williams Alderson a well known online market leader handles the admin section.
Curiously, it appears RevShareCycler's Terms and Conditions have been copied and pasted from the failed scheme JubyAdShare: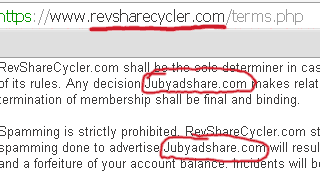 JubyAdShare launched in mid July 2013 and accepted deposits from affiliates ranging from $10 to $1000. In turn, JubyAdShare promised affiliates a ROI of between 120-135%, depending on how much money they deposited into the system.
No mention is made of who is running JubyAdShare on the company website ("jubyadshare.com"), however affiliates name a "Jade Edswill" as the scheme owner on various social media sites.
By Mid August the JubyAdShare scheme had collapsed, with the company losing it's Payza account and the usual claims of "DDOS attacks".
At the same time JubyAdShare collapsed Edswill launched its successor, JubyAdBank. At the time of publication, JubyAdBank is having problems with payment processor SolidTrustPay and recently implemented a forced 50% re-investment rule.
As per the source-code of the JubyAdShare and RevShareCycler websites, we can see that they are running the same backend script: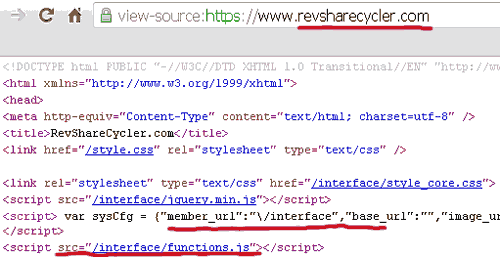 On the JubyAdShare FAQ, this backend script is revealed to be "ShadowScript":
WHAT SCRIPT ARE YOU USING AND HOW SECURED IS YOUR SYSTEM?

A: Our program runs on licensed ShadowScript specially customized for our profit share system.
The JubyAdBank website source-code is slightly different to JubyAdShare and RevShareCycler's, however at the bottom of the JubyAdBank website the company credits ShadowScripts as a "technical partner":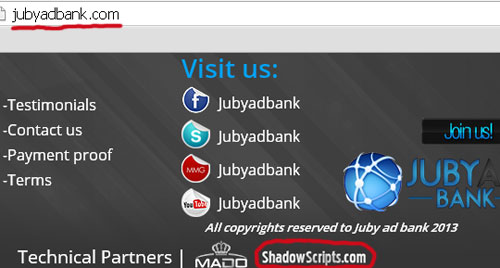 On their website, ShadowScripts claim to be "the trusted HYIP software suite", providing 'the best HYIP, Private Investment, AutoSurf, Referral, Matrix and Re-Cycler management software'.
HYIP of course standing for "High Yield Investment Program" and being synonymous with Ponzi schemes in the MLM industry.
Getting back to RevShareCycler and its admins, I was unable to find any information on Andrew William Carleton. Williams Alderson however has popped up previously on BehindMLM as the admin of Diamond Wealth Club, which was found to be hosted on the same server as Matrix Cycler.
Matrix Cycler was a $30 a position pyramid scheme that launched in May 2013 and went into decline shortly after launch.
Note that Williams Alderson credited himself as Andrew Williams Alderson in his Diamond Wealth Club affiliate emails, whereas he appears to be omitting "Andrew" from his name in RevShareCycler.
Also worth noting is the suspicious similarity between the names "Andrew William Carleton" and "Andrew Williams Alderson". It has been my experience that co-incidences of that magnitude are a rarity in MLM circles, and are usually the attempt at covering up information that is not meant for public consumption.
Read on for a full review of the RevShareCycler MLM business opportunity.
The RevShareCycler Product Line
RevShareCycler has no retailable products or services. Instead, affiliates join the company for and deposit money with the company on the expectation of a ROI.
Bundled with each deposit are a series of advertisements which RevShareCycler affiliates can use to display advertising on the RevShareCycler website.
The RevShareCycler Compensation Plan
The RevShareCycler compensation plan revolves around affiliates depositing $10 with the company and expecting an advertised 130% ROI:
Minimum RevPack Unit is 1 which Cost $10 and Earns $13 on maturity.
The ROI on each deposit is paid out every 10 minutes, based on how many new deposits RevShareCycler affiliates have made with the company. In order to qualify for their ROI, affiliates must click five supplied advertised websites daily.
Referral commissions are paid on all deposits made by affiliates, paid out down two levels of recruitment:
Level 1 – 8%
Level 2 – 2%
A "straight-line cycler" scheme also exists within the company, with affiliates buying a $25 position in a payment queue. Everytime three new positions are bought in the queue the affiliate at the top of the queue is paid $33 and re-entered back into the queue.
When a personally recruited affiliate purchases a cycler position, the affiliate who recruited them is paid $5.
A $2 referral commissions are offered when a personally recruited affiliate purchases a position in the payment queue.
Joining RevShareCycler
Affiliate membership to RevShareCycler is free, however affiliates must deposit money into the scheme if they wish to make any commission withdrawals.
Conclusion
Every day and every time, as we make sales of all Advertising products and services, the sales generated are gathered in Sales Reserve. At the set time which is 10 minutes, the system distributes the gathered Sales with all qualified members.
Under your typical "advertising credit" front, affiliates make deposits with RevShareCycler which the company then pays out to existing affiliate investors.
With no retail offering, all revenue sourced from affiliates and subsequently paid out to affiliates in an investment scheme manner, RevShareCycler squarely fits the definition of a Ponzi scheme.
This is further evidenced in the RevShareCycler refund policy, which states:
 The system also automatically shares the sales from your purchase to all members, and commissions are paid to your sponsor. So, we cannot afford to offer refunds.
As with all Ponzi schemes once new affiliate investment stops, so to will the ROIs paid out. The 10 minute payment system appears to be little more than a gratification gimmick, having no actual real effect on the affiliate-funded ROI mechanic the scheme uses.
Whether ROIs are paid out daily, monthly or every ten minutes, if affiliates aren't depositing new money into RevShareCycler then there's nothing to pay out.
What happens then? As per the RevShareCycler Terms and Conditions,
RevShareCycler.com has the right, in its sole discretion, to suspend or cancel, at any time and for any or no reason, a Member's membership in and access to the RevShareCycler.com Website and the RevShareCycler.com program.

All Earnings may be cancelled in RevShareCycler.com's sole discretion
On the admin side of things I'd be willing to write off RevShareCycler and the two Juby schemes running the same third-party script as co-incidental, however the blatant copy and pasting of the JubyAdShare Terms and Conditions onto the RevShareCycler website hints at an obvious connection between the two schemes, beyond that of simply sharing the same HYIP script backend.
Whether any of the names provided by JubyAdShare, JubyAdBank or RevShareCycler actually exist remains an unanswered question. Given the nature of the schemes however I'd suggest that they are all being run by the same person(s), as a timeline of starting one scheme when the previous fails can be drawn back as far back as Diamond Wealth Club (Feb 2013).
Nine months into 2013 and the admin(s) have launched no less than five (known) questionable schemes, each after the previous has failed. Probability wise RevShareCycler will be no different…