Five Winds: Questra World & AGAM launch new Ponzi scam

When traffic to an online Ponzi scheme stalls, so too do newly invested funds.
Such is currently the case with Questra World and Atlantic Global Asset Management: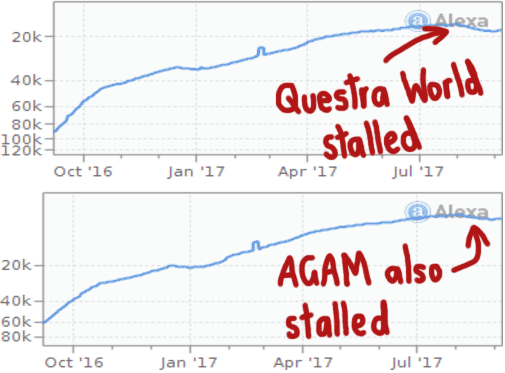 Both Ponzi schemes are run by the same group of scammers, predominantly based out of Russia but aided and abetted by puppet management in Spain.
In the wake of regulatory warnings against Questra World from Austria, Poland, Italy and Slovakia, continuing to the run the scam has likely proven problematic.
In an attempt to address this, last month Five Winds Asset Management was announced.
Five Winds provide no information on their website about who owns or runs the business.
The Five Winds website domain ("fivewindsam.com") was privately registered on August 12th, 2017.
As revealed in BehindMLM's Questra World review, the company is run by Russian scammers. Five Winds is no different, with English and Russian the only two approved "corporate font" languages provided by the company.
As a separate stand-alone MLM opportunity the launch of Five Winds makes no sense. The business model is no different to Questra World or AGAM, in that affiliates invest and are paid a ROI with subsequently invested funds.
The ruse behind Five Winds is slightly different, with the company claiming it offers "expert advise" to companies on the "verge of bankruptcy".
I don't know about you, but Russian Ponzi scammers are probably the last people I'd turn to for advice on how to save my business.
Five Winds affiliates could of course ask for proof by way of a client list, but let's face it; those investing are likely already knee-deep in losses and gullible enough to believe anything.
Questra World ceased paying affiliates last month, with the launch of Five Winds clearly an attempt to reopen banking channels and keep the money flowing.
As of yet specific details of Five Winds compensation plan have yet to be released.
The company is currently positioning its top investors into the compensation plan, behind which will be placed victims of the last two scams and finally new victims to fund their losses.
Pending any significant differences between Five Winds and Questra World, BehindMLM will publish a review of Five Winds compensation plan when its made available.
Until then the usual Ponzi warnings apply; especially seeing as this is a scam now relaunched three times over.