QNet human trafficking scammers arrested in Liberia

QNet affiliates recruiting new victims via human trafficking have been arrested in Liberia.
The Liberian Observer reports QNet scammers in Liberia lured a young victim from neighboring Sierra Leone.
Alusine Konteh was duped out of $900, on the promise of employment for QNet in Malaysia.
Instead he was held against his will until police arrested his traffickers.
The arrests were part of a wider QNet investigation in Liberia, initiated following complaints from other victims of the group.
A few months ago Abu Kamara, another QNet scammer, was busted after an investigation revealed he had
trafficked 15 children and young adults from neighboring Guinea, Sierra Leone, Mali, Malaysia, and Ivory Coast.
Kamara stole $13,650 from his victims before he was arrested and charged.
QNet scammers in Ghana have been kidnapping and trafficking victims for years. Despite multiple arrests, the practice remains rife.
QNet enjoys government protection in Ghana, and so turns a blind eye so long as money flows into the company.
QNet has no such protection in Liberia, prompting the company to address how victims are recruited.
QNET condemns money extortion and condones illegal gatherings or massive movement of people across borders to engage in its business.

With the use of an electronic device such as a mobile phone or computer, anyone can conduct business with QNET without travelling to any country.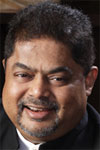 QNet is a pyramid scheme run by Vijay Eswaran (right) out of Malaysia.
Presumably due to there being little to no recruitment activity locally, Malaysian authorities have taken no action against QNet or Eswaran.
Last April Liberian citizens petition the government to declare QNet an illegal business. Thus far the government has failed to act.
In the meantime Liberian police have issued assurances they intend to "book anyone caught in any dubious" QNet related activity.
Alexa currently ranks top sources of traffic to QNet's website as India (14%), Pakistan (5%) and Sri Lanka (5%).