Pyxism: Another recruitment reliant travel club MLM

Pyxism are a US based company and claim to be 'a licensed Seller of Travel in California, Washington, Florida, & Iowa' with Hawaii pending (they state that other US states do not require a relevant license or registration).
This would indicate that Pyxism themselves operate their travel portal, which makes for a refreshing change. Most MLM business opportunities I've seen in the travel niche simply outsource their travel products and focus on member numbers via recruitment.
Let's see how they hold up to a more indepth analysis.
The Pyxism Product Line
Pyxism refer to themselves as a product based company so in this area you'd want to hope they had a strong offering. As far as I can tell, there's two major 'products' (which are really services) that Pyxism sell;
Vacation Certificates
Vacation certificates should be familiar with anyone who's looked into travel and vacation based MLM opportunities as the premise is always the same.
Members are given a vacation certificate that entitles them to book a discounted vacation. The value in Pyxism's vacation certificates is that the monetary amount paid for the certificate is equal to or less then the savings made when purchasing a vacation through Pyxism.
For example, if you bought a $50 vacation certificate, you could then use that certificate to perhaps book a vacation with a wholesale discounted price of $300.
The regular wholesale price might be $500 so in effect you've paid $50 to obtain a $200 saving, as presumably this discounted price is not available anywhere else.
The shortfall of the vacation voucher however is that it's not really a product, well not in the stricter sense.
If I buy a $10 McDonalds voucher entitling you to $20 off if you purchase 10 Big Mac meals, and then sell it to you for $10, well I haven't really sold you a product now have I?
McDonalds still supply the product and all I really did was sell you a discount to a product that is sold by a third party.
In the context of Pyxism, being a 'licensed seller of travel' might mean they themselves handle the booking component of your vacation, but the product and service is still sold to them by a third party (be it a car hire dealership, airline or hotel), who are the true providers of a the product or service.
Thus calling a vacation certificate a product isn't entirely accurate.
Pyxism 'Weeks'
Again, more 'access to something' than an actual product, Pyxism Weeks is a one time use registration code that provides the bearer access to the Pyxism Weeks backend.
Upon accessing this backend, holders of a registration code can then set about booking a 7 night stay in various 'resort condos, villas, stylish studios and cottages in over 4,000 resort properties around the world'.
Like the vacation certificates however, it's worth noting that none of these vacations are all inclusive but rather offer a discount towards the total wholesale price offered.
Pyxism claim that the wholesale prices offered on their 'Weeks' vacations range from 30 to 80%.
Like the vacation certificate, what you're really paying for here is the discount via Pyxism, rather then the actual accommodation itself which is provided by a third party (the actual product).
Joining Pyxism
Pyxism offer new prospects four different entry points to those interested in being a part of the business opportunity and one entry point for those just looking at earning a commission purely on retail sales.
The Travel Storefront
Pyxism's Travel Storefront is the entry method for those who are not looking at participating in Pyxism's MLM business opportunity.
The Storefront can be purchased for $79 US and entitles the purchaser to retail Pyxism's travel deals via a replicated online storefront.
Purchasers of the Travel Storefront are only able to receive commissions on travel sales made by other retail customers. This is stated to be a 50% commission but it's important to note that this isn't a 50% commission on the sale price, rather it's a split commission on what the third party company offers.
Say someone books car hire through your portal for $100 and the agent commission is $15, you'll then make 50% of that which is $7.50.
Naturally the agent commissions aren't public so exactly how much a '50% commission' is will depend on what services people are purchasing through your Storefront and the commissions offered by various third party suppliers that Pyxism utilises.
Associate Only
The 'Associate Only' entry point is for those who are unable to personally afford one of the upper level entry points but still want to work towards receiving commissions via the business opportunity
For $50, purchasers of the Associate Only option get a replicated website and must then sell six Vacation Certificates to either existing Pyxism members or retail customers to be eligible to participate in the Pyxism compensation plan.
Compass
The Compass entry point requires a one time enrolment fee of $299 and a yearly associate fee of $50. The Travel Storefront is also available for an additional $39.99 a month.
At the Compass level, associates are able to participate in the Pyxism compensation plan but only at the Compass level.
FastTrack Horizon
The FastTrack Horizon entry point is the same as Compass, except that the one time fee to join is raised to $1049.
Entry at the FastTrack Horizon level entitles associates to participate in the Pyxism compensation plan at both the Compass and Horizon levels.
FastTrack Navigator
FastTrack Navigator is the premium entry point for Pyxism associates and cost wise is the same as Compass and FastTrack Horizon, except that the one time fee is raised to a staggering $3,299.
In exchange for this, associates are able to participate in all levels of the Pyxism compensation plan – Compass, Horizon and Navigator.
There's also various limit increases for the various holiday packages Pyxism offer depending on which level you join Pyxism at. For the purposes of a business opportunity though they are mostly irrelevant so I've omitted listing the differences between the levels.
The Pyxism Compensation Plan
The primary component of the Pyxism compensation plan are its ladders and points system. The basic premise behind the Pyxism ladders is that when you enter one, a preset number of the positions on the ladder are already filled. From there, associates are ranked by points gained and when the ladder is full (each ladder has a specific fixed capacity), the person at the top of the ladder gets a big payout.
For everybody else, two new ladders are created and then the remaining associates are split between the two new ladders (every odd associate shifts to new ladder A and every even associate shifts to new ladder B).
Thus everytime a new ladder is created, it's already half full.
There are three ladders in the compensation plan, Compass, Horizon and Navigator.
The Compass and Horizon Ladders
The Compass and Horizon ladders consists of 11 positions each and if you're the associate at the top of the ladder when they fill, pay out $750 and $2250 respectively.
The Navigator Ladder
The Navigator Ladder is Pyxism's premium offering in their compensation plan and consists of 13 positions.
Upon filling up, the Navigator ladder pays out a healthy $12,000 to the top associate on the ladder.
Positions on a ladder are filled everytime an associate cycles from another ladder, when new associates join Pyxism at the relevant level, or if existing Compass or Horizon associates qualify themselves to participate in the higher ladders.
The Pyxism Points System
As the various ladders within the compensation plan fill up, associates on the ladder are ranked by 'points'. Points are a numerical value used to rank associates on any given ladder.
Points can be achieved via four methods;
1 point is automatically awarded to associates who opt in to purchasing their own Travel Storefront and maintain the monthly subscription.
1 point is awarded to an associate each time they sell a Horizon or Compass retail product.
1 point is awarded to an associate each time they recruit a new Pyxism associate at the Compass or Horizon levels.
1 point is awarded to associates each time one of their directly recruited downline receive a payout on an existing ladder, and then cycles onto their enrolling associates ladder.
To be honest, I'm not entirely sure what the distinction between method 2 and 3 is. As far as I can tell, buying into the Compass or Horizon levels via retail just means you don't plan to participate in the business opportunity.
All that you're effectively paying for then is fixed periodic access to the Worldwide Resort Weeks or Dream Vacations vouchers.
Why anyone would sign up to either Compass or Horizon at a retail level is beyond me.
Residual Income
Pyxism offers two residual income streams.
1. Travel StoreFront Residual Bonuses
In their compensation plan, Pyxism provide the following diagram with no further explanation;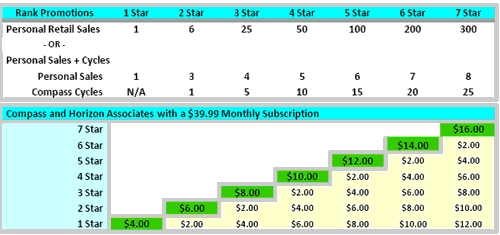 Now I'm not entirely sure if I'm reading it correctly, but from what I gather qualifying associates are ranked first via a star system (according to personal sales and/or ladder cycles or exclusively personal retail sales), and then awarded a monthly residual payout for each directly enrolled associate that maintains a monthly Travelfront store subscription.
At least that's how I'm reading it.
2. Monthly Global Pool
10% of the monthly StoreFront subscriptions are deposited into a global pool and shares of this pool are then awarded to distributors via an additional diamond ranking system.

The higher the diamond rank of an associate, the more shares in the global pool they earn.
Getting Paid
Unfortunately it's not as simple as just ensuring you're at the top of Pyxism's ladders when they fill up to guarantee a commission payout. Less publicised than other areas of the Pyxism business opportunity is the fact that you need to sponsor associates at every level to receive a payout.
On the ladders you need to maintain 2 directly enrolled associates under you on all three ladder levels (Compass, Horizon and Matrix), in order to receive a payout if you cycle a the top of a ladder.
If you fail to do so at the Compass level, you forfeit your bonus and are cycled back into an existing Compass ladder (following your sponsor).
If you fail to do so at the Horizon level, you forfeit 50% of your commission and the other 50% is held for you for 90 days. If you succeed in becoming Horizon qualified (having two directly enrolled associates under you on any Horizon matrices), this money is then released to you.
If not, you lose it all.
As for the residual income streams (which pay out three levels deep), you need to recruit 4 associates to be paid out on the Horizon level and 6 associates to be paid out on the Horizon level.
If you don't meet these recruitment requirements, you don't get access to these income streams.
Conclusion
Pyxism's ladder system compensation plan is one of the more unique compensation plans to be bundled with a travel club opportunity.
On the surface, there does appear to be a genuine effort to offer viable retail income streams that are recruitment free to get a pay out, however they are dwarfed by the payouts via the compensation plan.
Unfortunately to get paid out via the compensation plan there is a recruitment requirement (on both the ladders and the residual income streams).
This in effect means that for every new associate to Pyxism wishing to participate on all levels of the compensation plan, they need to go out and recruit six new associates (2 on each ladder and six in total to qualify for the residual income streams).
Stripping away the Travel StoreFront and retail sales, associates are able to join Pyxism and just focus on recruiting new associates at any level in order to build up points and at the same time qualify for commission payouts via the compensation plan.
This I suspect is how the majority of Pyxism associates are making their money, especially if they are migrating over from rival travel club MLMs.
With a minimum recruiting requirement of six associates to qualify for commissions on all levels of the compensation plan, ultimately without a constant influx of new associates I believe the Pyxism business opportunity is unsustainable.
The retail options seem to be more of an afterthought and attempt at masking the true power of the Pyxism compensation plan, which lies purely on Pyxism's associates recruiting new members to the company.