Power of 31 Review: Milk cancer, sell $225 candles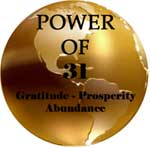 After a cancer diagnosis which you survived, you then went on to found a candle company and for a few years tried to market $225 candles. You probably made a few sales but eventually decided there just wasn't a big enough market for 'luxury candles'.
So, after hunting around the internet for some alternative business ideas you stumble across MLM, recruit a few people and bing-badda-boom make a few bucks.
Combine your candle business with a MLM compensation plan and your cancer survival story… and that's pretty much what you've got with the Power of 31.
Read on for a full review.
The Company
The Power of 31 lists a Jennifer Ballinger as its founder and CEO along with Cornell Jones as co-founder and COO. The Power of 31 bills itself as the 'the marketing arm for the Gratitude Candle Company'.
Meanwhile The Gratitude Candle Company website lists a 'Bonnie LL' (Bonnie Lennox) as its founder so I'm not sure what's going on there.
Bonnie Lennox writes,
In late July of 2010, I was diagnosed with stage 4 Pancreatic Cancer.
After her diagnosis, Lennox attended some women's conference.
I had 35 women surrounding me all praying over me. Once Jan finished her prayer, several women added their own personal prayers for me.

I was standing in the center of a circle of women who didn't know who I was, but in their hearts wanted me to be better and asked God to make that happen.

I feel this is Christianity at its finest and God at his most loving.
Ballinger on the Power of 31 website claims now to be 'tumor free ever since' (despite admitting to having chemotherapy treatment) and wholly credits her recovery to god and prayer.
Every morning now, for months, I light a candle for God to praise him and thank him for healing me and making me feel better.

Because I have had chemotherapy I know that it often times makes people hyper-sensitive to odors, (so much that even the slightest odors will make them vomit uncontrollably).

I searched for the cleanest, unscented wax I could find to make the candles and I also looked for the best wicks, which wouldn't smoke so much when I blow them out.

I also wanted to make sure my candles burned for a long time, and so far the combination I found works beautifully!

So my candles are 3oz. and burn up to 24 hours in a snug-fitting votive holder. I don't charge a lot for them because I want everyone who wants them to be able to afford them.
And that appears to be the foundation for Gratitude Candle Company and Power of 31.
One major inconsistency I found is that on the Power of 31 website, Ballinger claims
I founded The Gratitude Candle Company on what I call "a dream and a prayer."

We became an instant success with our signature bows and moms favorite cookie Jar turned into a fabulous 64 oz. candle. We are a debt free company.

Now four years later we are launching The Power of 31 the marketing arm for the Gratitude Candle Company.
Four years ago puts at 2008, yet on the Gratitude Candle Company website (which Ballinger states she is the founder of), she claims to have been diagnosed with her tumour in 2010, just two years ago.
The Power of 31 Product Line
Power of 31 claim to sell candles but from their website, the candles they sell don't appear to be available at a retail level.
There is mention of customer reward points and signing up as a customer on the Power of 31 website, but this doesn't appear to be tied into the compensation plan or the commissions Power of 31 offers its members through the compensation plan.
Instead, those wishing to participate in the compensation plan must pay a membership fee and included with the membership fee is one entry into the compensation plan (how much of a membership fee you pay dictates which part of the compensation plan you enter into).
Bundled with Power of 31's membership plans are a 64oz. (1.8kg) candle (which Power of 31 claim retails for $225) and $15.50 smaller "wax melt" candles.
The Power of 31 Compensation Plan
Upon purchasing membership to the Power of 31, depending on the membership fee paid members are inserted into a series of matrices. These matrices must be filled with new members in order to cycle out and earn a commission.
In order to qualify for commissions Power of 31 members must recruit 3 new members into the company.
Retirement 31
Tied into a purchase of the 'Gratitude Package' membership pack ($31), upon recruiting one new member into Power of 31, members are entered into a 3×3 starter matrix.
This matrix requires 39 new members to fill and upon filling the matrix members are paid $31 in commissions (a refund of the entry cost via membership).
Members are also paid $2.50 per member they themselves recruit whilst in the starter matrix. If this number exceeds 49 members in any given calendar month, members then receive $5 per additional member recruited.
However with only 39 membership positions on the starter matrix, I'm not sure how this is possible.
Upon cycling out of the starter matrix, Retirement 31 members then enter into the 'Wealth Generating System' which is a series of 3×2 matrices (12 member positions to fill) which pay out various commissions once filled.
Distributor – $60
Manager – $500
Director – $5000
Executive – $60,000, plus either a Cadillac Escalade or Lexus car or $60,000 scholarship or loan repayment
Cycling out of the Manager and Director matrices pays out a re-entry into the Distributor matrix and along the way members are rewarded with "retirement keys" which are effectively Gratitude Package membership packs to be given away to new members (so they can join for free).
There is also a 'Platinum Bonus Stage' upon completion of the Executive matrix that pays out $8000. To qualify for this payment members must have recruited 31 new members who in turn have recruited at least 3 new members themselves each.
There is a $2,000 recruitment bonus for new members you recruit whilst at the Platinum Bonus Stage level, which presumably stops once you've qualified for the $8,000 pay out commission.
Fast Track 7
The $225 membership option to Power of 31 allows members to participate in the Fast Track 7 series of matrices.
These matrices are 2×2 matrices (6 member positions to fill) and there are 14 matrices in total to cycle through, each offering a different commission upon cycling out. Additionally, every time a new member you've personally recruited cycles out, you are awarded a 'sponsor bonus'.
The cycle commissions and sponsor bonuses for the Fast Track 7 matrices are as follows:
Union (Stage 1)
Silver 225 – $225 ($25 sponsor bonus)
Gold 100 – $100 ($50 sponsor bonus)
Ruby 200 – $200 ($50 sponsor bonus)
Emerald 500 – $500 ($100 sponsor bonus)
Diamond 2000 – $2000 ($200 sponsor bonus)
Double Diamond 5000 – $5000 ($2000 sponsor bonus)
Platinum 10,000 – $10,000 ($5000 sponsor bonus)
Penn (Stage 2)
Silver 3100 – $3,100 ($3,100 sponsor bonus)
Gold 5000 – $5,000 ($5,000 sponsor bonus)
Ruby 10,000 – $10,000 ($10,000 sponsor bonus)
Emerald 20,000 – $20,000 ($20,000 sponsor bonus)
Diamond 30,000 – $30,000 ($30,000 sponsor bonus)
Double Diamond 35,000 – $35,000 ($35,000 sponsor bonus)
Platinum 60,000 – $60,000 ($60,000 sponsor bonus)
Various re-entry positions and free Retirement 31 and Fast Track 7 positions (keys) are distributed as members cycle through the various Fast Track 7 matrices.
Upon cycling through Platinum 60,000, members are awarded a $200,000 luxury car bonus (the specific car model is not mentioned) and a luxury home bonus of $500,000 (again, specifics are not detailed).
Power of 31 members who manage to cycle out of the Platinum 60,000 matrix seven times are also awarded a one million dollar bonus commission.
Additional Businesses
As part of the cycle commissions in the Retirement 31 series of matrices, Power of 31 also offer members the chance to participate in up to 24 various other income opportunities.
This effectively transforms Power of 31 into a giant feeder program for these additional opportunities, although participation in said opportunities is entirely optional (although no doubt strongly advised).
Some of the names of the companies mentioned by Power of 31 that are offered as additional income opportunity revenue streams are
OneX (recruitment scam)
QLXchange (recruitment feeder for shady investment group)
Going on this short list, it appears the legitimacy and legality of the additional income opportunities Power of 31 push onto their members is highly questionable.
Joining Power of 31
Those looking to join Power of 31 have three membership options:
Gratitude Package – costs $31 and qualifies member to participate in Retirement 31 component of the Power of 31 compensation plan.
Prosperity Package – costs $225 and qualifies member to participate in the Fast Track 7 component of the Power of 31 compensation plan.
Abundance Package – costs $160 (Party Pack 1) for entry into Retirement 31 and $285 (Party Pack 2) for entry into Fast Track 7. The difference between the Abundance Packages and the other two are you get more products included with your membership purchase.
Conclusion
Ignoring the ridiculous price of the Power of 31's candle products ($225 for a candle, really?), you'd think the retail side of this business would be a no-brainer.
Having founded the Gratitude Candle Company "four years ago" however, it appears this didn't work out and although apparently there is still a retail side to this business, the Power of 31 compensation plan makes no mention of it.
Instead, the focus is squarely on the recruitment of new members to participate in the compensation plan and be introduced to the other opportunities founders Jennifer Ballinger and Cornell Jones are pushing.
Jones appears to be the MLM force behind the Power of 31 opportunity and the cynic in me can't help but imagine Ballinger being not too happy with her candle business, joining a recruitment driven opportunity Jones was marketing and realising that she could turn her candle business into a feeder for several of the opportunities she (through Jones) was now involved in.
This is evidenced by the extremely high reported retail cost of the candles Power of 31 bundle with their membership options and complete lack of advertised retail commission structure within the company itself.
A visit to the Gratitude Candle company's website reveals no online store component (not even any products or prices) and asks you to call a phone number or visit another website, the Lennox Candle Company.
A visit to the Lennox Candle Company reveals another blog type website with no online store or product displays and again asks you to call a phone number to place an order for their "custom candles".
As mentioned earlier, the Lennox Candle Company and Gratitude Candle Companies appear to be owned by a Bonnie Lennox whereas on the Power of 31 a Jennifer Ballinger claims to have founded the Gratitude Candle Company.
Exactly what is going on here and who owns what remains unclear.
Regardless, it appears as far as candles go there is virtually no retail business online, let alone anything members of Power of 31 can use to market the candles at a retail level.
This leaves the matrix commissions earnt by recruiting new members and essentially reduces the Power of 31 opportunity to a recruitment feeder for other opportunities, with a commissions structure for introducing new members to the feeder itself.
Both Jennifer Ballinger and Cornell Jones appear to have unproven track records in the MLM industry (the companies they've been publicly involved in are dubiously questionable at best) so I'd be thinking long and hard before joining anything these two have created.
Sustainability wise an opportunity with no less than nineteen matrices in total doesn't really have much of a hope in the long-term.