Paraguay's Public Prosecutors investigating D9 Clube Ponzi

D9 Clube launched last year and, in addition to Ponzi ROIs and pyramid recruitment commissions, provided affiliates with 52 weeks access to the BetFair betting platform.
BetFair is an independent company that has nothing to do with the operation of D9 Clube.
Despite this however, BetFair is a key factor in D9 Clube marketing presentations. D9 Clube affiliates commonly insist a partnership exists between the two companies.
In response to a recent article exploring the relationship between BetFair and D9 Clube, BetFair have stated their position.
Via an official company statement provided to Paraguay's La Nacion, BetFair clarified;
This is not the first time D9 has made totally unverified statements about us. In this sense they could potentially damage our business.
BetFair strongly denies there is any official business relationship between the two companies.
The Paraguayan Public Prosecutor's Office have launched an investigation into D9 Clube, following a formal complaint filed by the government.
On May 10th the Paraguayan National Securities Commission issued a statement clarifying that D9 Clube are not registered to offer securities.
This is a criminal offense in Paraguay, with offenders facing six to twelve months in prison.
Short of bringing local D9 Clube promoters to justice though, it is unlikely that D9 Clube management will be arrested.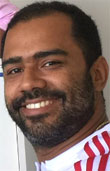 D9 Clube is operated from Brazil by Danilo Vunjão Santana Gouvêia (right). At the time of publication there is no indication Brazilian authorities are investigating the company.
La Nacion report that the Paraguayan Public Prosecutor's Office consider BetFair's clarification as "an important step for research".
Without the smoke and mirrors of partnership with an independent betting platform, it is painfully obvious D9 Clube is a Ponzi scheme.
Unfortunately owing to the ongoing nature of the investigation, the Public Prosecutor's Office declined to comment on specifics at this time.