D9 Clube owner arrested in Dubai, to be extradited to Brazil

With seemingly little to no local regulation of fraudulent activity, Dubai has emerged as a favorite for MLM underbelly admins.
Following the arrest of Danilo Santana at the behest of Brazilian authorities however, I believe we're about to see our first Dubai MLM related extradition.
The crackdown on D9 Clube began mid last year, following news that Paraguay's Public Prosecutors had opened an investigation.
D9 Clube primarily targeted Brazilian investors, which inevitably lead to a Brazilian regulatory investigation.
Following a six-month operation code-named "Operation Giza", in August 2017 Brazilian authorities raided several properties tied to D9 Clube.
Assets seized included a boat, computer server, Harley Davidson motorcycle, drone and camera.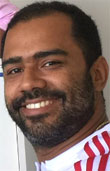 The ongoing investigation eventually lead authorities to the owner of D9 Clube, Danilo Santana (right).
Brazilian authorities were able to secure an Interpol red notice for Santana, which triggered his arrest in Dubai in late February.
An extradition request for Santana has been filed and is currently being processed.
At the time of the Brazilian raids, authorities estimated D9 Clube was a $642 million dollar Ponzi scheme.