Paparazzi under investigation for alleged labor violations in Utah

Melissa Sorenson is a former Paparazzi employee.
Sorenson was terminated in January 2022. The circumstances of the termination have not been disclosed by herself or Paparazzi.
What we do know, courtesy of a chatlog exhibit, is Sorenson feels she was "wrongfully terminated".
To that end she's filed multiple complaints with state and federal labor regulators.
The Papa Chat United chat logs were filed as an exhibit, accompanying a filing from Paparazzi requesting a Temporary Restraining Order.
The filing was made in a lawsuit Paparazzi initiated against Sorenson and several former Paparazzi consultants.
In the chat log exhibit, Sorenson discloses she's lodged complaints with the Occupational Safety and Health Administration (both federal and Utah), and the Department of Labor.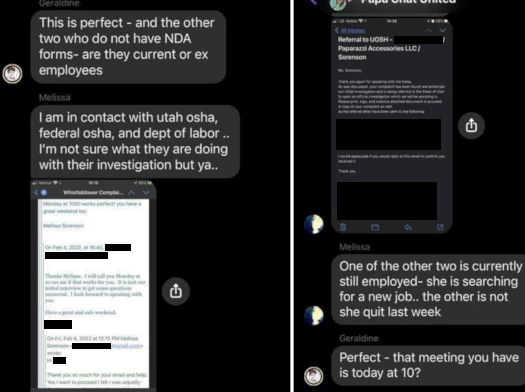 Cited correspondence between Sorenson, the Department of Labor and Utah Labor Commission states;
As was discussed, your complaint has been found warranted per our initial investigation and is being referred to the State of Utah to open an official investigation which we will be assisting in.
A mediation meeting was scheduled between Sorenson and Paparazzi on February 23rd. According to Sorenson, Paparazzi failed to attend.
They also never showed up to mediation yesterday and it's frustrating .. like I'm no longer worth their time, can't be bothered idk ugh
Elsewhere in the chat Sorenson details what the Utah OSHA are investigating;
They said they are going to be investigating the jewelry, the safety controls in the machines and emergency equipment (fire extinguishers) as well as talking to other current employees to see if they (are) ever notified of someone sick at work or if they are told to come into work sick.
Sorenson claims other Paparazzi employees have also recently quit due to "the bullying or dara or safety and health issues etc."
Sorenson states the reason she's filed complaints against Paparazzi is she
want(s) them to be held accountable what they have done and do better.
Sorenson claims Paparazzi has caused her "a lot of headache and hurt".
At least one other member of the chat appears to have filed a complaint with the Utah OSHA.
Cited correspondence states the complaint was made regarding "alleged safety and health hazards at Paparazzi Accessories".
Due to the complainant not being a current Paparazzi employee, Utah OSHA informs them they cannot notify them "of the results of our investigation".
But please be assured that we will appropriately investigate your complaint to see if there are any OSHA violations at this location.
I believe these investigations stem from the finding of toxic metals in Paparazzi's jewelry.
The current status of any regulatory investigations into Paparazzi is unknown.