11 deaths linked to Paparazzi COVID-19 Las Vegas event

Paparazzi held a ten year anniversary celebration in Las Vegas last month.
Unofficial tracking on social media suggests it might have been a COVID-19 super-spreader event.
The verified attendee death tally currently sits at eleven.
Three days prior to Paparazzi's event, Nevada issued an emergency order 'requiring people … to wear masks in public indoor spaces, whether they're vaccinated or not.'
This order applied to Las Vegas.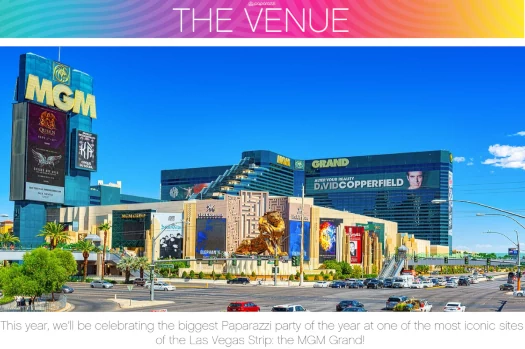 Photos posted on Paparazzi's official Facebook page suggest that mask wearing was mostly adhered to in public spaces: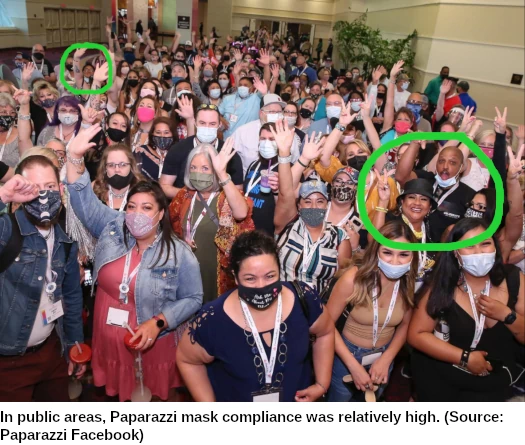 Attendees however removed masks and did not social distance when posing for photos, most of which appear to be in public areas.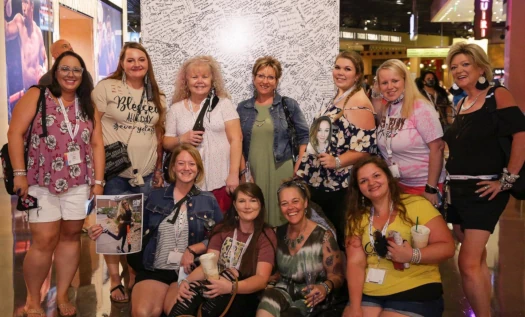 Inside Papparazzi's arena event, at which singer Pitbull performed, mask compliance went out the window.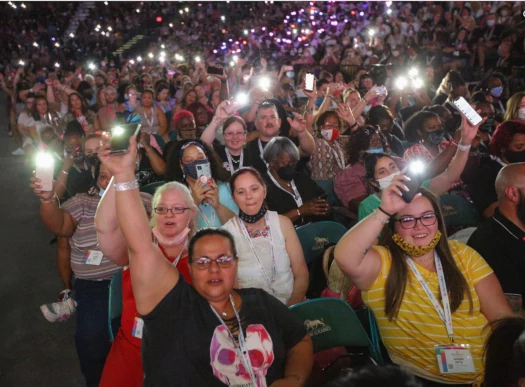 Total attendees at Paparazzi's event appear to number 15,000 to 20,000.
As documented by @themlmbossbabe on Instagram, shortly after the event attendees began reporting COVID-19 cases.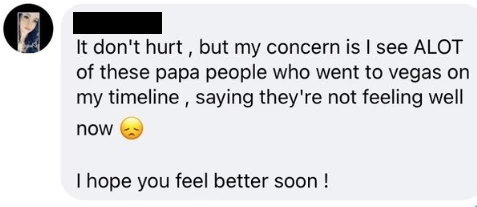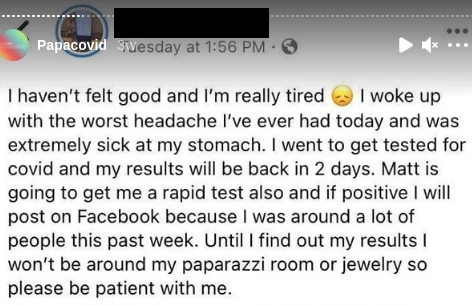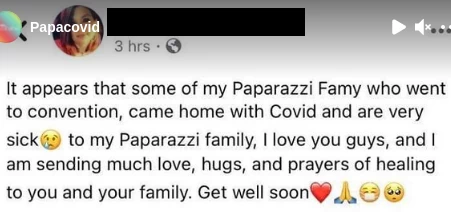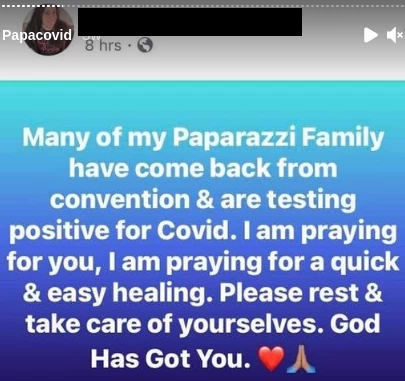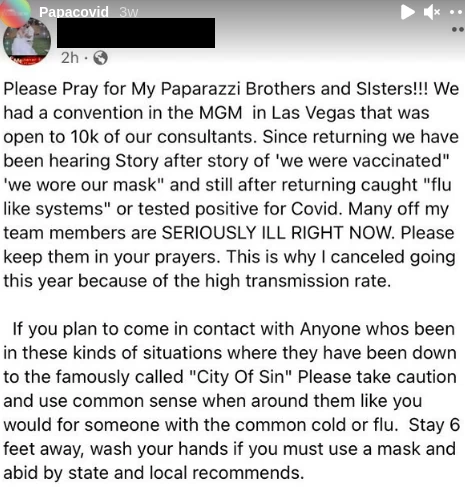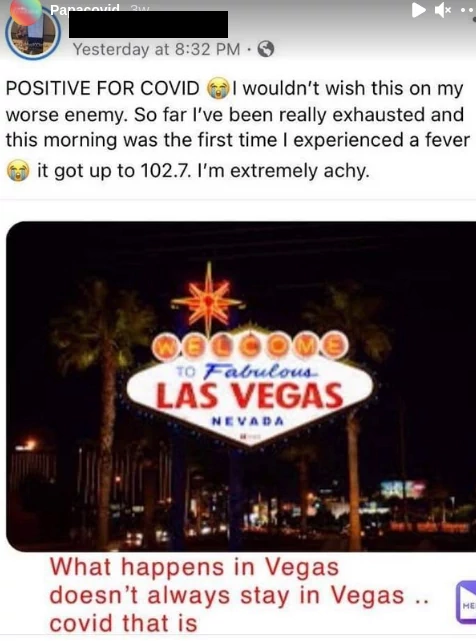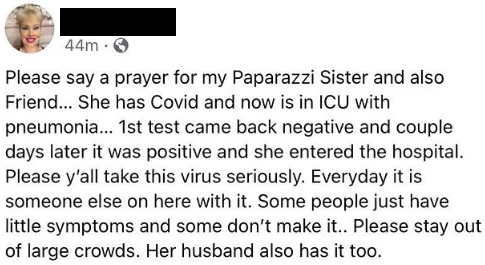 Over the following weeks cases COVID-19 cases among those who attended Paparazzi's event climbed.
So too did the deaths.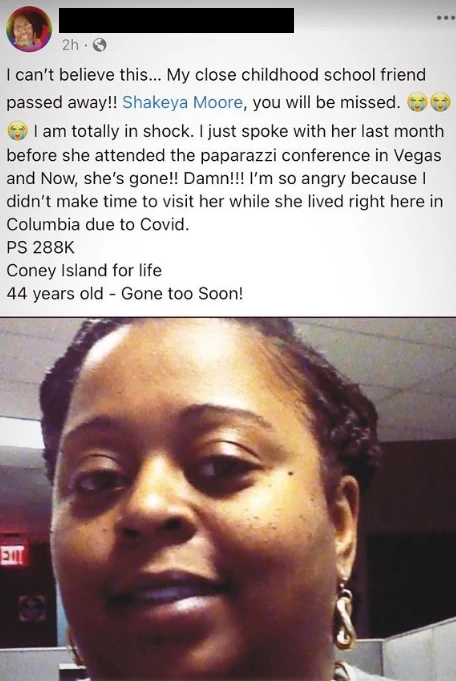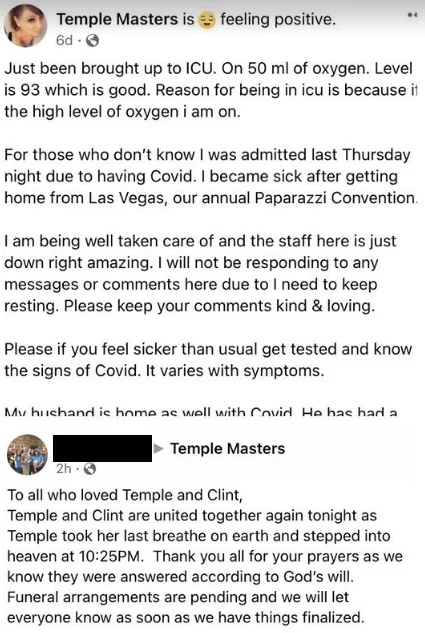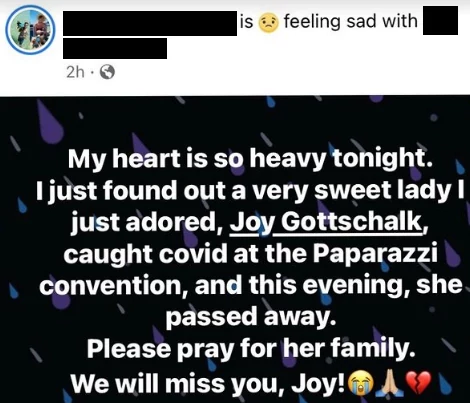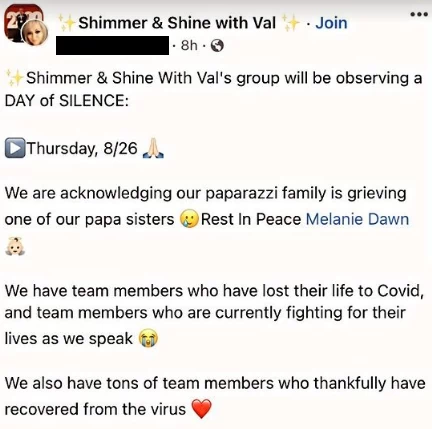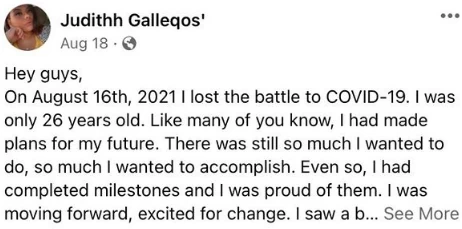 At least one Paparazzi distributor has owned up to exhibiting COVID-19 symptoms prior to travelling to Vegas.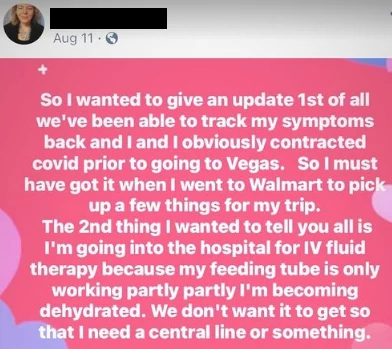 There are also unconfirmed reports of Paprazzi employees attending the event whilst infected: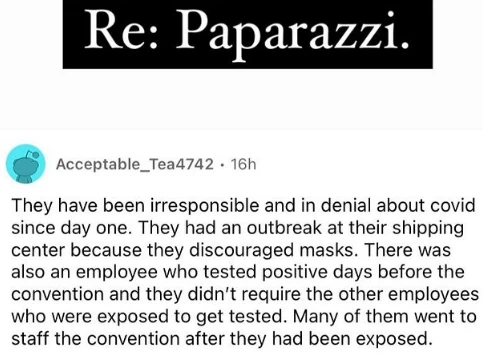 While it's easy to assume everyone at the event was careless, there are distributors who masked up and wore face shields.
Others spoke out in the ongoing aftermath;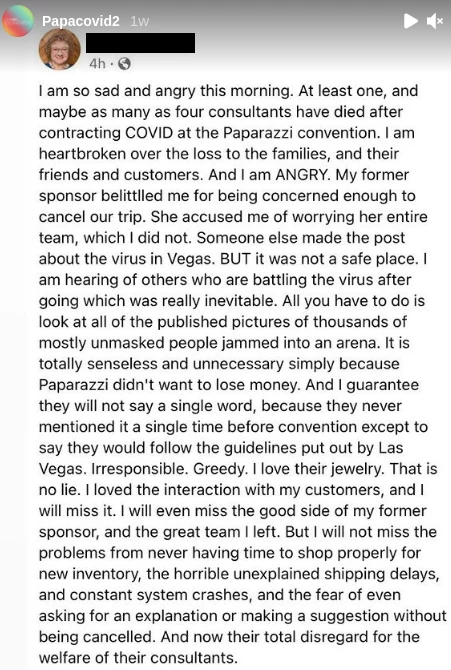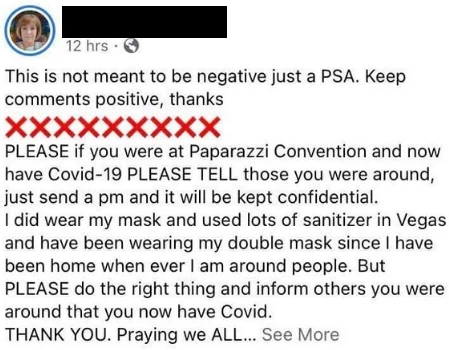 Unfortunately those that spoke out were met with threats.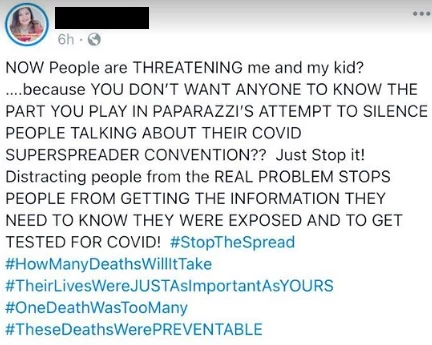 Others were given the "haterz" treatment;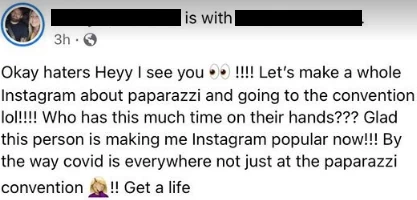 That particular Paparazzi distributor would go on test positive for COVID-19 and wind up in an ICU on oxygen.
She infected her family, including two young children. The distributor has since returned home but requires 24/7 oxygen treatment.
Disturbingly, Paparazzi distributors appear to have been ordered "not to discuss" COVID-19 cases related to the event.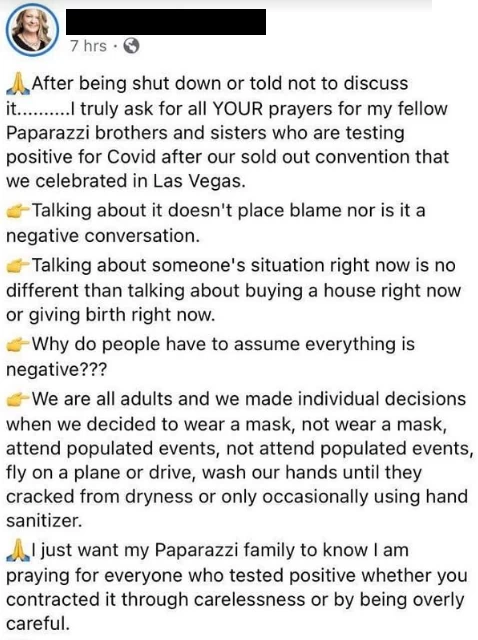 I wasn't able to tie anything directly to Paparazzi corporate. This widely circulated message however was sent out by Paparazzi top-earner Earica Alexander Cole.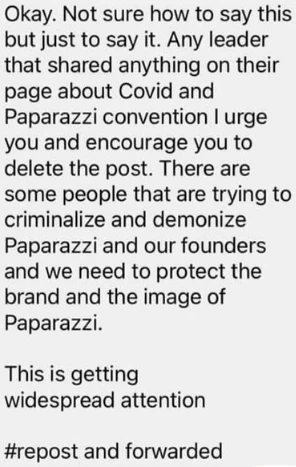 On Twitter Cole claims to be Paparazzi's "highest ranked Elite Consultant".
For their part Paparazzi has not publicly addressed the fallout of their event.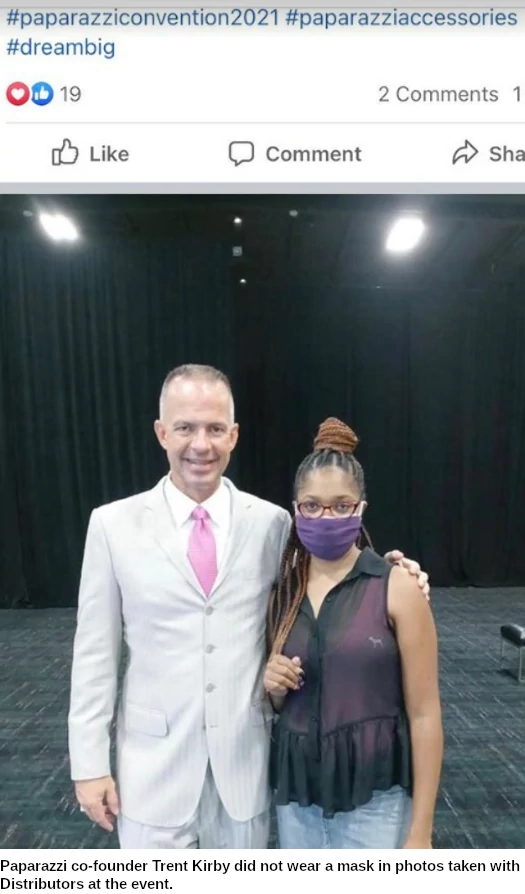 The company has thus far ignored the situation on its social media channels over the past month.
Probably going to lose friends over this post but what this company has done is making me completely sick to my stomach.

I cannot stand paparazzi anymore.For those of you who do not know, paparazzi is a mlm company that sells jewelry.

Normally the concept of an mlm should be enough to scare someone away. If not let's talk because of the Federal Trade Commission has ALOT to say about them.

What's really getting me upset is the nightmare that was the 2021 paparazzi convention.This was held in Las Vegas at the beginning of the month.

Las Vegas at that time and maybe still is a super spreader of the Delta Varient. [sic]

Most companies would offer a virtual option to keep people safe. Paparazzi did not. Most companies would say we would like to see proof of vaccination or a negative covid test two weeks prior. Paparazzi did not.

Most companies would have said if you are experiencing symptoms of covid, please do not come. Paparazzi, said if you don't come there's a $50 cancellation fee.

Here is the big one. Most companies would have followed both Town and State guidelines which at the time said wear a mask indoors at all times.. Paparazzi did not.

As I am sure you can guess from the statement above, a lot of people got sick. It was a spreader… no one can deny that.

As I write this post, 9 individuals who were both Paparazzi consultants/ spouses of consultants have died from covid they got at the convention.

Now here when a company has to make an important decision. People or profit. Paparazzi chose profit.

Consultants were asked by their upline and Paparazzi to remove all posts about them having covid to "protect the paparazzi brand". Well the brand is changing the world then congrats.. you made it worse.

The final thing is that Paparazzi themselves knew everything they had to do to keep consultants safe and had a variety of options to do so. They chose rather to make money off the tickets and having their consultants purchase more inventory from them. (Classic sign of an mlm, no ethical job will have you pay for a convention and then make you buy more product from them… it's a scam) over simple measures that maybe would have kept these people alive.. end of rant.

Unfriend me if you want. What that "company" (pyramid scheme) did was wrong.

–Author unknown, Reddit
Paprazzi hasn't however been slow to delete distributor accounts of the deceased. This suggests the company has some idea of the scope of the infections their event is responsible for and is keeping track.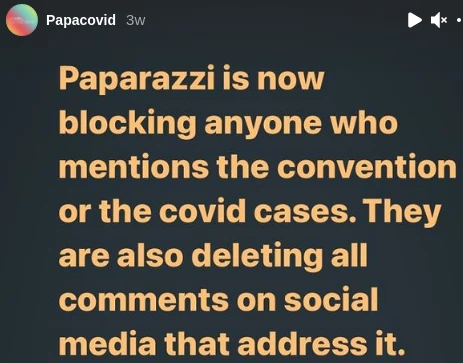 In the absence of support or even acknowledgement by Paparazzi, some distributors have taken to GoFundMe in desperation.
Publicly the total number of Paparazzi event COVID-19 infections remains unknown.
An August 25th report out of Denver claims "dozens" of attendees have since tested positive. Then there's secondary infections passed on to those who didn't attend the event to consider – both primary and secondary contacts.
@themlmbossbabe claims that, after raising awareness of COVID-19 spreading at their event, Paparazzi blocked her on social media.
Update 2nd March 2022 – There appears to now be a limit on Instagram stories available. Links to stories previously accessible stop working after this limit is reached.
This article originally included a link to The MLM Boss Babe's Instagram story. As of February 2022 however the link is no longer available.
As a result I've disabled the previously accessible link in the article.