Ugandan OneCoin kingpin John Mwambusya arrested

The former head of OneCoin recruitment in Uganda has been arrested.
The Criminal Investigations Department arrested John Mwambusya on January 30th.
Mwambusya stands accused of stealing more than $850,000 from over one thousand Ugandans.
According to Ugandan authorities, Mwambusya (right) ran his OneCoin business through Crypto Bridge African Limited.
Mwambusya, who also goes by Mwangutsya, appears to have joined OneCoin in late 2017, around the time founder Ruja Ignatova disappeared.
Mwangutsya and a team of OneLife "leaders" promoted OneCoin throughout Uganda, before disappearing themselves in 2020.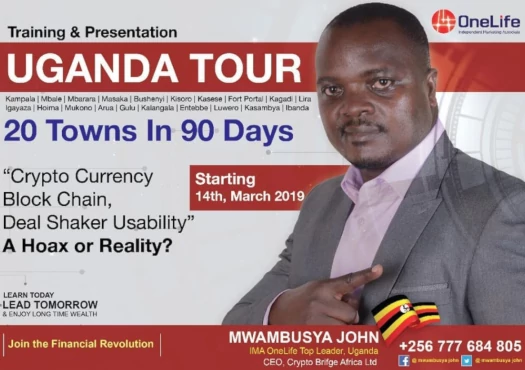 The CID intercepted and arrested Mwambusya as he was preparing to flee to neighbouring Rwanda.
Police are now appealing to the victims of this alleged scam to come forward and give their testimonies to the CID headquarters that will help in the prosecution of Mwangutsya for obtaining money by false pretense.

Although police are going to prosecute the prime suspect, Twiine explains that it is not easy for the detectives to recover such huge sums of money that was defrauded two years back.
Ugandan authorities appear to have begun investigating OneCoin and Mwambusya, following investor complaints filed in May 2020.