Tanzanian prosecutors to recover $6.9 mill in OneCoin funds

As part of an ongoing investigation, prosecutors in Tanzania have moved to recover $6.9 million in stolen OneCoin investor funds.
The balance in question was obtained through IMS Marketing Tanzania Limited.

The company is owned by Frank Ricketts and Manon Hubenthal (right), who oversaw laundering of OneCoin investor funds nationally.
The Director of Public Prosecutions has asked the Corruption and Economic Crimes Division of the High Court to seize $6.9 million held in two IMS Marketing bank accounts.
Both accounts are held at Bank of Africa, containing $1,351,597.79 and €5,377,306.56 respectively.
Presumably Ricketts and Hubenthal would have transferred the funds offshore had they of been able to, so presumably there's a freeze order in place.
Bank of Africa was the slowest bank to respond to OneCoin fraud, finally shutting the company's accounts down in late 2016.
The DPP submits that Ricketts and Hubenthal traveled to Tanzania to register IMS Marketing Tanzania in January 2014.
The company was registered under false pretenses, with neither OneCoin or the collection of money from the public mentioned as a stated purpose of the business.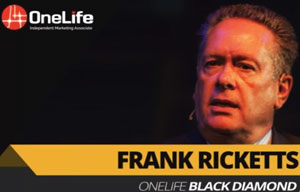 The DPP have charged Ricketts (right) and Hubenthal with
three charges of conspiracy to commit an offence, money laundering and unlawful operating a pyramid scheme.
Arrest warrants have been issued however both scammers remain at large.
Frank Ricketts is believed to be hiding out in Thailand. He continues to scam members of the public through Cloud Horizon.
Manon Hubenthal's current status and whereabouts are unknown.
Update 7th April 2020 – On April 4th the Corruption and Economic Crimes Division of the High Court ruled prosecutors are permitted to seize the requested $6.9 million amount.
Judge Elinaza Luvanda ruled that the government can now take the money that was being held by IMS Marketing LTD after agreeing with an application by the Director of Public Prosecutions, Biswalo Mganga.
Prosecutors had also asked for backdated interest from Bank of Africa, however the court denied this request.