OneCoin scammers target victim wrongfully jailed for 23 years

In 1994 the Zhejian Higher People's Court in China convicted Chen Man of murder. He was initially given a suspended death sentence, later commuted to life imprisonment.
Questions about the legitimacy of Chen's trial have always lingered.
The fairness of Chen's trial was questioned at the time, with his lawyer identifying 18 contradictions in his testimony.

Wang said Chen was tortured into confessing. "He was strangled until he almost suffocated and his joints were beaten with sticks and steel rods," she said.
In 2015 Chen
filed a petition with the top prosecutors' office in Beijing last year, which then lodged a protest with the Supreme People's Court.

The court ordered a retrial and assigned the Zhejiang high court to hear it.

At the retrial last year, both the prosecutors and defence lawyers asked for Chen to be exonerated.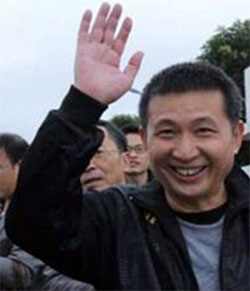 After twenty-three years behind bars, on Monday February 1st, 2016, Chen (right) was exonerated and set free.
In a prison courtroom, Hainan's top judge, Fu Qin, bowed to Chen in apology on behalf of the court, which issued the death sentence 21 years ago, said Chen's lawyer, Wang Wanqiong.

"He said he was sorry for all those years Chen spent in jail, and Chen replied: 'It's OK.'" Wang said.

"I think Chen also meant that the one who apologised was not in charge when the case took place. He's a very kind person and felt nothing but joy today."

The authorities have yet to announce an investigation into the judges, prosecutors and police officers involved in the original verdict.

"Chen said those people should be held responsible, but he had no hatred towards them and believed it should be left to the law to decide," Wang said.
As part of his exoneration, Chen was awarded 2.75 million yuan in compensation ($400,209 USD).
Less than a year after his release, Chen found himself in a room being pitched on OneCoin.
After being told he would receive a ROI of 9 million yuan ($1.3 million USD), Chen invested over a million yuan into OneCoin.
In an interview with Cover magazine, Chen stated
he thought OneCoin presented an opportunity to catch up to the modern world after his 23 years in prison.

"Most people are not familiar with this area, so, in this new field, I could perhaps stand on the same starting line as everyone else," he said.

"I've been disconnected from society for too long."
On December 8th an unidentified woman pitched Chen on OneCoin for an hour. Chen eventually invested a large percentage of his compensation money through Sichuan Kaijian Internet Technology Co. Ltd., a company that as of last Sunday no longer exists.
Chen has since acknowledged he's been scammed, after realizing he couldn't withdraw any money out of OneCoin on Saturday.
On Friday, Wang Wanqiong, one of Chen's lawyers, posted on social media that his former client may have fallen victim to fraud.

"I suspect that he has been involved in a pyramid scheme, and I talked to him for a long time. I'm not sure how much he took in."

"For [this money], he traded in his freedom and his life".
OneCoin affiliates have, for the most part, been unable to withdraw their OneCoin balance since late 2015. The company formally terminated all affiliate withdrawals last month.
As a person of interest, Chen has been followed by documentary film maker Zhou Qiang for nearly a year.
Footage shot by Qiang surfaced on Sunday, showing Chen being pitched on OneCoin for about an hour.
Rather than go after the OneCoin affiliates who stole Chen's money, his family are claiming Zhou knew Chen was being scammed and should have informed them earlier.
When evidence surfaced suggesting that Zhou and others knew that Chen had likely been cheated, Chen's family and lawyers accused Zhou of not informing them despite knowing about the deception for three months.

In an interview with The Beijing News on Monday, Zhou explained that he had warned Chen about OneCoin's reputation when he accompanied Chen on a visit to the company in November, and that he had been planning to hand the footage over to the police as evidence.
What a sad turn of events.
Whether anything further eventuates remains to be seen. OneCoin meanwhile are gearing up for their next promotional shindig, to be held in Macau in May.
Members can purchase tickets to the main event at the following prices:

Platinum – €250
Gold – €150
Silver – €100

There are also special VIP box packages for our members – a 12-seater VIP box can be purchased at €10,000 and the 24-seater one – at €20,000.
OneCoin have been unable to promote themselves in mainland China since March, 2016, following the arrest of several affiliates in Guangdong.