OneCoin promoter dumped from Slovenian blockchain event

The Faculty of Commercial and Business Sciences (FKPV) is a college in Celje, Slovenia.
FKPV is currently gearing up to hold a three-day "blockchain summer school" event starting September 17th.
As per FKPV's promotional material for the event;
Don't miss great lecturers, work in the sections on cryptocurrencies and ICOs, and smart contracts and technology.

Expect insights into the creation of blockchain business models and global trends.

We will select domestic and foreign experts. We will look into more examples in more detail and start creating business models.

Get a seat and fill out an application today.
In late August FKPV published a list of lecturers appearing at the event, among which was Polona Ajdic.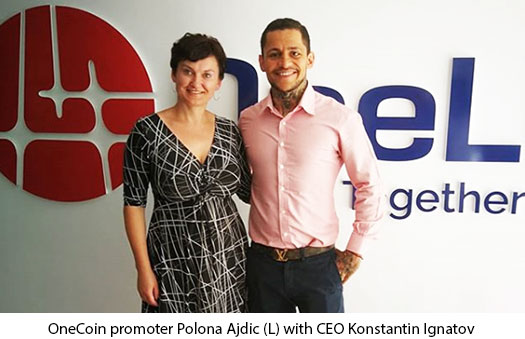 Ajdic is a prominent Slovenian OneCoin promoter.
For her part Ajdic seemed excited to lecture at FKPV's event.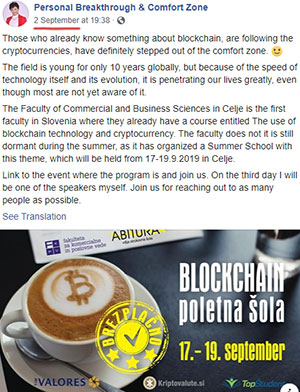 On her "Personal Breakthrough & Comfort Zone" Facebook page, Ajdic wrote on September 2nd;
The Faculty of Commercial and Business Sciences in Celje is the first faculty in Slovenia where they already have a course entitled The use of blockchain technology and cryptocurrency.

The faculty does not it is still dormant during the summer, as it has organized a Summer School with this theme, which will be held from 17-19.9.2019 in Celje.

Link to the event where the program is and join us. On the third day I will be one of the speakers myself. Join us for reaching out to as many people as possible.
According to a report from Siol, upon seeing Ajdic's name a number of other lecturers threatened to boycott the event.
This saw an updated lecturer list published on September 3rd. The only change to the list was that Ajdic had been dumped.
Siol reports
the reason for this was the threat of a boycott, which warned some lecturers of the seminar organizer that they did not agree with Ajdic's inclusion in the program of the event.

This was confirmed by Siol.net for Mirjana Ivanuša-Bezjak, holder of the subject Use of blockchain technology and cryptocurrency at FKPV and one of the organizers of the Summer School of blockchain.

The apple of contention was the alleged OneCoin cryptocurrency, which Ajdichev continues to actively promote.

OneCoin is virtually branded by anyone who counts in the cryptocurrency world as a pyramid scheme, and law enforcement and consumer organizations in many countries, including Slovenia, share a similar opinion.
Seeing as OneCoin has no blockchain, it follows that a promoter of the Ponzi scheme has no business speaking at a blockchain event.
Lest we have another "guh-kneesis block" moment.
Once upon a time OneCoin was able to command appearances on fake Forbes magazine covers and shill publications.
How times have changed.