OneCoin laundering funds through unregistered charity?

OneCoin's association with an unregistered charity has caught the attention of the UK's Charity Commission.
According to the Charity Commission, As-Sabur Global is registered with Companies House but not the commission itself.
As-Sabur's founder and only company director, Mohammed Aklim Uddin Saleh Ahmed, appeared with the OneCoin founder Ruja Ignatova in a promotional video.
On their website As-Sabur Global list support for domestic violence, shelter for the deaf & blind and disabled, shelter for the elderly, women's refuge, orphanage and child trafficking as causes they support.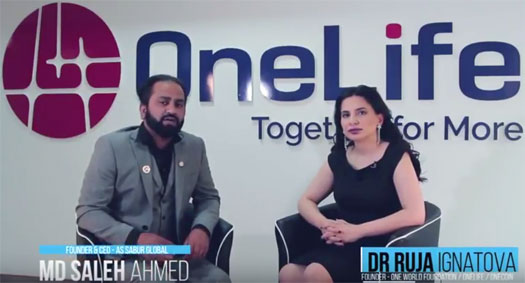 As above, the relationship between OneCoin and As-Sabur is described as a "partnership". Whether this means stolen investor funds are being laundered through As-Sabur is unclear.
The As Sabur Global website domain was only recently registered and set up on April 4th, 2017.
If OneCoin are using the charity as a front to launder investor funds through, it would certainly be a new low for Ignatova.
In 2015 OneCoin tried to partner with the Canadian charity Seva Canada. Upon realizing OneCoin was a Ponzi scheme, Seva Canada returned Ignatova's donation and severed ties.
In the promotional video referenced earlier in this article, marketing of top investors is interspersed with stock charity themed footage. Mohammed Saleh Ahmed and Ruja Ignatova each speak in the middle of the video.
Saleh Ahmed cites himself as a Diamond ranked OneCoin affiliate investor.
After receiving a complaint from the public, the Charity Commission are assessing whether further action needs to be taken.
The Commission's longstanding safer-giving advice is for the public to only give to registered charities and check whether a charity is registered on the Commission's online register.
An ongoing investigation into OneCoin was announced by London police in late 2016.