OneCoin kicked out of Gibraltar virtual office, struck off register

Despite having no actual physical presence there, OneCoin up until recently claimed to be a Gibraltar corporation.
This was set up as OneCoin Limited, who Ruja Ignatova's mother, Veska Ignatov, laundered money through via Pegaron Invest Limited, a Bulgarian company.
OneCoin's virtual office address was formerly provided by AMS Company Management Limited.
On February 2nd, 2016, AMS Company Management Limited issued a statement declaring OneCoin "does not have authority" to use their mailing address.
OneCoin appear to have been unable to work things out with AMS Company Management, or find virtual office provider that would register them.
Why AMS Company Management Limited gave OneCoin the boot is unclear.
On the 26th of August, Veska Ignatov filed an application to strike OneCoin Limited off the Gibraltar companies registrar.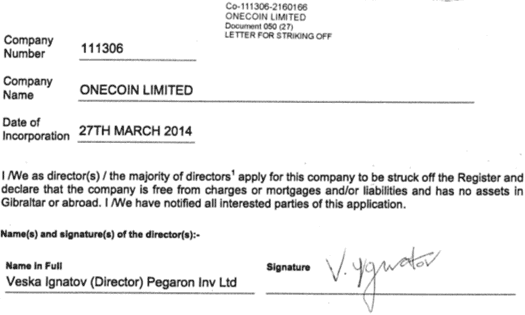 Ignatov provides no reason for the request in the filing.
Since striking OneCoin off the Gibraltar companies registrar, the OneCoin website has been absent corporation information. Any mention of Gibraltar has been scrubbed.
The OneLife website currently provides a corporate address in Belize for OneLife Network LTD.
Research reveals this address belongs to Ally Professional Services LTD.
Whether Ally Professional Services Limited are aware they are providing offshore incorporation services to a global Ponzi scheme is unclear.
Both Gibraltar and Belize are known tax-havens with little to no regulation.