OneCoin investor's airline money laundering scheme thwarted

Following its launch in late 2014, Pehr Karlsson emerged as one of OneCoin's early top investors.
Operating out of Sweden and placed directly below Juha Parhiala, Karlsson is believed to have stolen over 7 million EUR from OneCoin victims.
Like most of OneCoin's top earners, Karlsson bailed from OneCoin after it collapsed early last year.
Flush with ill-gotten gains, Karlsson surfaced earlier this year as co-founder of a proposed Swedish airline.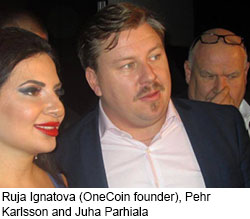 The Nobis Air proposal sought approval for flights between the Swedish city of Vaxjo and Stockholm Arlanda and Oslo International Airports.
Pending approval by the Swedish Transport Agency, Nobis Air flights were to commence from August 1st.
Following reports from the Swedish media outing Pehr Karlsson as one of Nobis Air's backers however, a few days ago the application was withdrawn.
A report from Flygtorget cites the media outing of Karlsson as the "probable reason" for the withdrawal.
Sudden suspicions arose that assets (obtained through OneCoin) had been used to fund the start of the new airline.

In spite of that, Pehr Karlsson and Håkan Melin … stood behind Nobis Air, (which maintained a) high profile and meant that the first flights to Visby during the Almedal Week were just the start of something "horribly big".

According to data, recruitment of both flying personnel and technicians took place a long time ago.
Following Karlsson's outing by the media outlet Smålandsposten, several Nobis Air shareholders, pilots and staff quit. Nobis Air's website and communication lines were also taken offline.
In view of the fact that the Transport Agency, in its review, considers, among other things, the economic conditions for long-term operating of an airline and the existence of broad airline competence in the business, it is not surprising that the application for a license has been withdrawn.
Chin up, Karlsson – there are other options. Have you considered investing in a sleazy Cambodian bar instead?