Judicial investigation initiated against Laurent Louis (OneCoin)

Following a complaint from a OneCoin victim last November, Laurent Louis was the subject of a criminal complaint.
The victim claims Louis convinced him to invest 50,000 EUR on the promise of a 1000% ROI "or even more".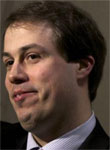 Louis (right) stands accused of pyramid selling, fraud, violation of banking laws and money laundering.
Louis is a former Belgian politician who is banned from running for office till 2021. Unable to work in his chosen profession, Louis has turned to a life of crime.
Authorities allege Louis is a major promoter of OneCoin in Belgium. He's allegedly pocketed 100,00 to 200,000 Euros in referral commissions for convincing two to three thousand locals to invest.
Yesterday the Brussels Public Prosecutor's Office announced they will be escalating the case to an official judicial investigation.
According to the European Justice website;
In most cases the police will send the official report to the public prosecution service.

The public prosecutor will then decide whether the police have to open an investigation or not.

This investigation may be conducted either by the public prosecutor or in more complicated cases, or where more intrusive measures such as house searches are needed, by an investigating judge (judicial investigation).
Pending the outcome of the judicial investigation, Belgian police will be advised on whether to proceed with a criminal case against Louis.
Louis initially shrugged off news of the criminal investigation, flaunting a newspaper article at a OneCoin event held a few days after the initial story broke.
No word yet on whether the suspension of all OneCoin related affiliate withdrawals last week has seen any of Louis' other victims come forward.
Stay tuned…