Nigerian OmegaPro victims name and shame recruiters

A group of OmegaPro victims has named and shamed some of the countries top recruiters.
Nigerian OmegaPro losses are believed to be around $120 million, mostly stolen from "widows, retirees, high-net-worth individuals, big business people, and even young people just starting in life".
Top OmegaPro recruiters in Nigeria meanwhile are buying multi-million dollar property portfolios, while authorities do nothing.
Representing the OmegaPro Action Nigeria Class (OANC), Dr. Ope Banwo claims OmegaPro's ringleaders in Nigeria were Tomiwa Orunnipin, Samuel Ajibare, Leo Bonaventure and Daniel Onoja.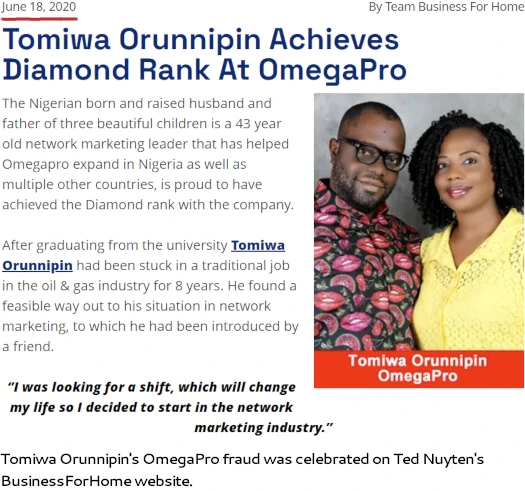 Lower ranked Nigerian OmegaPro promoter ringleaders include Grace Udenwa Udoye, Wuraola Fadairo Orunupin, Olasebikan Oladapo, Maryann Ilorah, Chinwe Ikpe, Ajibare Olushola Ebunoluwa, Dotun Fatoyinbo, Dr Afoma Nwolisa, and Matthew Ogunmodede.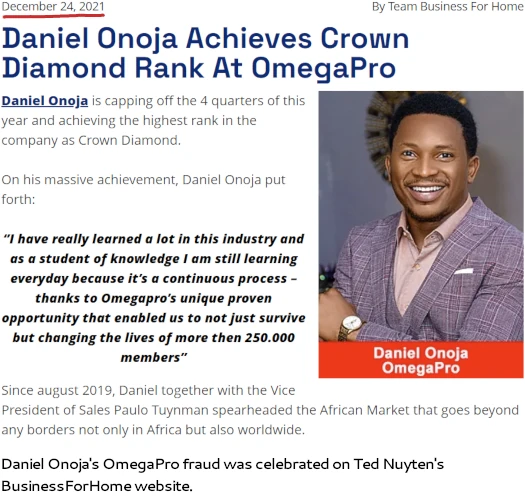 Ope Banwo claims that, having stole millions of dollars through OmegaPro,
Daniel Onoja recently celebrated the purchase of a multi-million-dollar house in Canada, while Leo Bonaventure, recently posted videos of the housewarming of his own amazing multi-billion naira estate in Lagos.

On his part, Leo Bonaventure recently obtained a micro-banking license.
Why Nigerian regulators are giving MLM Ponzi scammers banking licenses is unclear.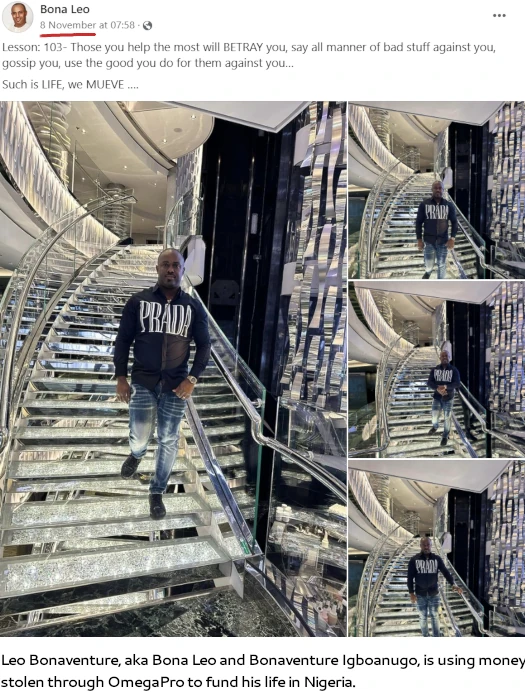 BusinessPost describes OmegaPro as "one of the biggest investment tragedies in Nigeria's history."
To date Nigerian authorities have not taken any public action against Nigeria's OmegaPro promoters.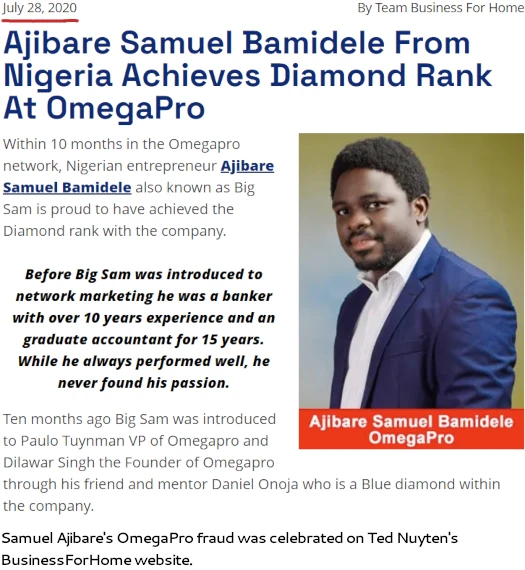 OmegaPro was a Dubai-based Ponzi scheme. The scam was co-founded in 2019 by Dilawar Singh (Germany), Andreas Szakacs (Sweden) and Michael Shannon Sims (aka Mike Sims, US).
OmegaPro investors were pitched on a 200% ROI, paid out over 16 months. The Ponzi scheme inevitably collapsed in late 2022, causing widespread consumer losses.
The CFTC has gone after Mike Sims for laundering money for another Ponzi scheme but, as of yet, nobody has been charged for OmegaPro fraud specifically.