Eric Worre to front OmegaPro Ponzi reboot Go Global

I kind of figured after OmegaPro collapsed, likely causing hundreds of millions in losses to consumers in the process, that Eric Worre would stop attaching his name to Ponzi schemes.
Boy was I wrong.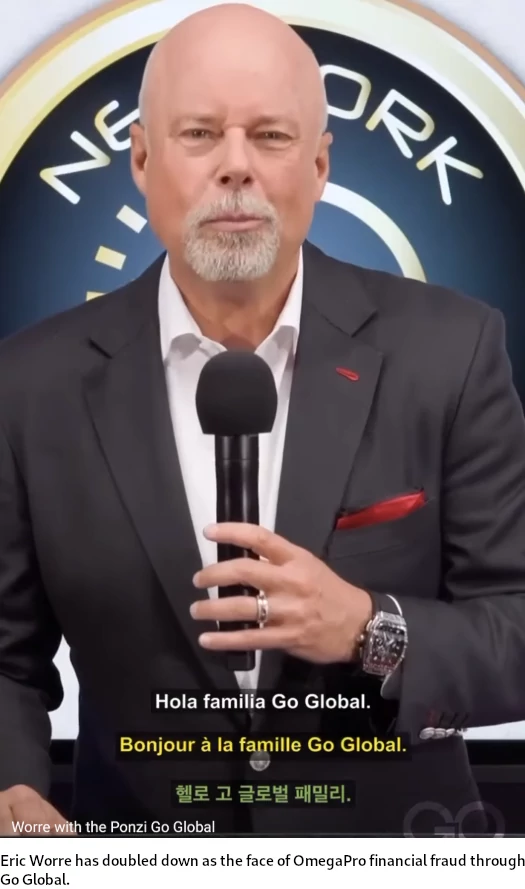 After distancing himself from OmegaPro as it collapsed last November, Worre has resurfaced as the face of the Go Global reboot.
Addressing OmegaPro victims as "Go Global family", Worre appeared "very very excited" in a recent Go Global prelaunch video.
I'm very, very excited to be joining you on February 1st at the official prelaunch of Go Global.

And I've got a special announcement for you as a consultant, advisor and trainer, that you're gonna love.

Make sure that you're there live February 1st, to get all the information and to take advantage of something outrageously special.

You're gonna like it, I promise and I'll see ya then.
Worre joined OmegaPro's executive team as Official Strategic Coach in mid 2022.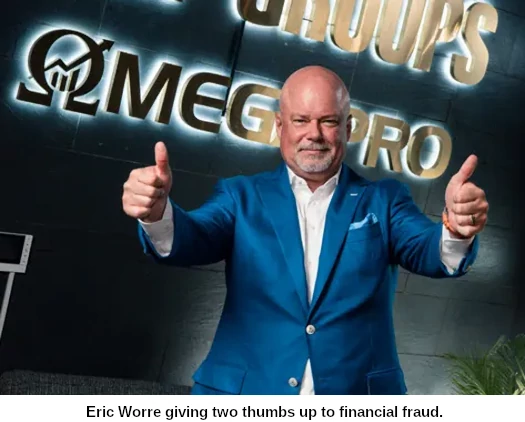 A few months later the Dubai-based Ponzi scheme collapsed.
OmegaPro co-founders Andreas Szakacs, Dilawar Singh and Mike Sims have since gone underground.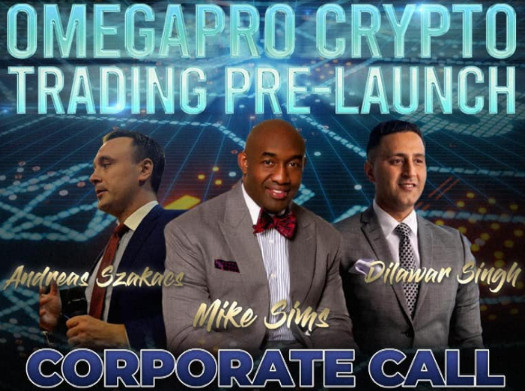 Szakacs and Singh fled to Dubai after OmegaPro took off on or around 2019. Mike Sims is believed to reside in the US state of Florida.
Through undisclosed financial arrangements, Go Global will be headed up by CEO Nader Poordeljoo and COO A.K. Khalil (right and left respectively below).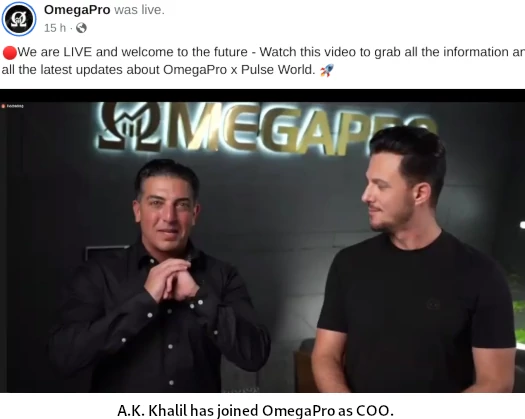 Poorderljoo was OmegaPro's President and COO. A.K. Khalil took over as COO right before OmegaPro collapsed in November 2022.
As confirmed by Eric Worre, Go Global is planning to launch its Ponzi reboot on February 1st.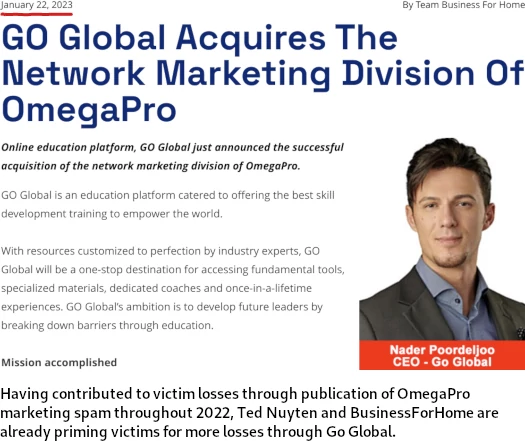 BehindMLM will publish a Go Global review once its business model is confirmed.
Update 2nd February 2023 – BehindMLM has published its Go Global review.