"No chance" of recovery for Genesis Acquisitions investors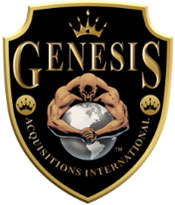 Genesis Acquisitions International popped up on my radar back in October.
Promoted on the momentum of a purported $860,000 test investment by the scheme's founders in July, Genesis Acquisitions International were soliciting a minimum $5000 investment on the promise of a 20% ROI.
Fortunately that all came crashing down when the FBI busted William Apostelos, owner of the scheme Genesis Acquisitions International was attached to.
Through WMA Enterprises, the FBI revealed that Genesis Acquisitions International was little more than one cog in Apostelos' $50 million dollar Ponzi empire.
With Genesis Acquisitions International only in a fledgling state before the FBI moved in, losses in the scheme have largely been confined to that of local "business people, professionals and retired police officers" Apostelos managed to dupe.
Following the recent filing of an FBI affidavit, bad news for them.
An FBI affidavit stated that despite owning a $1 million farm in Clark County on South Houston Pike in South Vienna, four higher-end vehicles and spending $35,000 per month on Connie Apostelos' horse racing endeavor, the Apostelos claimed very little income on their past few Internal Revenue Service tax returns.

Apostelos and his wife have had "no legitimate source of income since 2010," and that their sole source of income has been "stolen from the funds investors unknowingly placed into the pyramid scheme," according to the court document.

The affidavit further stated that most of the business people, professionals and retired police officers who invested with the couple "will have no chance of recovering those investments."
News of the affidavit was brought to light following the revelation that last month Apostelos was arrested on drug charges:
William Apostelos, 53, is scheduled to be arraigned this afternoon in Warren County Court. Apostelos' wife, Connie, posted bond of $2,525 on Nov. 24 for the fifth-degree possession charge. Court records state the alleged offense happened Oct. 29.

Detective Dennis Luken of the Greater Warren County Drug Task Force said the charges grew out of the federal investigation and that "the feds found some pills."
At this stage it's not clear who might have a shot at fund recovery, with the case continuing to make its way through the courts.
Although not explained in the article, I think the primary reason fund recovery isn't plausible in this scenario is that Apostelos and his wife appear to have been living off funds stolen from their investors.
Had they of pooled the money, recovery might be feasible. But instead the funds were spent across who knows how many channels.
The FBI (or an appointed Receiver) could go to the trouble of suing all and sundry who received stolen Ponzi funds, but I imagine litigation costs spread out over the number of cases required would likely mitigate any recovery.
Whether or not clawbacks are on the table remains to be seen (not much has been released about Apostelos' investors at this stage).
Long-time MLM underbelly feeder Ken Russo, one of the key promoters of Genesis Acquisitions International, was heavily pushing Genesis back in October:
I am very firm in my belief that this is the real deal and I get no sense whatsoever that any kind of scam is intended here.

It is very seldom that we can find an opportunity as transparent and viable as the Genesis Acquisitions International, LLC. investment club.
In emails sent out to his prospects, Russo also claimed to have invested $20,000. Whether or not Russo actually did invest and subsequently lose his investment is not clear.
One thing is for sure though, Russo's internal scam detector appears to be completely broken.
Stay tuned…