Monat's Australian launch is a pyramid scheme?

Last month Monat announced it was launching in Australia. Well, kind of.
Between October 1st and October 30th, recruitment of Australian Monat affiliates is open. Retail sales don't start till November 1st.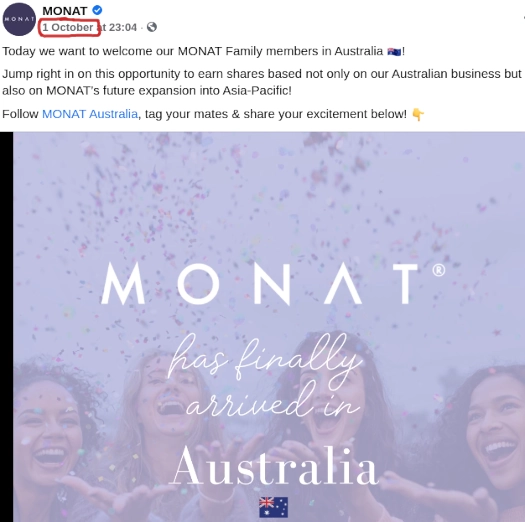 The problem is Monat is tracking and paying on sales volume generated from October 1st. That's 100% recruited affiliate volume.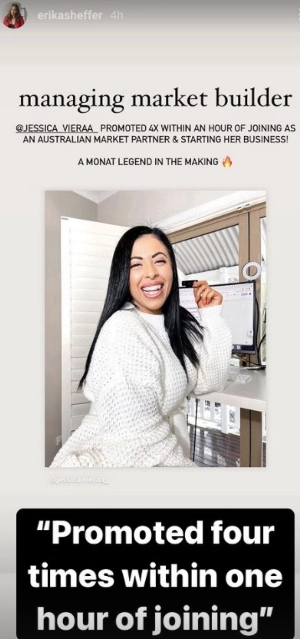 A reader tipped me off to an October 3rd  Instagram story by The MLM Boss Babe.
In the short collection of clips, the MLM Boss Babe details one new Monat affiliate, who purportedly ranked up four times within her first hour of joining.
As per BehindMLM's published Monat review, rank four is Market Builder
Market Builder requires 500 PV (a self-purchase seeing as retail isn't an option), recruitment of four 200 PV affiliates (again self-purchased because no retail), and 4000 GV in total downline sales volume.
The MLM Boss Babe claims the affiliate reached the fifth rank, Managing Market Builder, which bumps monthly requires sales volume to 7000 GV.
Even if this affiliate had 10-15 planned recruits lines up, that's still a boatload of inventory loading to rank qualify.
Regardless, this obviously wasn't organic recruitment done within an hour. Some planning clearly took place.
That of course isn't disclosed in the advertising, taken from another Instagram account.
This by itself is a potential violation of the FTC Act for deceptive marketing.
Seemingly aware of potential regulatory ramifications, The MLM Boss Babe claims that when a third-party reached out to the affiliate in question to ask how she ranked up, she received a defensive voice message and was blocked.
Not a good look when a member of the public responds to your very public advertising of an MLM opportunity.
In having a look around myself I learnt of the Asia Pacific Pool, accompanying Monat's Australian launch.

The Asia Pacific Pool is made up of 1% of Monat's Asia Pacific regional sales volume.
This includes affiliate purchase volume.
As per Alina Rekshta's video;
[10:34] Every single time Monat expands into a brand new country, people that join the company the first are eligible to earn up to three profit shares in the company.

[10:51] So anybody who joins the company as a market partner with a product pack, between October 1st and October 31st, will be eligible to earn in up to two profit shares in the company.

[11:05] When the company started in the US, the first original founder's shares were around $50 per share.

Now, six years later, they're (worth) over five figures per share.

So let's say, for example, one share is ten thousand dollars, two shares are going to be twenty thousand dollars.

The founder's shares are paid every three months, so quarterly. It's a nice bonus to get.

[12:02] So in order to earn those founder's shares, within the year of your signing up, you need to get to the rank (of) Market Manager.
To earn three founder's shares in the Asia Pacific pool, a Monat affiliate must qualify at the highest rank, Senior Executive Director.
According to Monat's 2020 Income Disclosure Statement, just 0.01% of active affiliates are Senior Executive Directors.
The average annual earnings of Senior Executive Directors in 2020 was $1.08 million.
Monat's Asia Pacific Pool itself isn't a problem. Where potential violations of the FTC Act arise is if affiliates are qualifying for shares on recruited affiliate volume.
If a Monat affiliate ranks solely by buying product and recruiting other affiliates who do the same, and ranking up sees them unlock shares, which are in turn paid on primarily recruited affiliate sales volume – Alina Rekshta's pitch above is more akin to what we'd see in a Ponzi scheme.
That's not on Rekshta, it's how Monat have set up their Australian launch.
This brings us back to Monat's Australian launch in general. With no retail for a month, Monat is building the foundation of a pyramid scheme.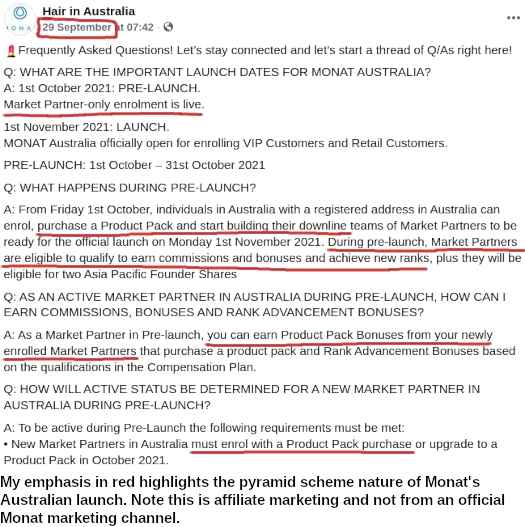 If the business starts with a 100% focus on recruitment, there's little to no chance that's going to change come November.
Not withstanding that in the current regulatory environment, retail volume requirements should be baked into Monat's commission qualification criteria (ranks).
Anyway, that's something for the FTC and perhaps the SEC to look into stateside.
If you're in Australia and approached about Monat, the first things you want to do is ask your potential upline is:
How many active retail customers they have? And
How much retail volume are they generating each month versus their own PV spend?
The answer to the first question should be a healthy number corresponding to their rank.
If we take the "4x rank" example from Instagram above, with a 500 PV a month requirement you're looking for a minimum 260 PV in retail volume each month. 300 PV if you're being cautious.
A good answer to the second question is any retail PV amount that's less than what the affiliate themselves are spending each month.
Unfortunately none of these apply during Monat's initial Australian launch month, because again retail isn't possible.
Opening the doors on recruitment and paying on recruitment, without retail sales, isn't how you launch a retail-centric MLM opportunity.
It's how you'd go about building a pyramid scheme in a new market.
On October 7th Monat announced it had turned seven: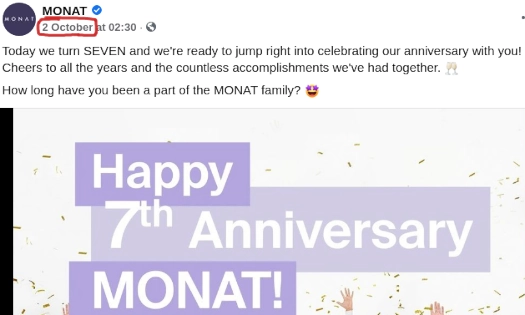 Their Australian launch definitely falls in the "you should know better" basket. Or they just don't care.
Update 2nd March 2022 – There appears to now be a limit on Instagram stories available. Links to stories previously accessible stop working after this limit is reached.
This article originally included a link to The MLM Boss Babe's Instagram story. As of February 2022 however the link is no longer available.
As a result I've disabled the previously accessible link in the article.