Mirror Trading International's attorneys withdraw

The South African law firm Ulrich Roux and Associates has announced it has dropped Mirror Trading International as a client.
In their December 21st open letter, Ulrich Roux and Associates confirm
Ulrich Roux and Associates was formally appointed as the legal representative of Mirror Trading International on 28 April 2020.

We were appointed by Cheri Ward, head of communications and marketing for MTI, to assist MTI with the following:

Legal compliance in terms of the SA Companies Act 71 of 2008.
Legal assistance with the drafting of contracts and general litigation.
Legal representation pertaining to correspondence received and interaction with the FSCA.
On their official Facebook page, Ulrich Roux and Associates define themselves as divorce and family lawyers.
Beyond money, what they were doing representing a Ponzi scheme with respect to securities litigation is unclear.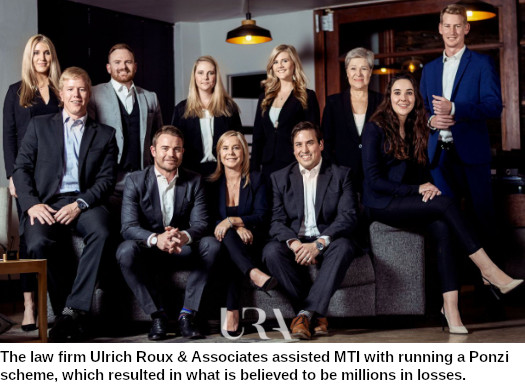 As I understand it, URA was used by MTI primarily to silence South Africa based critics. Think OneCoin's relationship with the notorious lawfirm Schulenberg & Schenk in Germany. The same kind of antics.
Anyway, being the legal face for Mirror Trading International, which is currently imploding, URA appear to have been inundated with queries from desperate investors they were otherwise working against.
URA made it clear from the outset that we were in no position to provide potential clients with financial advice as to whether they should invest with MTI, as we are not financial advisors, nor are we specialists in Bitcoin or any other form of cryptocurrency trading.
Evidently Ulrich Roux and Associates have no problem being paid stolen investor funds to assist a Ponzi scheme. When it comes to the victims whose money they were paid though, they're on their own.
URA is in no way affiliated to MTI and can accordingly not be held responsible or liable for any profit or loss arising from any investment made, using the MTI platform.

In addition to this, we confirm that our firm is not a member of MTI, nor are we involved in their internal business structure.

URA is an independent law firm, with the sole mandate of providing legal assistance to MTI on a contractual basis, as set out above.
The kicker is URA stating it, as a law firm, didn't invest in MTI. Whether any of the firms individual attorneys did isn't clarified.
Certainly, from the way MTI and its affiliate investors used Ulrich Roux and Associates' name, it would appear so.
The following is a screenshot from an MTI investor page (still online at the time publication):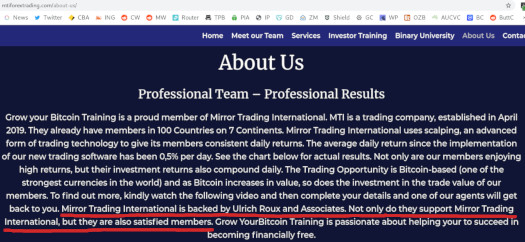 The highlighted copy reads as follows:
Mirror Trading International is backed by Ulrich Roux and Associates. Not only do they support Mirror Trading International, but they are also satisfied members.
This is typical of how the relationship between MTI and URA was described, both by affiliate investors and MTI itself.
It's worth noting that since the news CEO Johan Steynberg fled South Africa a few days ago, promoters of MTI have been deleting their promotional efforts en masse.
It seems that, like Ulrich Roux and Associates, they fear their participation in MTI could lead to criminal charges.
While URA deny the law firm itself invested in MTI, it seems odd they'd let affiliates market them as the legal backbone of the Ponzi scheme and represent them as investors slide.
Remember, URA was primarily used by MTI so threaten and silence critics. Part of that would have been scouring the internet for criticism they could act on.
Naturally they'd have known full-well how they were being represented. Indeed there are several instances of URA being asked to clarify their relationship with MTI throughout 2020.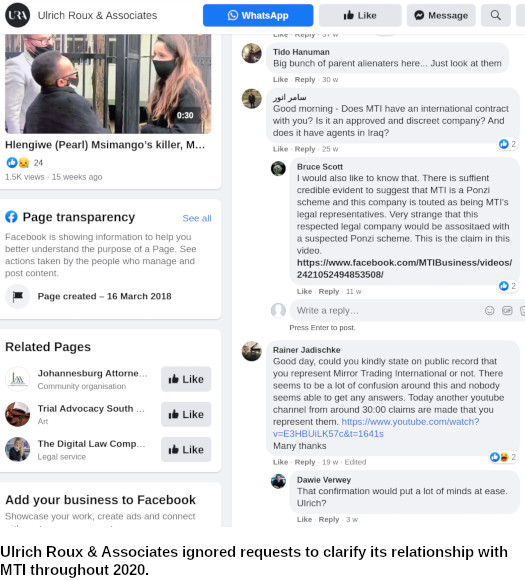 As you can see, all of the queries went unanswered.
Only now, with Mirror Trading withdrawals suspended and criminal charges looming, has the law firm put out a statement.
Other points clarified by URA in their statement include:
confirming Johan Steynberg is no longer in South Africa and not contactable (we suspect this last claim is a lie pushed by Cheri Marks);
MTI affiliates are not being paid withdrawals;
URA itself has received "no clear instructions" from MTI regarding points one and two; and
URA has been in contact with the FSCA regarding their investigation and will continue to cooperate.
Legal representatives only act upon instructions of their clients and accordingly we are left with but to withdraw as the attorneys of record for Mirror Trading International, as we hereby do.
URA finishes up by requesting any further enquiries be directed to MTI corporate. Which, as I understand it, are not responding to affiliate investor enquiries.
What's that? Shit hit the fan? Thanks for the money guys, bye!
Update 23rd December 2020 – Comments by Ulrich Roux on a recent Mirror Trading International webinar, casts convincing doubt on the claims made by Ulrich Roux and Associates in their withdrawal notice.