Mindset 24 Global a $1 mill+ Ponzi scheme, alleges SEC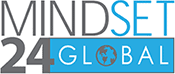 The SEC has filed suit against Mindset 24 Global.
The regulator alleges the since collapsed company operated as a Ponzi scheme.
Mindset 24 Global launched in 2017. The company was based out of Kentucky in the US.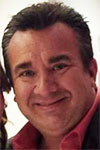 Heading up Mindset 24 Global were co-founders Brian McLane (CEO, right) and Paul Anthony Nash (CTO).
From no later than July 2017 through at least May 2018, Defendants operated an online pyramid and Ponzi scheme through Mindset 24 Global, LLC ("Mindset 24"), a multilevel marketing company ("MLM") that they owned and controlled.

During that time period, Defendants raised over $1 million from hundreds of individuals in the United States and across the world through the unregistered offer and sale of securities in Mindset 24.

In addition, in connection with the offer and sale of those securities, Defendants engaged in a scheme to defraud investors and further engaged in practices that operated as a fraud or deceit upon those investors.
While we didn't outright label it a Ponzi scheme, BehindMLM emphasized a lack of retail focus in our published Mindset 24 Global review (August, 2017).
This underscored our overall suspicion that Mindset 24 Global wasn't operating legitimately.
Despite Defendants' promotion of Mindset 24 as a legitimate operation, there were no sales of Series Packages to bona fide retail customers; rather, all sales were to Participants, and thus all of Mindset 24's payouts to early Participants were made using funds received from later Participants.

Accordingly, Defendants operated Mindset 24 as a textbook pyramid and Ponzi scheme.
Ironically the first draft of Mindset 24 Global's compensation plan included retail sales.
One month prior to BehindMLM's review, McClane and Nash sought a legal opinion on a revised version of Mindset 24 Global's compensation plan.
In July 2017, shortly after they had prepared the final version of the Compensation Plan … Defendants sought advice on the legality of the plan from a well-known MLM attorney who provided them a written legal opinion dated July 21, 2017.

Among other things, the legal opinion advised Defendants to make certain modifications to Mindset 24 in order to operate as a legitimate MLM company and not as an illegal pyramid scheme.

Namely, the legal opinion strongly advocated for the Compensation Plan to include a retail sales requirement, emphasizing that legitimate MLMs rely primarily on substantial retail sales for compensation purposes, whereas pyramid schemes rely on recruiting and selling to other participants.

Indeed, the opinion highlighted areas where Mindset 24 risked operating as a pyramid scheme, pointing to the Compensation Plan as incentivizing "buy to qualify" behavior and aggressive recruitment of participants rather than retail customers.

And, the opinion warned of the unsustainability of pyramid schemes.
McClane and Nash took no action on the legal opinion and launched Mindset 24 Global with the retail absent model.
From mid 2017 to early 2018 Mindset 24 Global solicited over a million dollars in investment, mostly paid in bitcoin.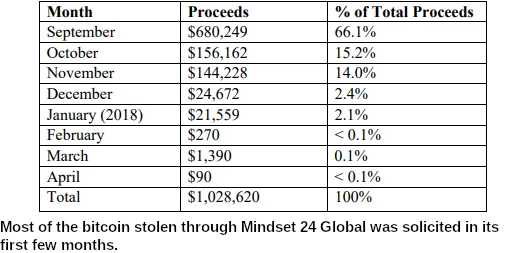 On or around April 2018, Mindset 24 Global collapsed.
Because the proceeds raised through sales of Series Packages derived from Participants who recruited additional Participants, the payouts under the Compensation Plan were made based solely on investments from the later Participants.

In using the later investments to pay earlier Participants, Defendants knew, or were reckless in not knowing, that they were operating a classic Ponzi scheme.

Defendants also knew, or were reckless in not knowing, that Mindset 24 was not a legitimate MLM, but rather an illegal pyramid scheme.

Both McLane and Nash had created and operated MLMs before Mindset 24. They had included retail sales incentives in the initial draft of the Compensation Plan, but ultimately omitted these incentives from the proposed final version.
The SEC pegs total Mindset 24 Global investor losses at "at least $1,028,620".
The vast majority of Participants lost money. Of the at least 735 Participants who paid for a Series Package, 92% suffered losses, with an average loss of $1,168.
No doubt if you were to ask the 8% of Mindset 24 Global affiliates who made money, they'd tell you, because they made money, that Mindset 24 Global was a legitimate business.
Despite pointing out the mathematical certainty that the majority of Ponzi investors lose money, BehindMLM routinely comes up against the argument a Ponzi scheme paying out equals legitimacy.
Across five counts, the SEC accuses McLane and Nash of
offering unregistered securities, in violation of the Securities Act;
committing fraud, in violation of the Securities Act; and
committing fraud, in violation of the Exchange Act.
As part of their August 31st, 2020 complaint, the SEC sought a preliminary injunction against McLane and Nash.
As of October 2020, a decision on the requested injunction remained outstanding.
On October 27th Paul Nash requested an indefinite stay on proceedings, while he engaged in "good faith settlement discussions" with the SEC.
The court denied Nash's motion on October 30th.
At stated in a December 3rd Joint Status Report;
Prior to the filing of the Complaint, the SEC and Defendants had settlement discussions, but were unable to reach an agreement.

In addition, the SEC and Nash have engaged in additional settlement discussions since the filing of the Complaint but have not yet reached an agreement.

The parties are willing to pursue further settlement discussions in good faith as the case progresses.
Between March and May two court-ordered settlement conferences were held.
An August 18th minute entry then states,
The topic of settlement was discussed.

The parties have not had any direct settlement discussions following the court- facilitated settlement conference.
As at October 21st, no settlement has been reached. The parties continue to work through various discovery issues.
I've added the SEC's Mindset 24 Global lawsuit to our calendar. Stay tuned for updates as we continue to monitor the case.
Update 1st February 2023 – Both Brian McClane and Paul Nash have settled the SEC's Mindset 24 Global fraud case.